Social chats are one of the most underutilized tools in the modern virtual event planner's toolkit. But, having a social chat is also one of the biggest payoffs in terms of engaging attendees and helping you plan your event.
When it comes to conferences, meetings, and webinars, it's not enough to just have great content anymore. Today's virtual event attendees expect more. Users want to be able to interact with you, your speakers, and other attendees while they're watching the live stream or during breaks in the webinar. A key way to do this is to incorporate RumbleTalk's Social Chat feature into your virtual event strategy.
At RumbleTalk, we believe that your Virtual Event shouldn't only be engaging while it's live. Moreover, it should give your audience something they can take away and share with their community when it ends as well!
What is a Social Group Chat?
Social Chat is one of the 6 Chat Types that RumbleTalk offers. It is a public group chat where everyone is free to join the conversation. Everyone in the chat can talk to each other. Perfect for exchanging ideas in a community, open discussions in a virtual event, or simply a group chat within your business website where people can hang out.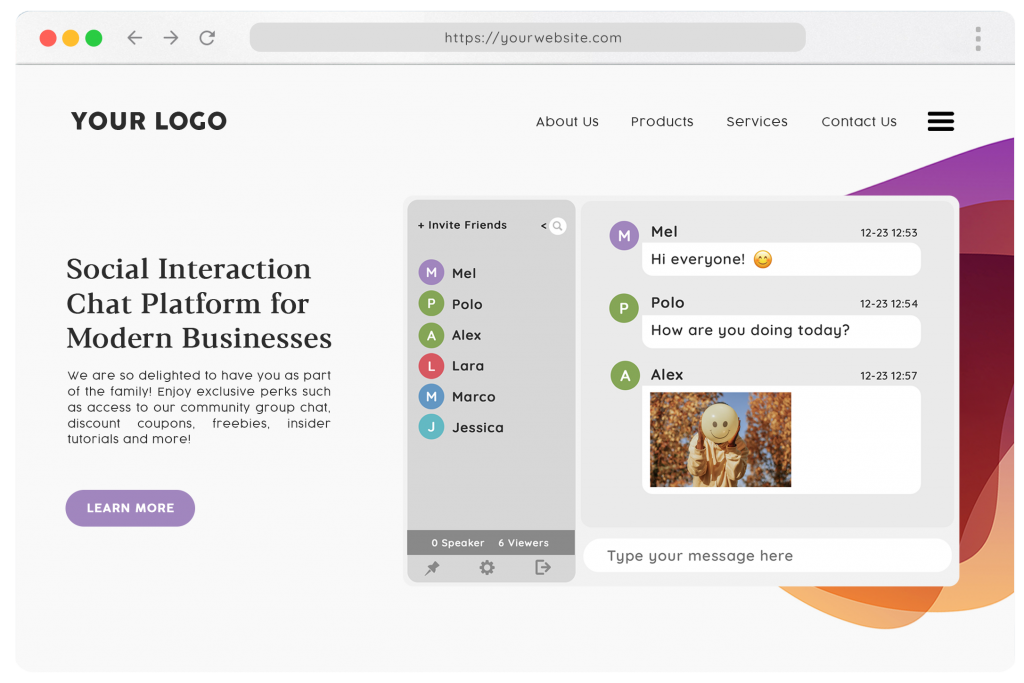 Although it's a public space, it is fully encrypted, meaning it's completely safe, secure. So, you can assure your participants that every conversation is within a healthy virtual space.
Features and Functions
Social Chat is brimming with all the engagement tools you will need. Check them out below:
Multiple Social Chats – Create one or more social chat rooms for communities with multiple, simultaneous conversations or those with managing more than one online community.
Customize your Social Chat – Personalize your chat based on your website or event theme. There are default skins available, or you can use CSS to completely change your chat room's to look and feel.
Add a Welcome Message – Add a message pop up to warmly welcome your audience once they enter the room.
Moderated Q&A – Further improve the interaction between you and your audience by allowing them to ask questions in the chat.
Video and Audio Calls – Aside from sending text messages, you can also make video and audio calls in the chat without having to install anything.
Mentions – Tag someone in the chat to get their attention.
Keywords – Turn words into links that will lead your audience to the designated webpage, downloadable file, online form, video, and more.
Play Youtube videos – Just paste the video link into the chat and anyone can watch it from there.
Multimedia Sharing – From documents and presentations to photos and video files, conveniently share anything in the chat.
Polls – Let your participants weigh in on the topic by getting their opinion through this feature.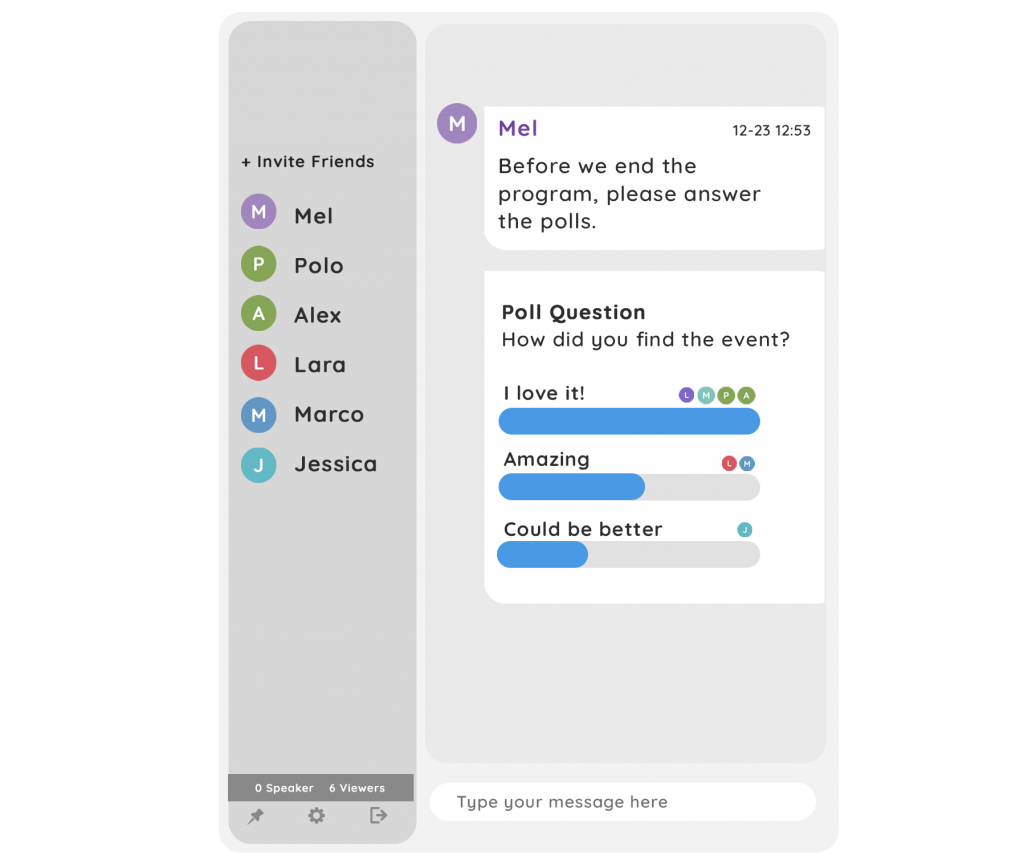 Other features that make RumbleTalk unique
HTML5 – Our chats are built with HTML5, which means the chat will work on any browser and can be easily customized to fit your website's design.
WebRTC – We use the latest WebRTC technology to make live audio and video calls possible, even without extra plugins, installation, or add-ons.
Restful API for easy integration – Seamlessly embed this powerful chat platform on your site using our integrations, add-ons, and chat plugins. Available for WordPress, Wix, Joomla, Angular, and React.
RumbleTalk Pages – If you don't have your own website or event page. You can use RumbleTalk Pages to create your own, personalized mini-website.
Set up your RumbleTalk Social Chat
To get started, simply create your free account, choose Social Chat, invite your audience, and you're good to go! If you need a detailed guide, here's the step-by-step instruction on how to set up your account.
You can also opt to embed your chat room on your website. From the chat settings, just copy the provided one line of code and paste it into your website back end.
If you need to customize your plan, set up a demo call, or discuss anything else, send us a message at support@rumbletalk.com.
Group chat for engagement and interaction in your communities

One of our goals has always been to help businesses add more value and interactivity to their websites and events. That's why we created RumbleTalk Social Chat—it enables you to engage online attendees while they are still logged in and engaged on your virtual event. Furthermore, it also facilitates multiple conversations among groups of people that might not otherwise have a chance to connect. This makes it truly a perfect way to improve your audiences' overall experience.