Virtual events aren't supposed to be one-sided. The audience wants to have a say in the conversation, which you can provide through a chat.
RumbleTalk, for example, allows you to integrate a chat platform next to your live streaming platform to provide two-way discussion. This is the future of virtual events, chatting with participants while there's an ongoing event.
How do you put one in your event? To learn more, read this article.
How do you incorporate a chat platform into your virtual event?
You don't have to start again from scratch in today's digital world. No need to hire a programmer or construct your own code since RumbleTalk provides the code to include the chat. To start embedding your chat, follow these simple steps.
Log in or create a new RumbleTalk account if you don't already have one.
You'll be routed to the admin panel after you've logged in. Select Embed from the drop-down menu.
You can either embed your chat into your website page or use a floating chat to avoid disrupting the website's theme.
Copy and paste the produced code on your website or page where the event will be held after completing the steps above.
NOTE: A chat plugin would be better appropriate if you're utilizing a third-party service. This article lists the numerous available chat plugins.
You're all set to host your first virtual event featuring a conversation. How can you make the most of it? Here are a few pointers to help you get the most out of your event.
Having a conversation with your audience and establishing trust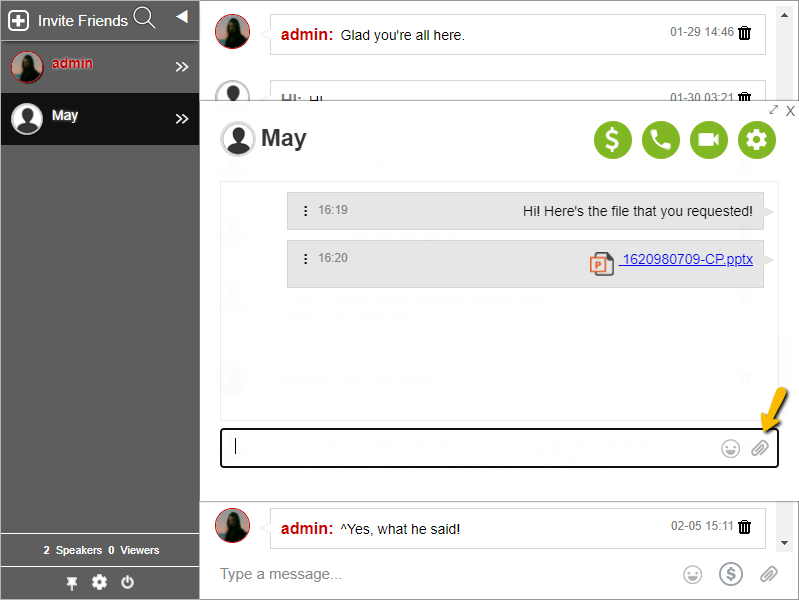 When you take the time to address the requirements of the audience as a speaker, you're already creating a rapport with them. That's one step in making a good first impression and forming a lasting relationship.
You can assure that no spam or trolls can send messages with the help of moderators. Moderators are also required for international events. As a result, before the event begins, appoint moderators and conduct a practice run.
Gather information for future virtual events
If this is your first time using a chat for a virtual event, a chat room feature, e.g., export, can help you collect data. Because most participants provide feedback in the chat room, you may utilize these comments and suggestions as a starting point for future events.
To acquire this information, use the Export feature. You may read all of the messages sent in the chat room when you export the conversation transcript (from specific dates).
Follow this method to export the chat transcript.
Click Settings > History on the admin panel.
Choose a date period for which you wish to export messages.
After you've chosen your dates, click Export. When downloading, you can pick between three file extensions: HTML, CSV, or Word.
Now you may use this information to see all of the participants' comments and suggestions. You can ensure that your next event will be better by accumulating this information.
Moderate the discussion
A Moderated Chat is a type of chat in which administrators act as moderators. Moderators can also pre-approve messages before they are sent out while using this chat style. As a result, all communications are checked, and nonsensical messages are not allowed to enter the conversation.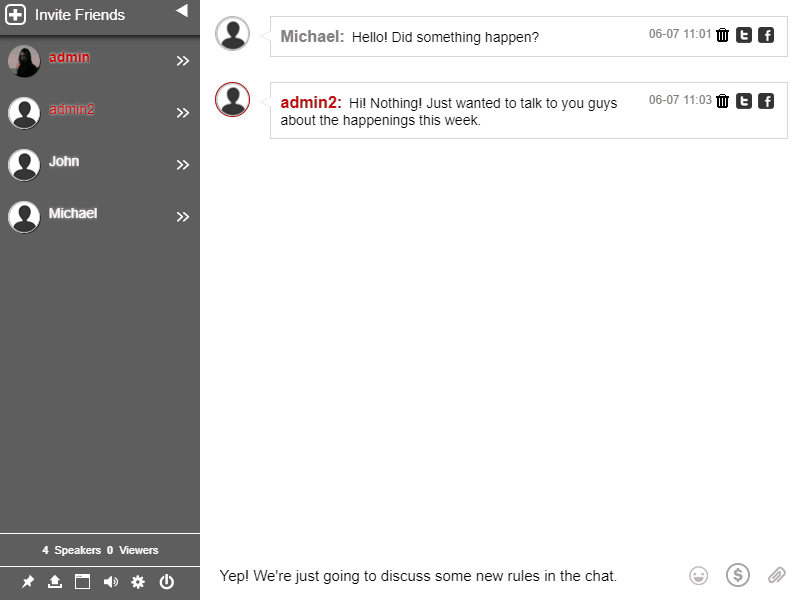 Another benefit of using the Moderated Chat is that it can be used to organize Q&A sessions during your virtual event. Participants can submit questions, and the speaker can choose which ones to answer.
Follow these steps to modify the type of chat you're having.
Make sure you're logged in to your account.
Go to General & Logins under the Settings menu.
Select Moderated Chat from the drop-down menu under Chat Type.
You may use the Moderated Chat to keep track of who enters and exits your chat room. By selecting this as your chat type, you can ensure that the virtual environment is safe and secure, which is especially important for large events such as international conferences.
Organizing successful virtual events
Hundreds or thousands of people can attend virtual events. Some people might be online, while others would be away from their computers but still in the chat room. Participants like this are crucial to the success of your event because they strive to strike up a conversation with other attendees, forming a community.
As a result, people will have a positive image of your event if you provide them with a conversation where they can discuss the topic and ask questions of the speaker or other participants. As the host, you can acquire something helpful from the data you collect, as well as improve brand trust and other things.
Create a chat for your next virtual event by signing up for RumbleTalk now. You can also message us at support@rumbletalk.com or on our Facebook and Twitter pages.