How to use the Polls feature?
The Polls feature is all about recording the opinion or vote of a certain group or in general.

Now that RumbleTalk has already released the Polls feature, everyone in your group chat will have a chance to vote for their preferred answer.
There are two ways to enable the Polls feature.
Through your RumbleTalk admin panel, and
Logging in as an admin on the group chat itself.
First, we will show enabling the Polls feature using your RumbleTalk admin panel.
Go to your RumbleTalk admin panel and click Settings.
Second, click the Polls button in the options.
After that, the poll options will show up and you just need to fill in the question and answer boxes and click Save.
The results will also show in the Polls section. Click the View Answers button to show them.
Next, this is how you enable it on the group chat.
First, login as an admin on your group chat. Then, click the gear icon on the lower left part of the chat and click Polls. Select Create New Poll.
After clicking Create New Poll, a box will prompt and you are going to put a question and four predefined answers. Now, click send and it will be sent to your group chat where your members can participate in the poll you created.
After sending the poll you created, a box will appear to everyone with the question and four predefined answers that they are going to choose. All they need to do is choose their desired answer and it will be recorded and analyzed at the end of the discussion.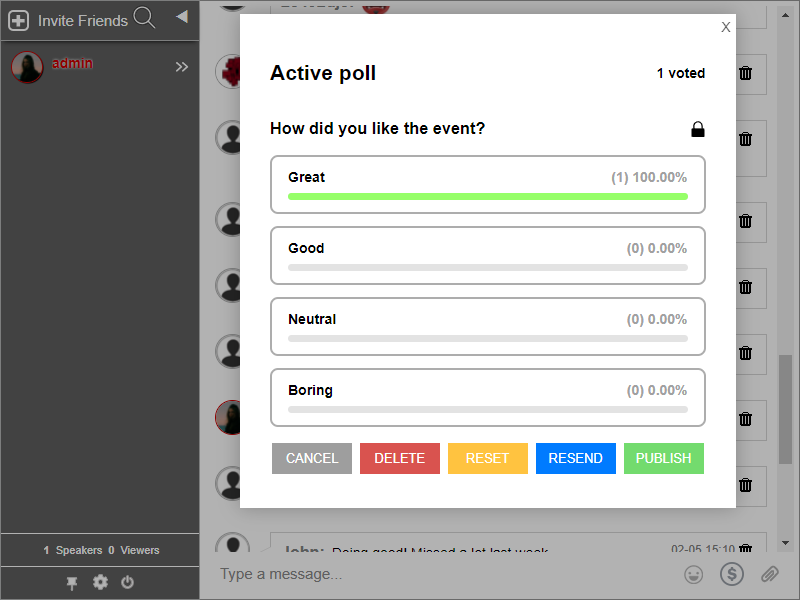 That's it!
FAQs

How do users participate in polls?
Once the admin publishes the poll, it will show up in the group chat and anyone on the chat can join.

What types of group chat supports polls?
The Polls feature mainly supports moderated and the group chat since polls require a lot of audience.