Having a live chat agent as part of your candidate acquisition strategy in job fairs continues to rise in popularity. It makes sense, modern businesses are now more open to trying innovative ways to connect with potential candidates in this digital world.
Gone are the days when chatbots seem to be the answer. Today, it's more than just automated responses and ready-made FAQs. Businesses are looking for better, more personal approach to get to know the candidate on the other end of the screen. So, the perfect pairing of a live chat agent and a powerful live chat platform will be a total game-changer.
RumbleTalk as a live chat agent tool for recruiters
With RumbleTalk Chat, businesses can improve the way they connect with their candidates. By integrating this chat platform into your website or online job fair event, you can access an array of features. These functions will enable your team to provide a quick, friendly, and seamless experience that fits the demand of companies today.
Here's how you can maximize your RumbleTalk Chat plugin as a live agent tool during job fairs.
Deliver a more personal, tangible human connection
Using RumbleTalk Private Chat, you can easily message a potential candidate for a real-time, one-on-one conversation. Unlike chatbots, your team would be able to customize the support based on the need of the moment. So, the quality of communication will be better because you can effectively host a two-way communication between you and your potential teammate.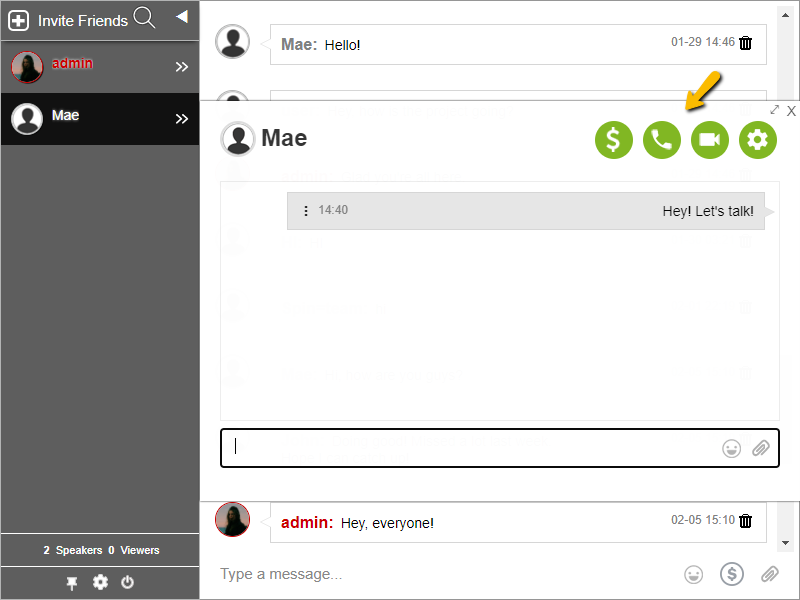 Moreover, your human resource agents can also send video and audio messages. Aside from that, they can easily make video and audio calls for free, resulting in a more personalized experience.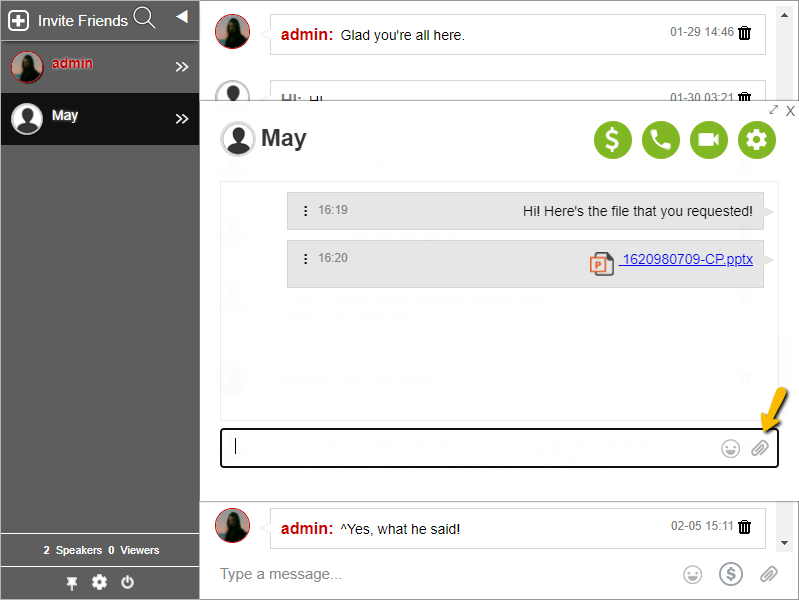 Share photos, videos, and files as a live chat agent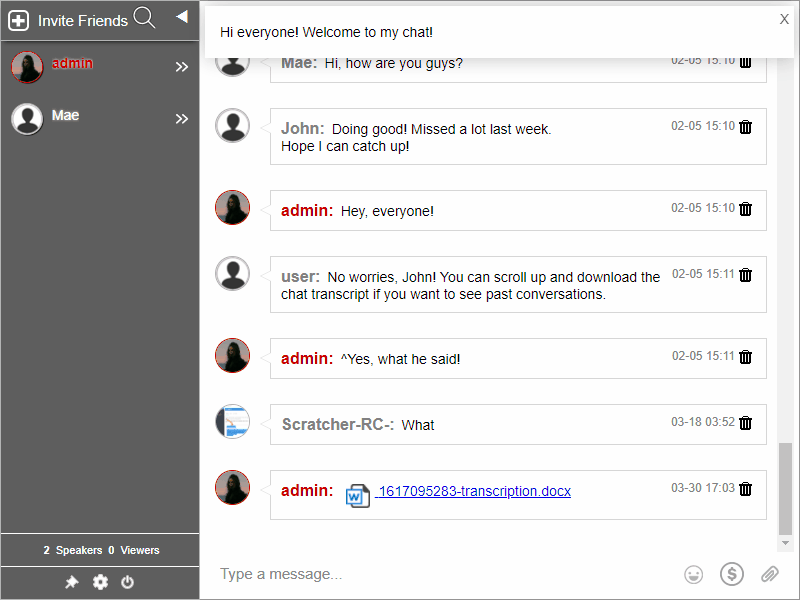 Add color to your conversation by sharing any type of file, image, video, links, or emojis to the chat. Using RumbleTalk's file-sharing tool, you can just click the paperclip icon at the bottom of the chat window and choose the file they want to share. Aside from that, you can also share a YouTube video and play it directly in the chat. This is helpful for sending onboarding videos and more information about the companies they applied for.
Privately talk to as many users as you want, simultaneously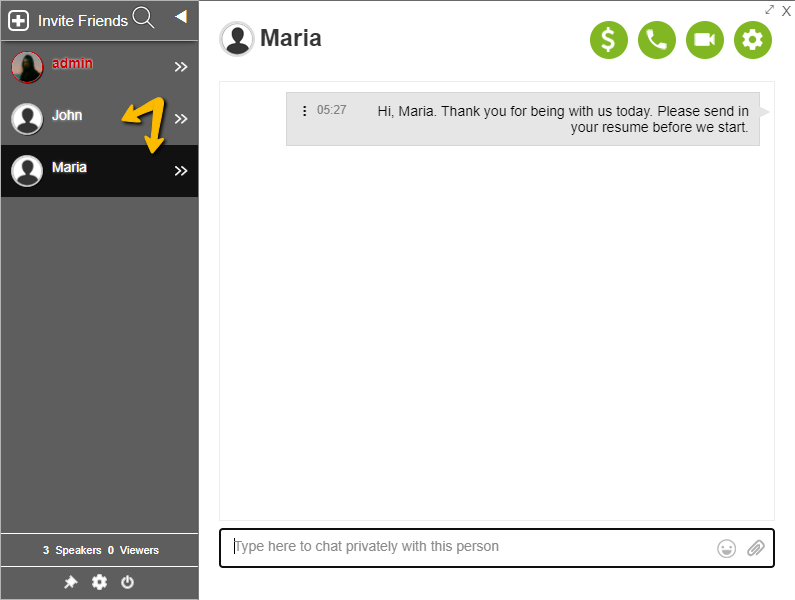 RumbleTalk allows you to customize your plan based on the number of users, admins, and rooms you need. In this case, the users are your candidates, the admins would be your human resource team, and the rooms would be the private chat room between the two of you.
So, no need to worry about long waiting lines and unanswered inquiries. Because as long as you have enough manpower to accommodate the number of job applications, they can all answer the chat. Furthermore, our agents can open multiple chat rooms simultaneously as needed to accommodate more candidates.
Instantly, and efficiently share anything using Keywords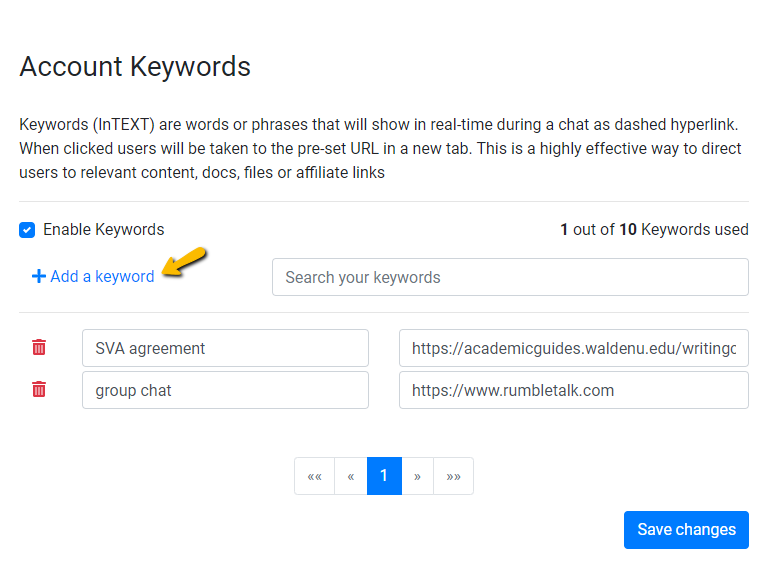 RumbleTalk Keywords (InTEXT) identify specific words then dynamically turn these words into links. These links allow you to redirect your client to any word with any webpage, online documents, PowerPoint presentations, Excel spreadsheets, PDFs, videos, and affiliate links.
There are thousands of opportunities wherein you can use this feature. For example, sending the candidates to an online registration form, an online examination, an online feedback form, sending them a downloadable file, redirecting them to the onboarding video, and so much more. Just save the Keyword to your chat and efficiently use these keywords across all your chat rooms. No need to type everything all over again.
Here's how you can set up your Keywords.
Ask for feedback using Polls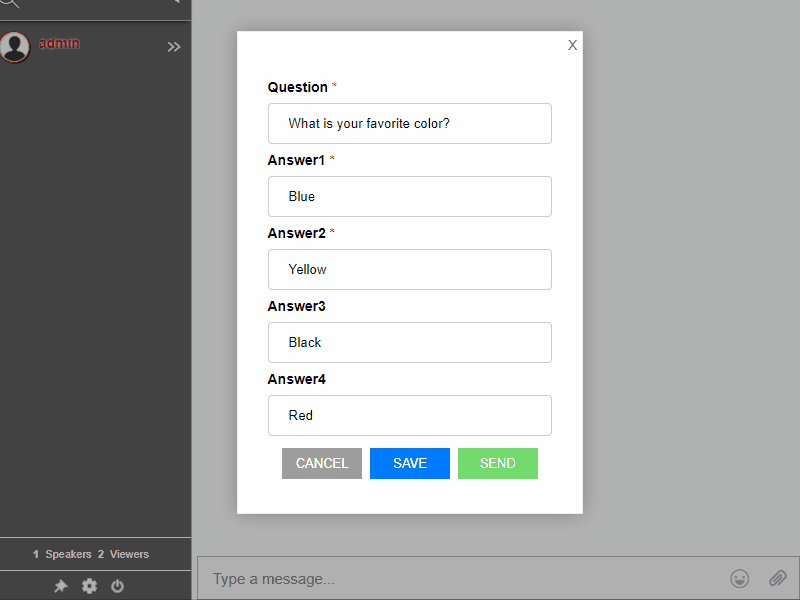 One of the best things about having a live chat agent is being able to get feedback instantly. And, with RumbleTalk, you can even gather insights in a more creative way. Utilize the polls feature to ask them how your event was. Furthermore, you can even customize the look of your polls using CSS to match your branding. Instead of using star icons for ratings, why not use something that better represents your business?
Share your availability status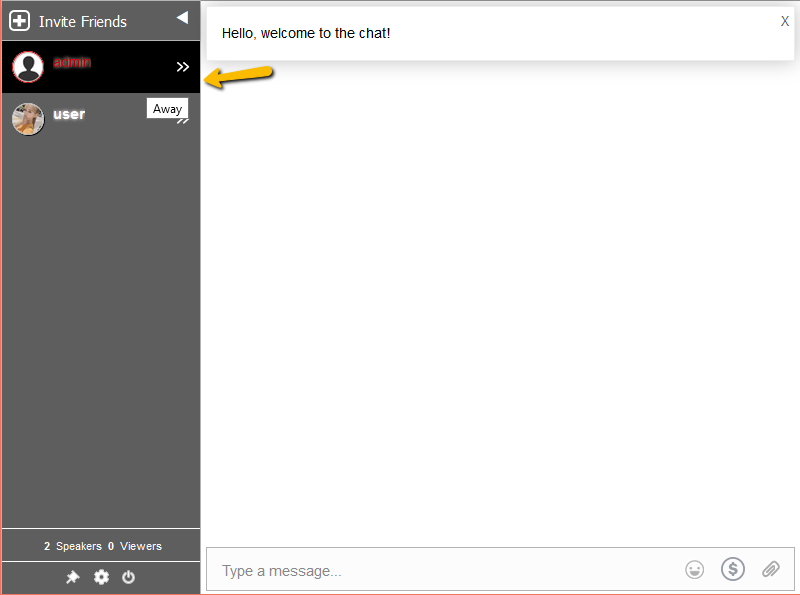 Don't worry if your human resource agents are not available for the whole duration of the job fair, because they can just easily change the chat status. As a user, you can change it to Online, Busy, or Away. A subtle, but useful way to mitigate the expectations of your attendees.
All the essential tools for a live chat agent in job fairs
In this digital age, integrating a live chat tool as a part of your online job fair is very important. And having a platform to effectively communicate with prospective candidates in real-time is an excellent way to connect with and support them.
So, RumbleTalk chat has prepared all the essential tools to help you get ahead of the game. Create your free account now and soft launch your new live chat agent platform on your event. Email us at support@rumbletalk.com to get to know more about this tool, we'd love to give you a free demo!