Are you having a hard time connecting with your remote audiences? Perhaps distractions come in and you see your participants slowly dissociating? Can you feel the lack of physical cues in online forums which usually lead to misunderstandings?
Yes, we know, virtual communication is not without shortcomings. Now that we're living in the digital world, it can be tricky to create real connections. We can easily get information online, but it's very hard to have an emotional engagement.
So, RumbleTalk has thoughtfully designed a quality live chat plugin to make your next virtual meeting fun and more interactive. Once you've maximized the potential of having a live chat feature on your platform, you'll realize, remote audiences aren't so bad after all.
Here are 5 live chat features to instantly turn your virtual gatherings from dull to dynamic.
Make your remote audiences a part of the conversation with polls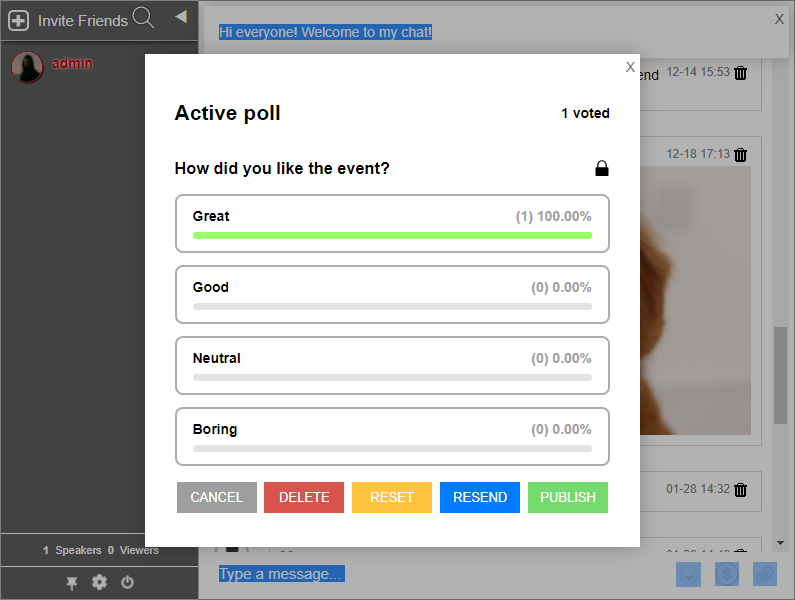 Polls provide a streamlined audience interaction in real-time. It allows you to host interactive online events, classes, or conferences with live audience feedback.
Alongside encouraging users to participate and give their feedback about a topic, you can also help them easily remember the topic by personalizing the look of your poll based on the theme. It can also be as simple as giving a star rating or asking multiple questions. With that, it's best to use the poll feature every 15 minutes or so to actively keep your participants engaged.
Create a two-way communication with Q&A
Another tool that will make your audience feel like they are a part of the conversation. Question and answer sessions are more useful in hybrid meetings and virtual events as everyone can be involved. By soliciting their questions, comments, and feedback, they will start to feel more valued and keep them focused as you address their inquiries in real-time.
Here's a step-by-step guide for organizing a Q&A live session.
Send more information with Multimedia Sharing
Being able to collaborate and work together on anything from anywhere around the world is so empowering. Make your modern workplace experience even more productive with the ability to share any file in your group chat. We've got you covered whether it is a word file, pdf, image, video, voice recording, a link, or more. Just follow these simple steps on how to use Rumbletalk's file-sharing tools. Now, you can increase productivity and keep your audiences on the same page at all times.
Chat privately using Expert's Chat Type
The Expert's Chat is designed for a private one-on-one conversation with an advisor. This is widely used by advisors and consultants, or during job fairs and interviews. Here's an example of the experts' chat when the admin is logged in.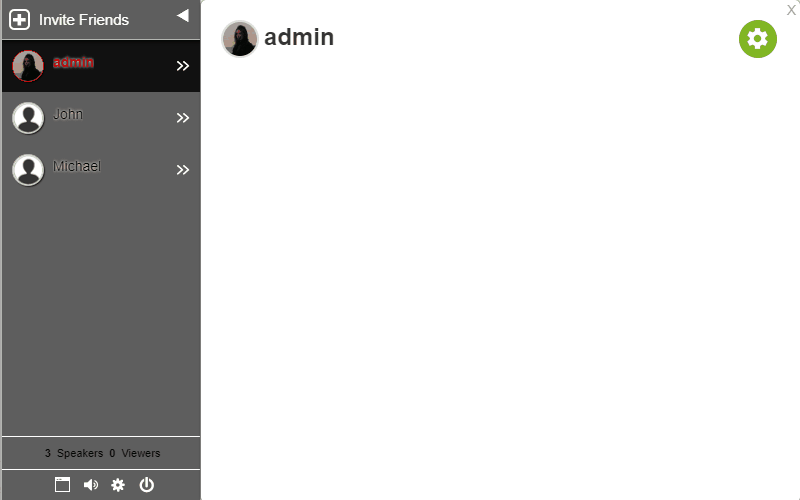 When using this tool, only the admin sees the active users and will be able to hold simultaneous private chats with them. While the users won't see other participants nor start a private conversation with anyone. The admin can also chat face-to-face with a user using the live video feature.
Learn how to use the Expert's Chat here.
Have total control with the Moderated Chat
One of the key features of Rumbletalk is easy moderation using the Moderated Chat. Here, you can assign an administrator to manage the group chat and perform functions such as the following:
Screening inbound messages before it goes live
Change the chat type
Switch your chat type to a moderated chat to maximize your virtual presence. This is truly a customer-centric approach to building healthier communities, day in and day out.
Finding the right tool for remote audiences
On top of these, RumbleTalk's fast and easy integration continues to make it one of the top choices when it comes to live chat tools. Because of the readily available REST API and SDK, you can easily add a fully functional group chat platform to any website in a matter of minutes. So, you can have less time to set up, more time to engage.
If you need to deliver online meetings, classes, job fairs, or any type of communication in a remote setting, get your free Rumbletalk chat or customize your own plan. It's about time you invest in a smartly designed group chat platform that helps support more engaging, equal, and effective group communication, anywhere around the world.