In a virtual event, messages and questions may be coming in too fast, so they tend to get lost in the conversation. Holding a Q&A live session may be the solution to that.
Especially with many chatters (huge online events), where the audience is not into chatting, they might not get the chance to submit their questions. The only solution is to watch the event attentively and hope to understand something.
By giving your audience a chance to get their questions read, you eliminate this problem. Your audience can send in their questions before, during, or after your live event, as long as your group chat is open.
Let us show you the wonders of RumbleTalk's moderated chat and how to use it for Q&A (Q&A mode) for a successful and efficient live session.
This blog will show you the ropes on the following:
How to set-up moderated chat to use as a Q&A mode
Where to use Q&A mode
Tips and tricks for a successful Q&A live session
Let's start!
How to set-up moderated chat for your Q&A live session
RumbleTalk has a chat type called moderated chat. The moderated chat lets admins pre-approve messages before they get sent to your audience. Therefore, admins can serve as moderators for any live event.
To use the moderated chat, you need to choose it as your chat type in your admin panel.
After choosing moderated chat, appoint admins to your chat room. They will serve as the moderators who will approve messages.
Go to Users on your admin panel and add a new user.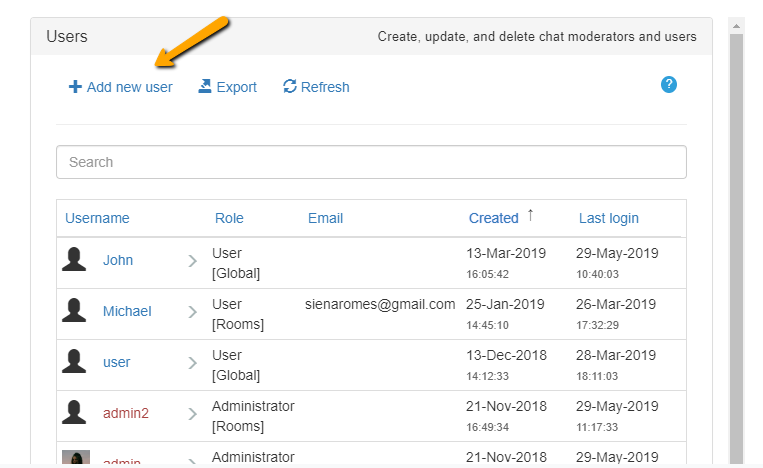 Choose admin for rooms if you want the admin to have access to a specific chat room only. Or, choose admin that has global access to have access for all chat rooms.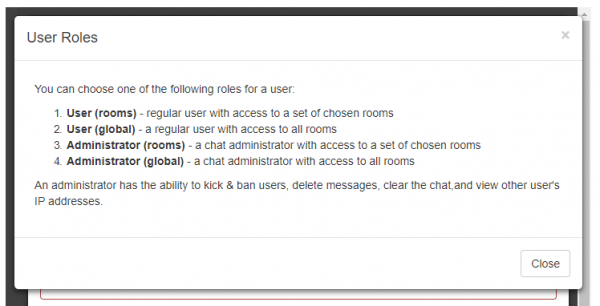 After appointing your admins, start your Q&A live session next to your live event.
Use your moderated chat as a Q&A mode by asking questions to your audience and letting your moderators choose the questions.
Only approved questions will be seen by your audience. Here's a comparison of the moderators' view and the audience's view.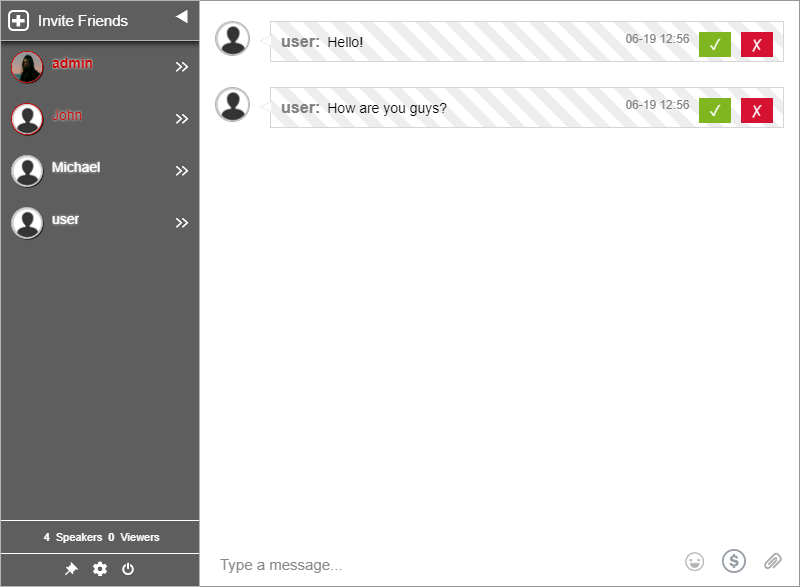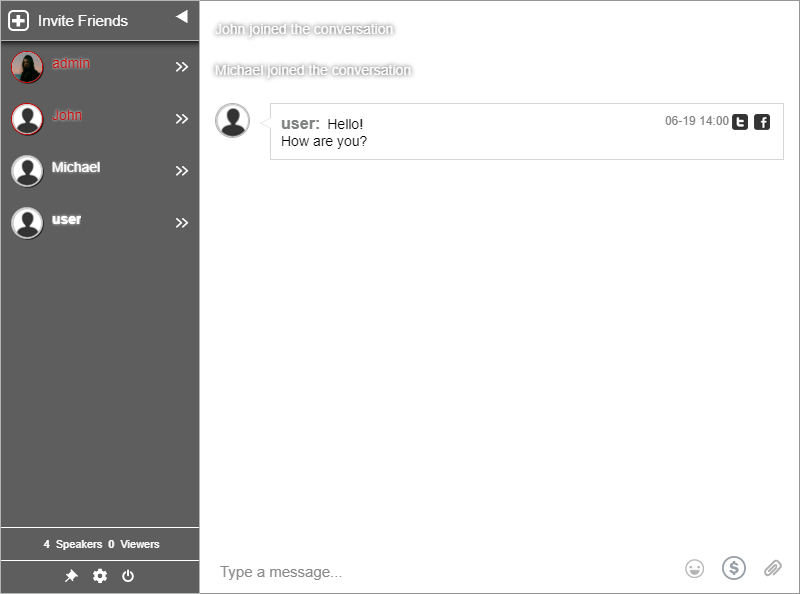 Best of all, you can use the moderated chat to monetize your live event. More on that here.
Where to use Q&A mode
There are lots of scenarios where you can use Q&A mode. Here are some of them.
Live events
As an example used above, Q&A mode is suited for live events. If you're used to holding live events such as live streams, then you can use the feature well.
During the live event, you can ask what questions your audience has to increase engagement. As an example, read about how you can control the discussion with a Q&A chat.
Webcasts
Do you run webcasts? If yes, then you'd know that it's important for your audience to have a voice.
By giving your audience a voice, they can learn more about your product, topic, or whatever niche you're talking about in your webcast.
Read this to get an idea: Interactive webcasting chat for live webcasts and events
Remote team meetings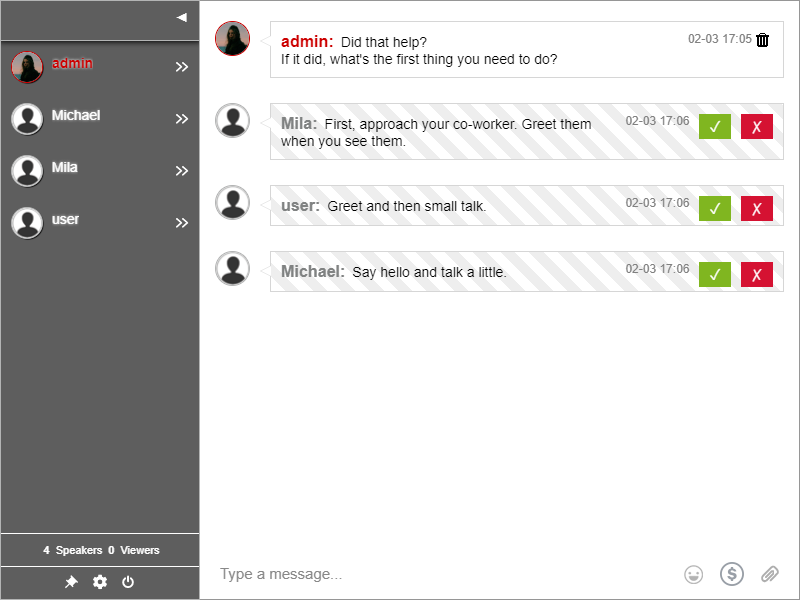 Because of the new normal, team meetings are now online. By using the Q&A mode, you can collect questions from your remote team and create a fruitful discussion around topics that are important for the growth of the team.
Here's a guide on handling your remote teams in a virtual setting.
Tips and tricks for a successful Q&A live session
Now that you've set-up the Q&A, it's time to start the actual session. Here are some tips that will help you achieve that.
1. Let your audience know that you're using RumbleTalk chat as a Q&A chat
Before you start, introduce the chat so your audience will know that it's there and they can send in their questions.
2. Encourage your audience to ask questions
When you've already started your live stream, it's time to engage your audience. Ask them to submit their questions. Also, let them know that your moderators will choose from the pool of questions. Then, as the speaker, you will answer them on your stream.
3. Choose the right moderators
As moderators, they will screen all the incoming questions. Therefore, they need to choose the right ones for the topic. If not, then it will be chaos for you and your audience.
Make sure to appoint moderators you know and trust. If possible, appoint and walk them through before your event.
4. Allot a timeslot for the Q&A live session
Since you're talking about a topic on your event or live stream, it's best to have a dedicated timeslot for your Q&A. This also gives your moderators more time to choose the questions.
Want more tips and tricks for a successful Q&A session? Read also: Q&A Chat Tips and Tricks
Chatting in a Q&A live session
In a virtual setting, conversations may get lost, especially if you have a big audience. Organizing a Q&A live session may not be easy, but it's easy with the right platform.
Also, your moderators are there to help you. With all of these, the journey to a meaningful Q&A session is a bright one. The virtual setting is not that scary anymore, even for first-timers.
At RumbleTalk, we want you to succeed in your Q&As. Talk to us if you want to know more about it.