RumbleTalk has designed its group chat features with convenience and ease of use in mind, both for the owner, and the user.
If you've already tried RumbleTalk, you would have noticed how everything is accessible at a click of a button, even without creating a code.
From embedding your chat to your website and customizing its look and feel, to using the engagement and moderation tools, we make sure to provide our users with simple solutions to manage their chats better. In addition, we continuously roll out better processes that will make your online communication experience more seamless than ever.
Our goal is to provide businesses with a smartly-designed group chat platform to connect, engage, and build lasting relationships with their customers from around the world. Every update is a significant step forward in RumbleTalk's efforts to improve your overall chatting experience.
Check out the latest group chat features on RumbleTalk
Edit your own sent messages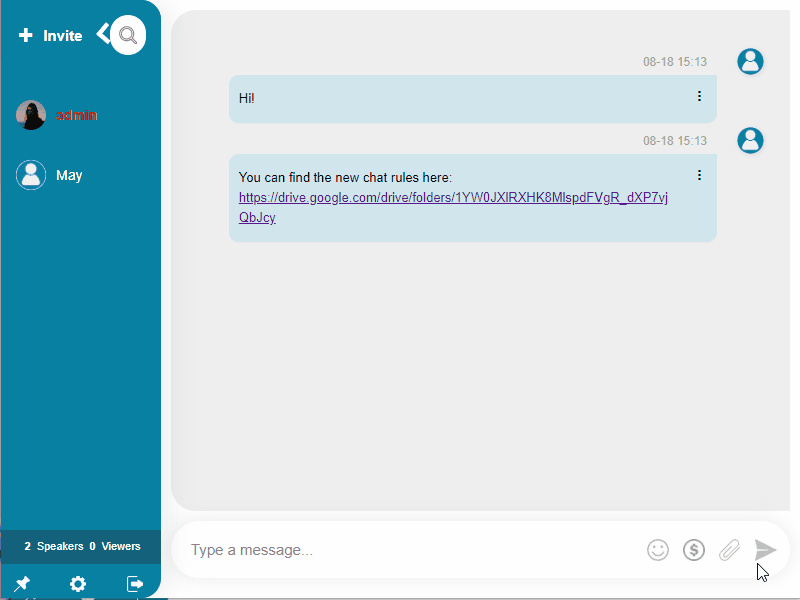 Previously, you couldn't unsent a message or edit it. Now, with this new feature, anyone can edit their own sent messages.
Collect ideas with polls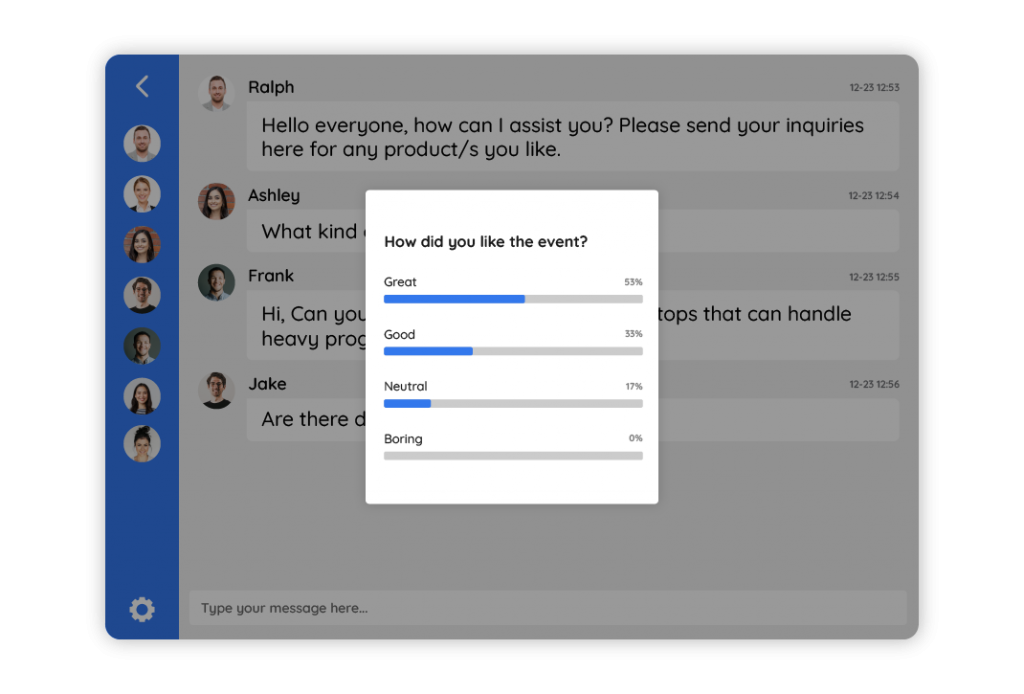 Let your audience weigh in on the topic by getting their opinion, this way, you create a more inclusive environment where everyone can be involved and feel valued.
Aside from that, you can also make use of this tool to collect real-time feedback on your online event, which you can use to develop better campaign strategies and new events.
There are two ways to enable the Polls feature. First, through your RumbleTalk admin panel. Second, by logging in as an admin on the group chat itself. Click HERE for the step-by-step instructions on how to use them.
Pin messages on top of the chat
Have important announcements to make? What if you just want to share an affiliate link or live event? When you pin a message on top of your chat room, it will be seen immediately by all users. It will stay on top unless a user closes the pop-up or when another message is pinned.
Click HERE to know more about this feature.
Export chat names at once
Conveniently export your attendee list in just 2 steps! Perfect for post-event data collection and evaluation. Now, it's easier to send them thank you emails or just simply keep in touch.
To do this, click on your chat room on Selected chat.
Then, next to the Create a new chat room option, you will see the export option.
Click on that and it will export all chat names into a CSV file.
Instead of saving an image on your device before uploading it on a group chat. RumbleTalk now allows you to just copy an image from anywhere, and paste it on your chat. As simple as that!
This saves space on your device, as well as saves you time since you don't need to download anything just to share an image.
Search for a specific user in the chat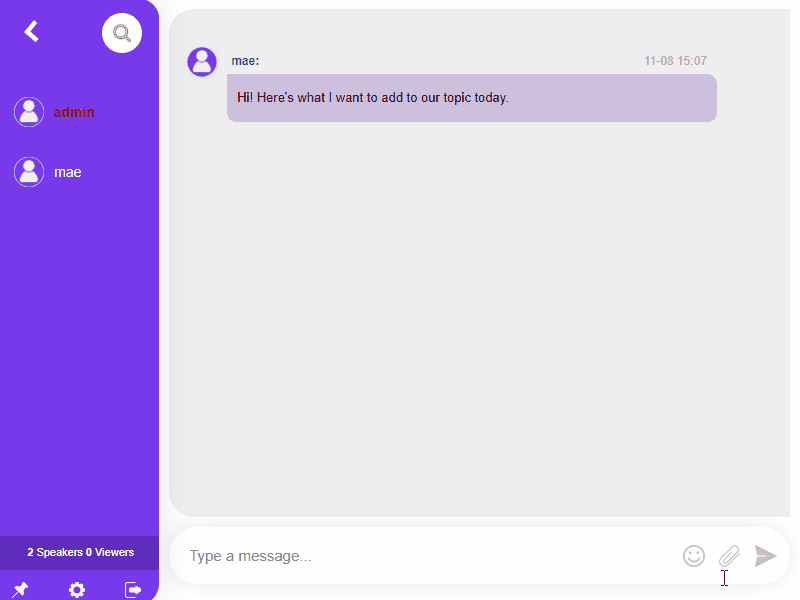 Now, you can conveniently search for a friend in the group chat, even there are thousands of participants inside. We've added a search users button in the group chat. So, you can just type the name of the user and easily find them in a sea of chatters. It's one of those simple, handy chat features available in RumbleTalk. This is especially useful if you want to find another user that you want to message privately.
To do this, just enter the username of the participant you're looking for on the search button located at the top of the chat screen.

Set your status as "Online", "Away", or "Busy"

Here's a subtle, but effective way to show your availability to communicate. Change your availability status anytime to let other users know if you are able to communicate. To do this, click the gear button at the bottom of the user list, and choose your preferred status.

Furthermore, when you change your chat status to away, other users won't be able to send you private messages.
Creating better online communities through better features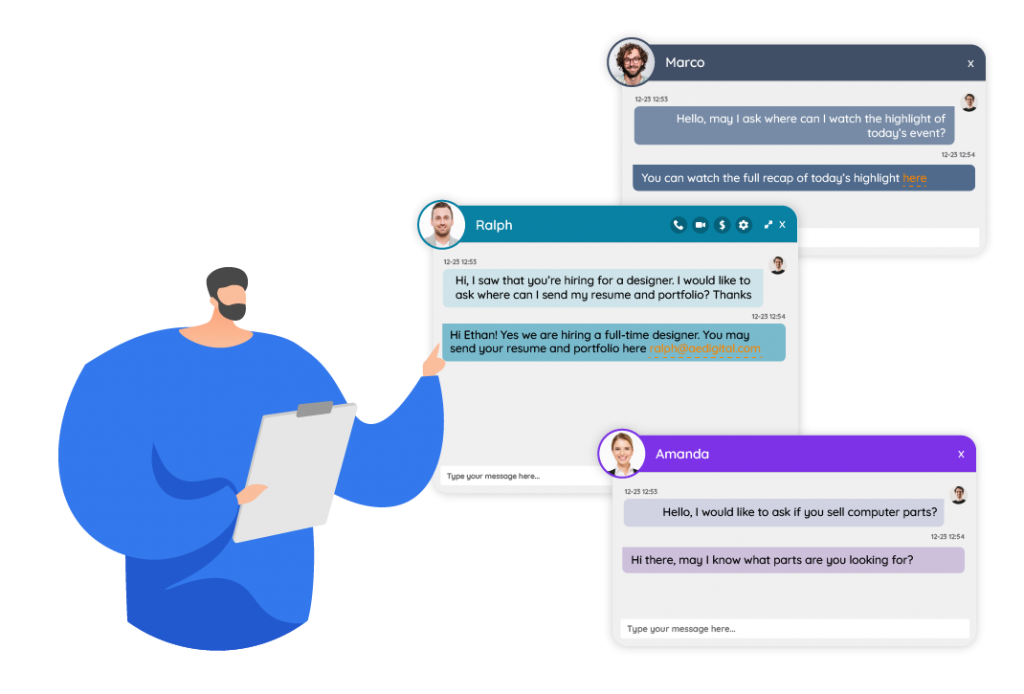 Running an online community can be more efficient when you use the right chat features. This is why we continuously roll out better, customer-centric updates to enhance the overall chatting experience.
On top of these, RumbleTalk's fast and easy integration continues to make it one of the top choices when it comes to group chat tools. Because of the readily available REST API and SDK, you can easily add a fully functional group chat platform to any website in a matter of minutes. So, you can have less time to set up, more time to engage.
Send us a message at support@rumbletalk.com if you want a free demo.