Companies can now do live streaming through a variety of platforms. Which, however, are the most effective routes for boosting audience engagement? Embedding a group chat in your website can significantly improve your customer satisfaction score by 90%, so that makes it a pretty attractive place to start. This is because using a. group chat software enables you to communicate with your audience, especially if you're using live broadcasting services.
Increased customer satisfaction directly affects customer loyalty and retention, which may be achieved with the aid of an event chat (i.e., revenue).
Utilizing an event chat to drive audience engagement
Event participants can message, or "chat," with other participants or moderators in real-time from their devices while they are on your website using a group chat for events. Companies can embed a group chat room alongside their live stream, where participants and chat administrators can communicate via instant message.
Event chat software are compatible with most websites, as a plugin or as an integration. These native integrations centralize all contact records, conversations, transcripts, and data so your organization has a single info source when it comes to your customers.
Features of event chat that live broadcasting services can make the most of
What features should an event chat have? That will mostly depend on the sector, scale, and particular requirements of your virtual event.
To use it with broadcasting services, you might want to choose software with co-browsing and screen-sharing features so you can quickly reply to your audience's queries.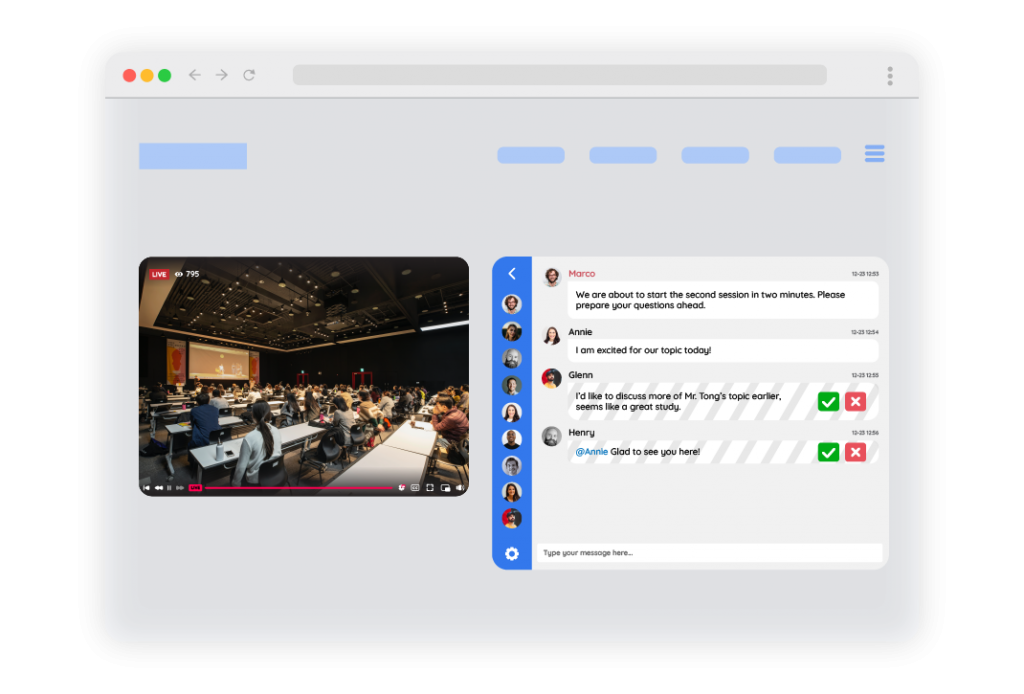 When picking an event chat, the following are some typical qualities to consider:
Unobtrusive chat widget that visitors can hide while browsing your website
Top-of-the-line chat moderation
Live polls
Keep important data through a chat transcript export feature
RumbleTalk is an event chat software dedicated to virtual events such as job fairs, meetings, conferences, and more. The platform boasts the following features: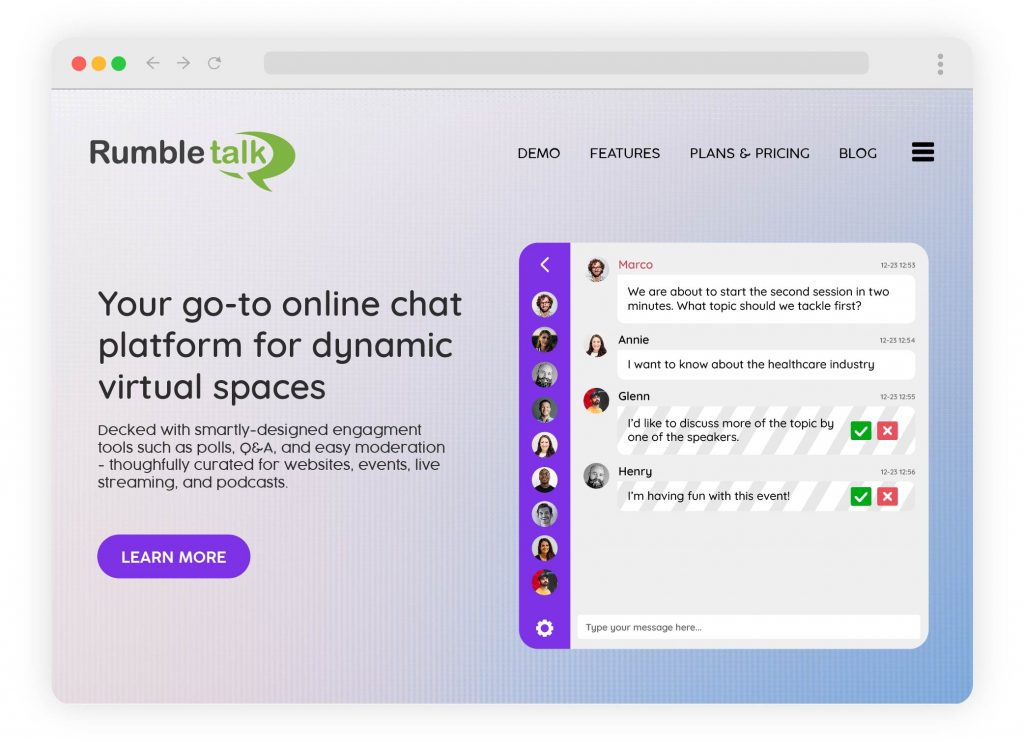 Group Chat or Private Chats
Chat moderation through approving and deleting messages
Quick polls to engage event attendees
Ability to export the chat transcript and user list (for networking)
Ban and disconnect spammers or trolls
Easy multimedia sharing
Works in both web and mobile browsers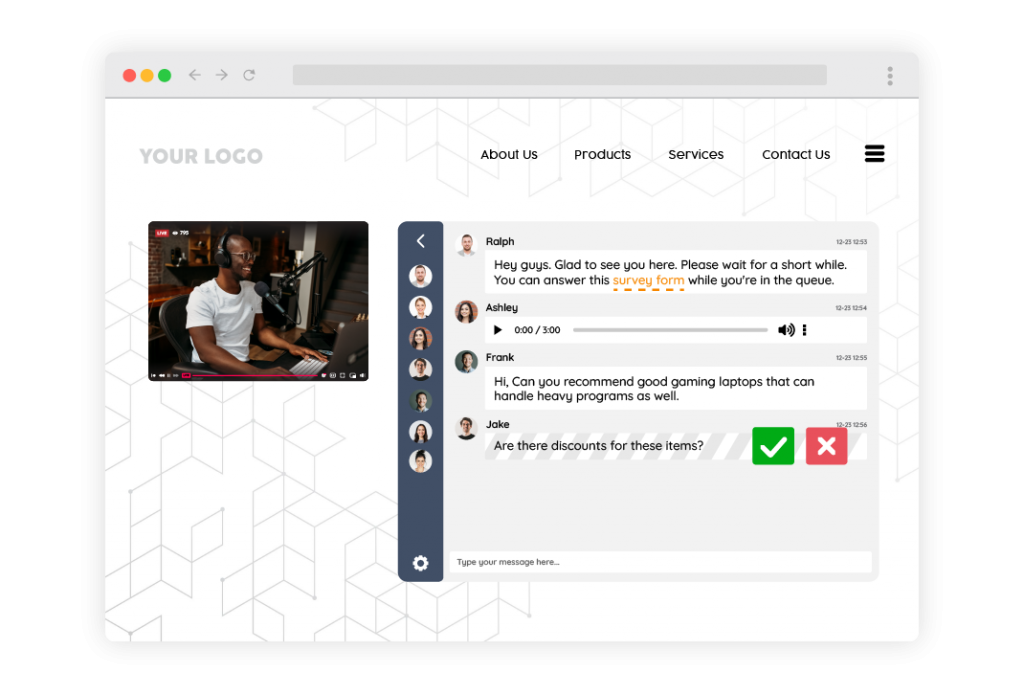 RumbleTalk live chat also lets you customize the chat room with a variety of customization options. You can start with a free account and upgrade your plan (customizable). RumbleTalk also offers a free demo with their support team, just email support@rumbletalk.com.
So, where can you use RumbleTalk live chat? Take a look at our top live broadcasting services below.
Top live broadcasting services to use next to RumbleTalk
Dacast

Dacast is a top-notch platform for live streaming and hosting videos for companies and groups. They provide some of the most affordable prices in the market as a live streaming and video hosting platform.
They have been offering OTT services to numerous clientele since its start in October 2010 and it has helped them gain notoriety ever since.
This software is best for sports games, religious gatherings, and hosting live events. Get started with a basic plan.
Vimeo
Vimeo is an American video hosting, sharing, and services platform headquartered in New York City. The platform focuses on the delivery of high-definition video across a range of devices. Vimeo's business model is through software as a service.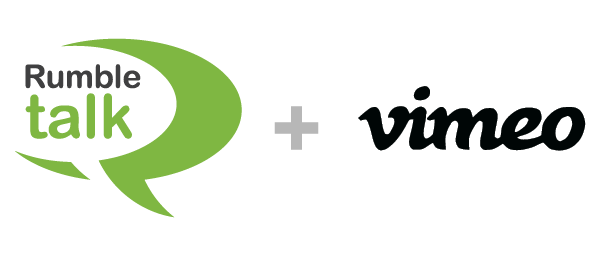 It's an interactive video platform that allows users to personalize their branding. Viewers can buy directly from live streams and make videos shoppable.
With a live chat next to it, it can enhance its call-to-action. Check out their plans here.
Brightcove
Video works well for all purposes, including motivating or training team members, promoting goods or services, and entertaining and informing subscribers. Brightcove offers you the most dependable, expandable, and secure platform.
They've even received two Technology and Engineering Emmy Awards for it. Since 2004, our technology has assisted clients all over the world in using the extraordinary power of video.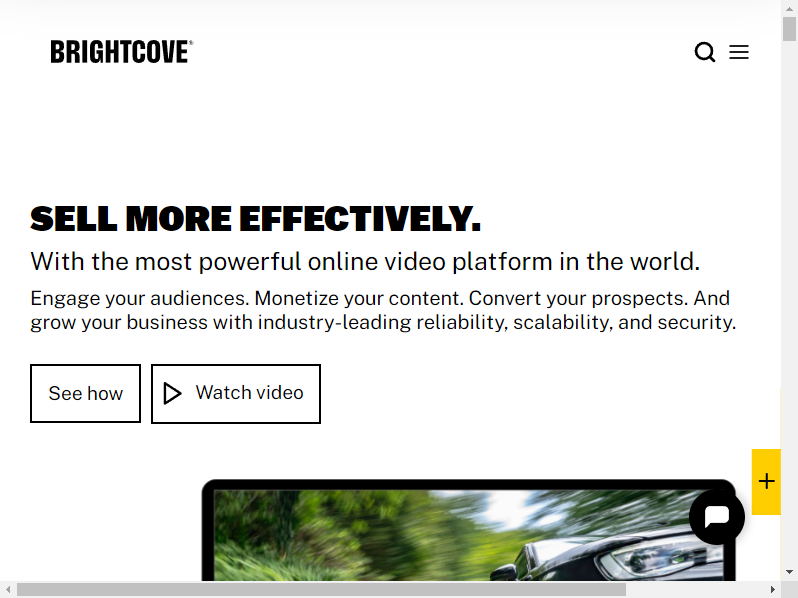 Their platform boasts monetization, flawless user experience/viewing, personalization, and interactivity.
Brightcove allows its users to embed an optional live chat room, e.g., RumbleTalk, next to their live broadcasting service.
With all these features, it may come with a price. You can talk to their sales team to get an idea.
YouTube Live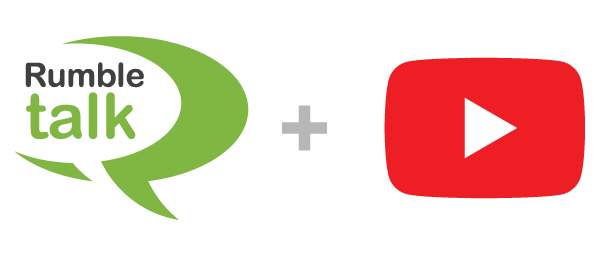 There's a lot you can accomplish with YouTube Live broadcasting.
Livestreaming a video can be as simple as hitting the "Go Live" button on your mobile app, which will notify your subscribers that you're available right away.
Other important things to know about YouTube Live are as follows:
Stream live from a webcam, encoder, or directly from the mobile app.
View real-time data to observe how people are interacting.
Allow supporters and viewers to give money via live chat.
The greatest thing about YouTube Live is how you can use it for free. All you need to do is create a YouTube account. Anyone can go live.
Read: Create a Memorable Group Chatting Experience + YouTube Live
Using an event chat next to live broadcasting services can help grow your business in so many ways
Using event chat software next to live broadcasting services, chat moderators may communicate with event participants in real-time, addressing their concerns and providing answers to their queries. Instant communication with participants improves their satisfaction while also enabling businesses to grow while maintaining a high level of service.