"I need a group chat next to a live video stream!"
This is easy today using a YouTube Live, but what if you wish to charge for entering a conversation?
This is why RumbleTalk pages, a group chat + YouTube Live is a great option for that.
Use your Youtube live for broadcasting live.
Charges are sent to your PayPal account.
Design your own page with ease.
When you think of YouTube live, you always want the best group chatting experience for our audience.
If you've ever said that, you may need to look for a platform where you can create a group chat for your event website that not only allows you to collect donations but actually collect an entrance fee.
Embedding your YouTube live event with a group chat on your website can be challenging. Now, we created a new option for you, where you can have a page in the cloud with your own chat and live video stream.
Many people want to chat about the event that's currently happening. People are native talkers.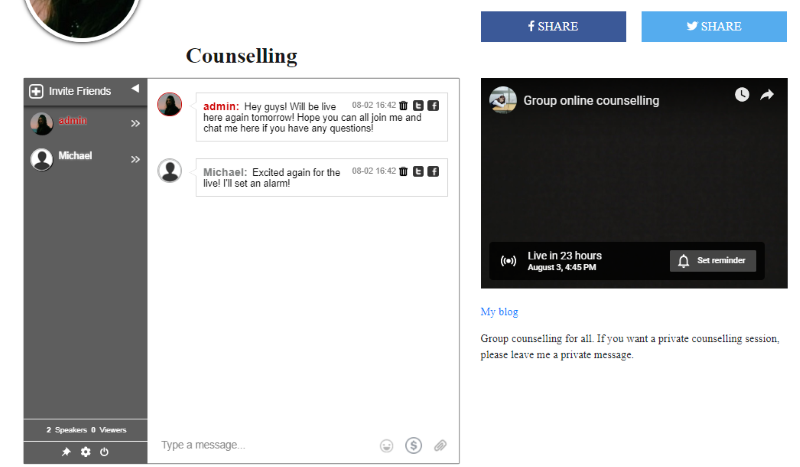 Tips and tricks to achieve a memorable group chatting experience on your website
If you're thinking of creating a memorable group chatting experience on your website, then you should know how to create your own chat first.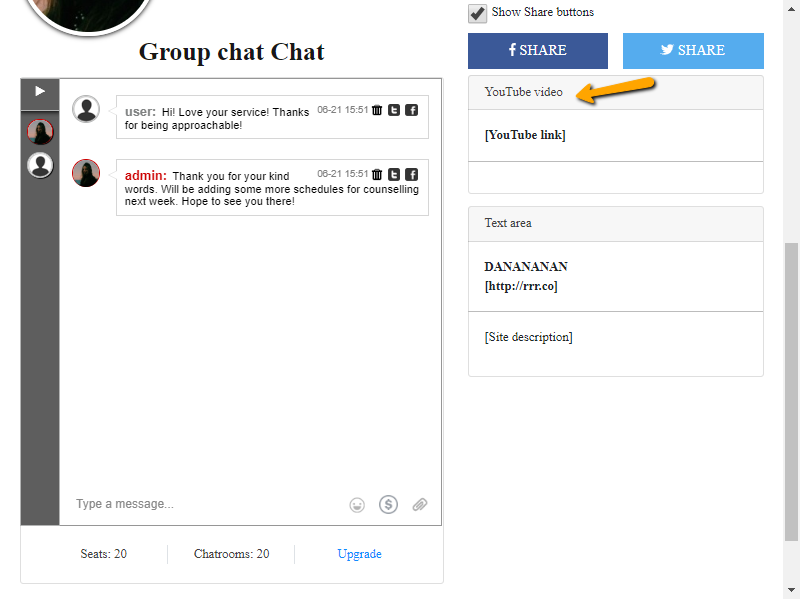 Did you know that RumbleTalk now offers a minisite on the platform (RumbleTalk pages)?
However, only a few people know of it and I'd like to take this opportunity and share it again here. Since this is already our topic, the minisite is called "Pages" on the platform.
It serves as a mini-website for individuals who don't need to create a website or ones that just looking for a venue for their service, business, or themselves.
This is the perfect platform for your Youtube live if you want to put it on your website. Below, let's discuss the steps on how you can create a minisite on the platform.
First, you need to register to RumbleTalk. Just go to the RumbleTalk website and click "Sign up."
Second, on your admin panel, you will see "Pages." Click that and you'll be redirected to another page. This is called a minisite.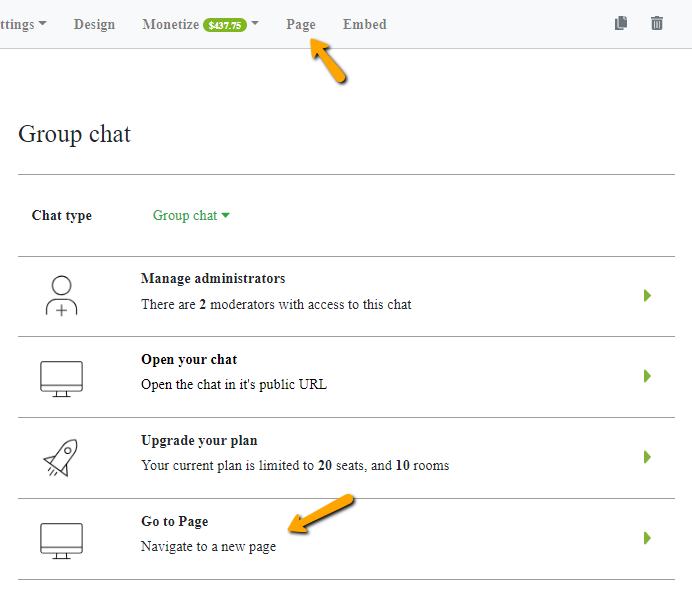 Third, set it up any way you like. It's complete with a default template so you won't have any problems on what you'll put on the page. All you need to do is change it accordingly to your product or service (for this instance, your Youtube live).
How the Pages feature can change the way you look at websites
Minisites can help you communicate with your audience. In just one page, you can chat, stream, embed/hold a live event, share videos and documents, and more.
The Pages feature is an efficient way to have your own site/page dedicated to your service, business, or even your Youtube live. Editing the elements can help you decide the look of your page and what purpose it serves.
With this, you can create an event on your actual website not just in YouTube or any live streaming site. This is also the perfect solution for your dilemma if you want to embed your YouTube live on your website as the platform has its own group chat.
If you're looking for just that, then you can head on to the RumbleTalk website and register to create one of your own. It's free and easy to use!
Adding YouTube live on your website
Now that I've shared the platform's Pages feature, it's time that I share with you how you can add the YouTube live on your website.
Do you see the default template in the Pages feature? You can change any element there that's suitable for your minisite. In this example, I'll show you how you can add a YouTube live.
First, log-in to your YouTube account.
Next, you need to activate/verify your account to do a live stream. This takes 24 hours.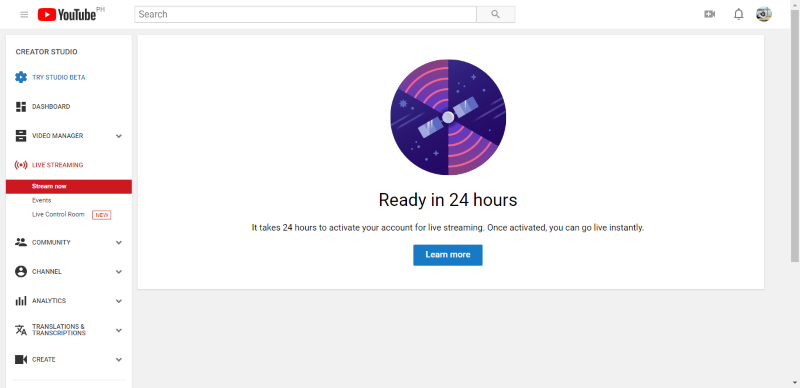 When it's ready, you can now go live! To go live, just click the video cam button on the top right corner.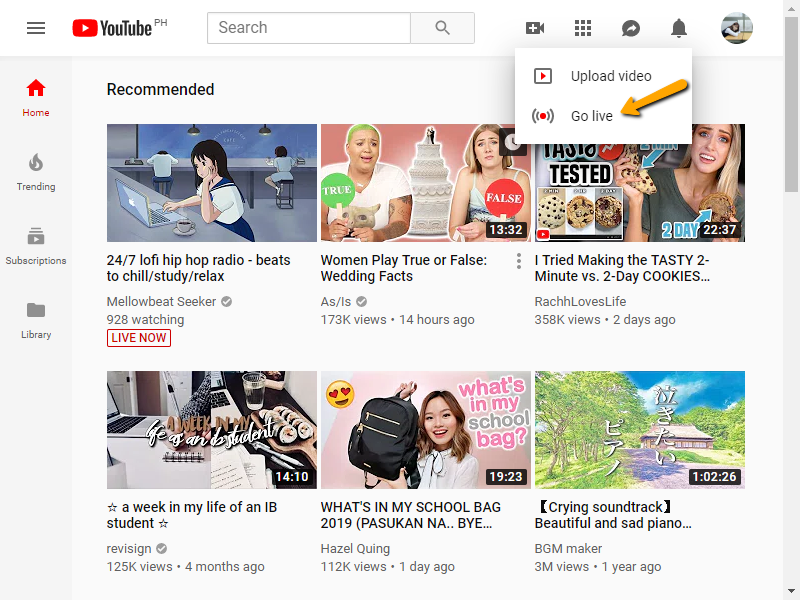 Set your livestream to "Unlisted" so only those who know the link will be able to view the live. Otherwise, you can leave it on "Public."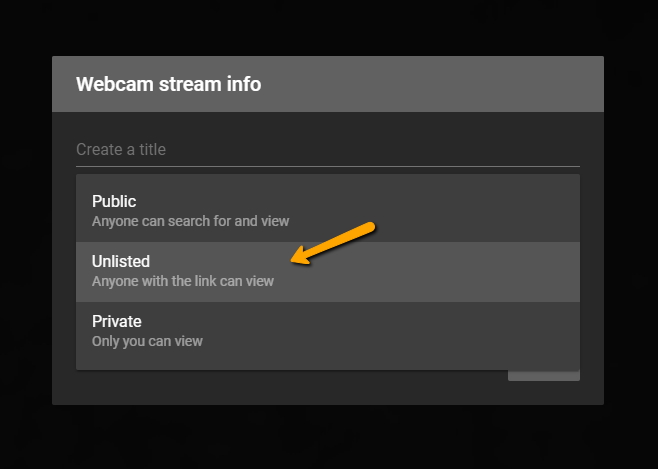 Save your changes by clicking the button on the right-hand corner on the bottom of the page.
NOTE: Don't use the "Private" option because you will be the only one to see the live stream.
When you're done with the basic settings, go to your Creator Studio. Select "Live Streaming," and then "Events." Go to "Advanced Settings."
Make sure that the "Allow embedding" option is checked, so you can play your live stream within your page.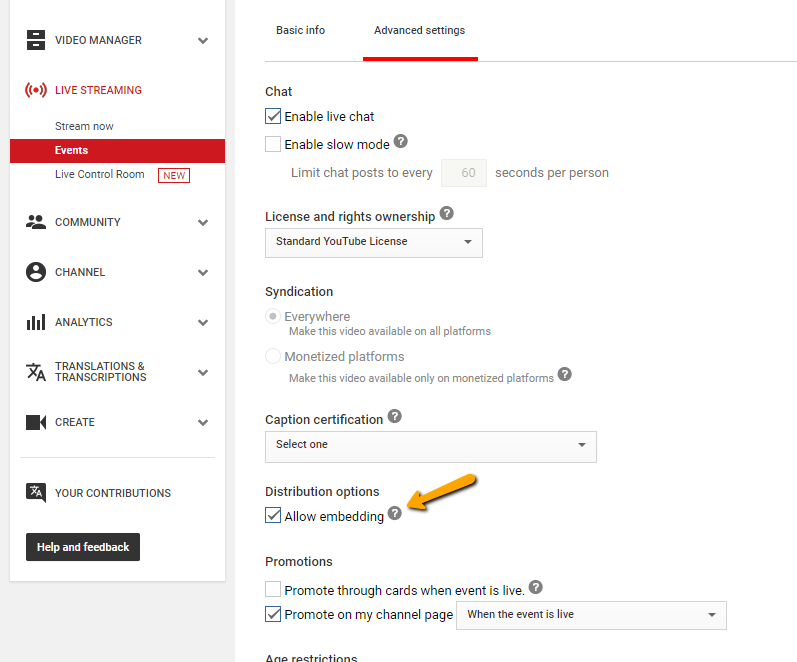 Copy the URL of your YouTube live and paste it on your minisite. You can change this element anytime. So, you can use it for other videos and future lives as well.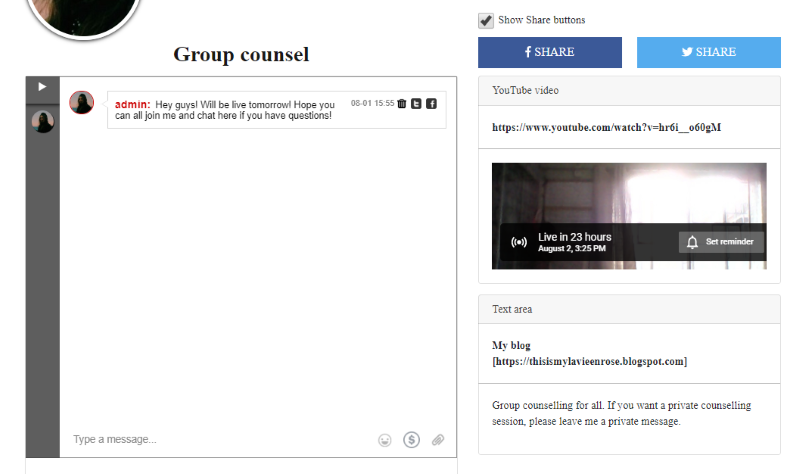 Start your live stream on your page! If you've done all the necessary steps, you can go live.
Start your live stream from your PC, laptop, or smartphone. As soon as you're ready, let your members know via your group chat.
Reasons to use RumbleTalk as your live event platform
As all of us know, YouTube already offers a live chat along with your live stream. So, why would you want to use RumbleTalk as your platform?
Below are the reasons why you should use RumbleTalk.
Embed YouTube live on your actual website. This means that the YouTube live is happening on your website so you won't be able to use the YouTube live chat, but you can use the platform's chat as an alternative.
If you want to embed a chat on your own website (not on the RumbleTalk platform), you can find the instructions on our knowledge base.
If you want to have a closed group chat about the YouTube live event, you can also use the RumbleTalk chat for that. Some discussions need to be private and not public as seen in YouTube.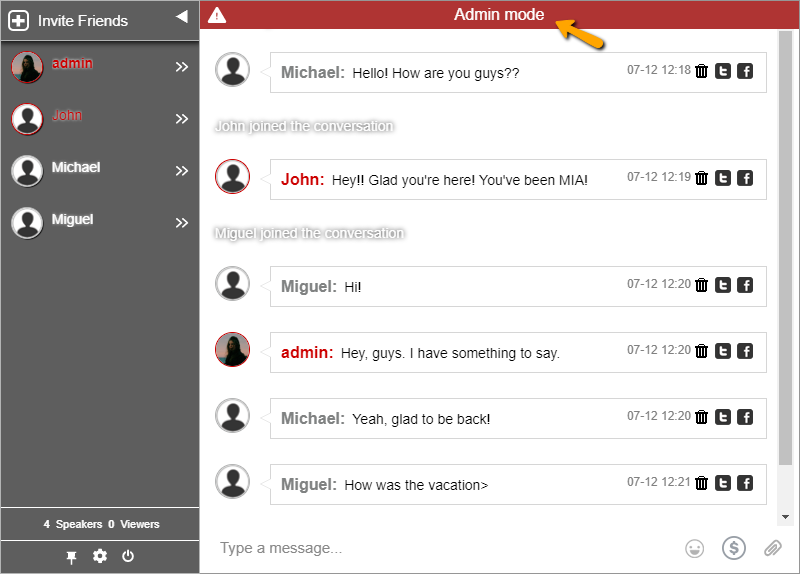 You can even mute regular users and only admins will be allowed to chat. However, that's a discussion for another blog.
Last, you can create a room for paid live streaming. This means that users have to pay before they can enter the chat.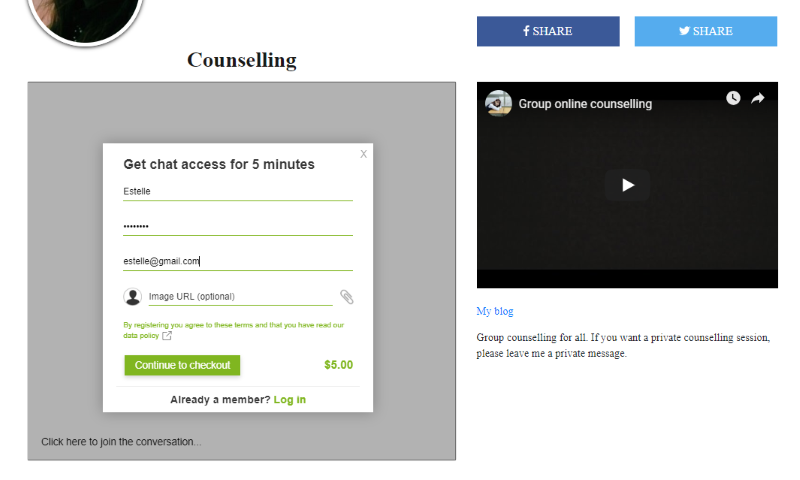 Adding paid access chat on your minisite
How can you do this? There's an option in YouTube live called "Unlisted."
This means that only people with the link can view the live, so you can embed it on your site, and then you can add paid access if they want to enter the chat.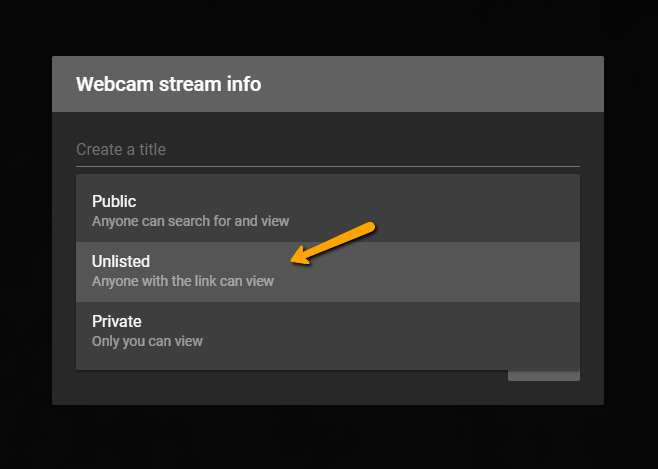 If they don't, the users will miss out on good info and they would not want that.
This is good for live workshops, seminars, and conferences. You are getting paid for your time and knowledge. Then, you can also answer questions of the audience through your chat.
Your audience can also donate in the chat so you can also use it for auctions or crowdfunding for organizations. The possibilities are endless.
If that's what you're looking for, then you can check out our previous blog on adding a group chat with a paywall.
You can now create your own unique live group chatting experience
With the tips and tricks that I shared with you, you can now create an unforgettable group chatting experience on your site along with your YouTube live!
As you can see, there's not much to do if you want to create a community chat. It's just some simple steps and you don't need to create a new website just to go live and have a chat.
Just do these steps and you can see your audience's positive reaction to YouTube live on your website.
What do you think makes a good live event?
Let us know in our social media pages. Share also this post if you've used these tips and tricks in creating a memorable group chatting experience.
If you want to visit RumbleTalk's social media pages, I'll leave the link down below. You could also check out our blog while you're at it!
Here are the links to the pages: Facebook, Twitter
Are you ready to create the chat that's made to change your approach in your group chatting experience? If you answer's yes, head on over to the RumbleTalk website and create yours immediately!
Did this blog answer your questions? If you want to know more about us, you can find more about RumbleTalk and other chat solutions on our website.
Hope to see you again in the next blog!