To improve communication and collaboration, businesses have turned to using chat programs on their websites for interactive meetings. However, most of them are unmoderated, meaning that anyone can join the chat at any time without your permission and make inappropriate remarks or spam the chat with unnecessary messages, without being reprimanded.
So, you may want to consider using RumbleTalk's Moderated Chat instead for your business meetings in order to encourage participation and get your attendees more involved in the conversation.
Here's what you need to know about this fantastic chat type that can help you facilitate healthy, interactive meetings in no time at all!
What is a Moderated Chat?
A Moderated Chat is a group chat with a designated administrator. This person controls specific features that help facilitate discussion.
One of the most useful tools of an admin is the ability to approve or reject messages before they go live. He or she can also create polls, host question and answer sessions, and, export the chat transcript. Furthermore, the admin can also muting individuals in a chat if you want the spotlight to be on your announcement. This makes it easy for your business to host a safe and healthy conversation throughout your platform.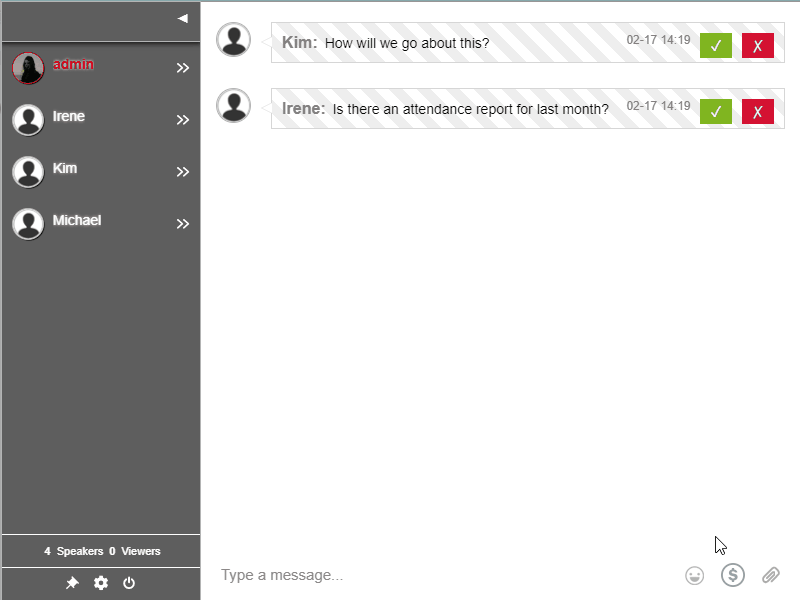 For instance, in an online event setting, the administrator can be the event organizer, where they can facilitate a Q&A session. During a meeting, the administrator can be the secretary, where she can create a poll to ask for feedback from the group. In a big online convention with thousands of users, the administrator can mute everyone, all at once, to have them focus on the announcement or program.
Moderated Chat vs other chat types
The Moderated Chat has all the functions of a Social Chat. Some of these are creating multiple chat rooms, sending multimedia files, and making video and audio calls. You also have the access to the following features: InText Keywords, Mentions, chat customization and adding a welcome message. Learn more about these tools here.
Features and Functions of a Chat Administrator for interactive meetings
What sets the Moderated Chat apart is the feature of an Administrator. Check them out below.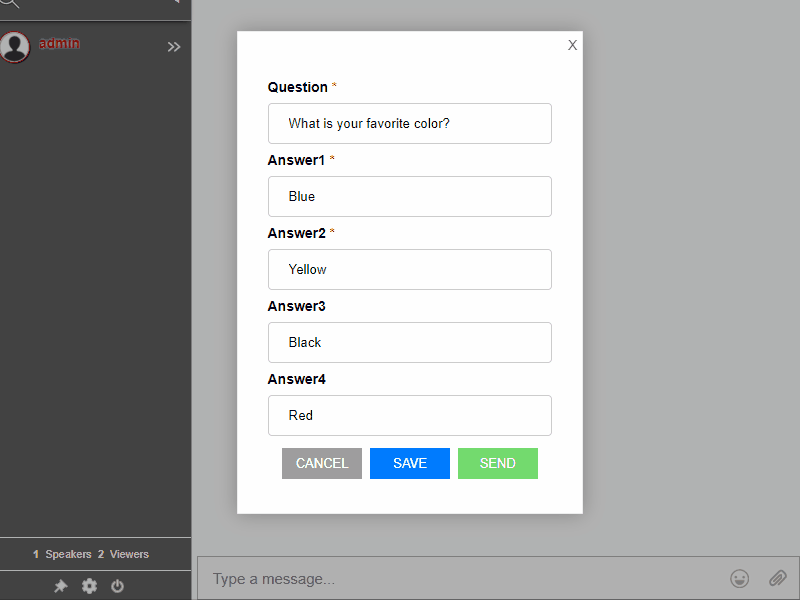 Other features that make RumbleTalk unique
HTML5 – Your Moderated Chat will work on any browser. It can also be easily customized to fit your website's design because they are built with HTML5.
WebRTC – Make live audio and video calls without having to install anything, thanks to the latest WebRTC technology!
Restful API for easy integration – Conveniently embed this powerful chat platform on your site using our add-ons, integrations, and chat plugins. Available for WordPress, Wix, Joomla, Angular, and React.
RumbleTalk Pages – Perfect for those who don't have their own website or event page. You can create your own mini-website using the RumbleTalk Pages.
Set up your RumbleTalk Moderated Chat
To get started, simply create your free RumbleTalk account. Then follow these steps:
Go to Settings > General & Logins.
See the list of chat types available. Choose Moderated Chat.
Time to add your Administrator by selecting Settings > Users.
Click Add new user and type all the details needed such as username and password.
5. Choose if they will have room-only access or global access.
If you need to customize your plan, set up a demo call, or discuss anything else, send us a message at support@rumbletalk.com. We'd be glad to help you set up your interactive meetings!
A Moderated Chat for healthy, interactive meetings

The Moderated Chat is a smartly-designed tool that will make your interactive meetings and events more organized. By creating a positive environment for communication, you will help establish trust between team members. And finally, foster a thriving community day in and day out.