A virtual event is an event that happens online, like a conference, live stream, or any other type of event. Virtual events are powerful because they have a global reach. Live events are limited by their physical space and location, but online events can be accessed by anyone with an internet connection. Charging for virtual events is also more convenient for attendees because they don't have to worry about the cost of travel and lodging. Because of this, we taught of event ideas you can use as a beginner or a professional event host.
If you're looking for creative ideas on how to host a successful virtual event, here are some examples that everyone will surely enjoy.
Virtual event ideas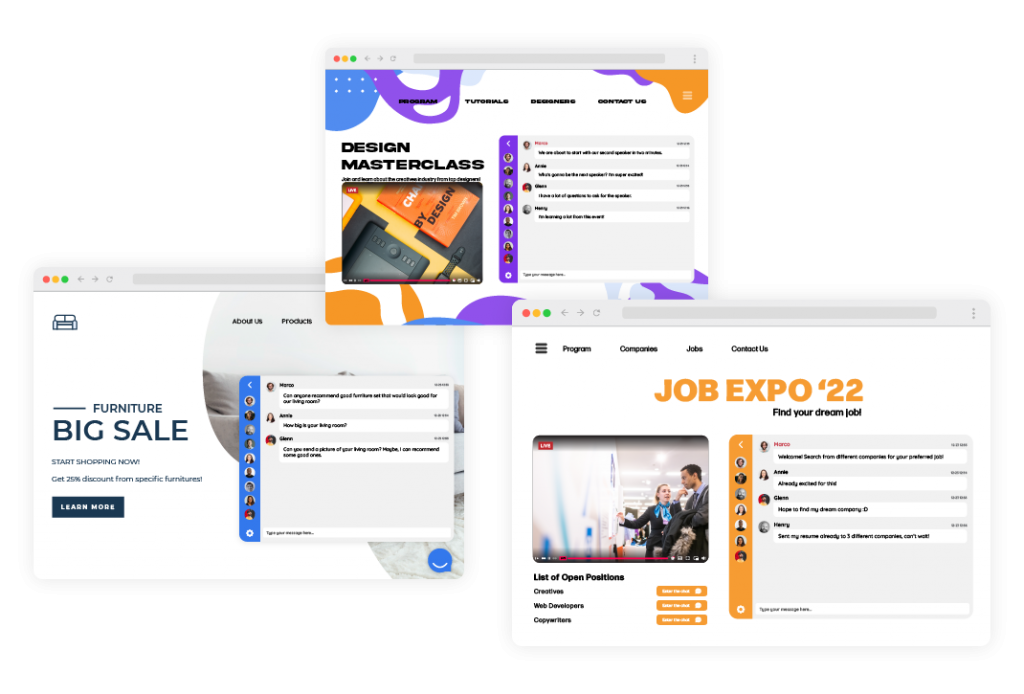 Go live and personal
Most social networks, such as YouTube, enable you to go live. That implies you can click a button and instantly broadcast to your followers. Virtual events don't have to be expensive. You can use the live streaming features on social platforms to connect with your audience for free. Let your audience know in advance that you'll be going live. You might even create an event on Facebook to get people excited. But make sure you actually go live when you say you're going live.
Examples: Elev8 Event Group Hybrid Wedding
Virtual Conference
These are great for educating your audience or sharing new information. You've probably heard of Comic-Con and other large conferences, and now they're becoming online. When you think of conferences, you probably think about breakout sessions, and other small group classes. With virtual event platforms like Webex, having virtual "rooms" for different sessions is easy for the event planner and the attendees.
You can either host your own conference, or exhibit at someone else's online conference.
Show off your creativity through trade shows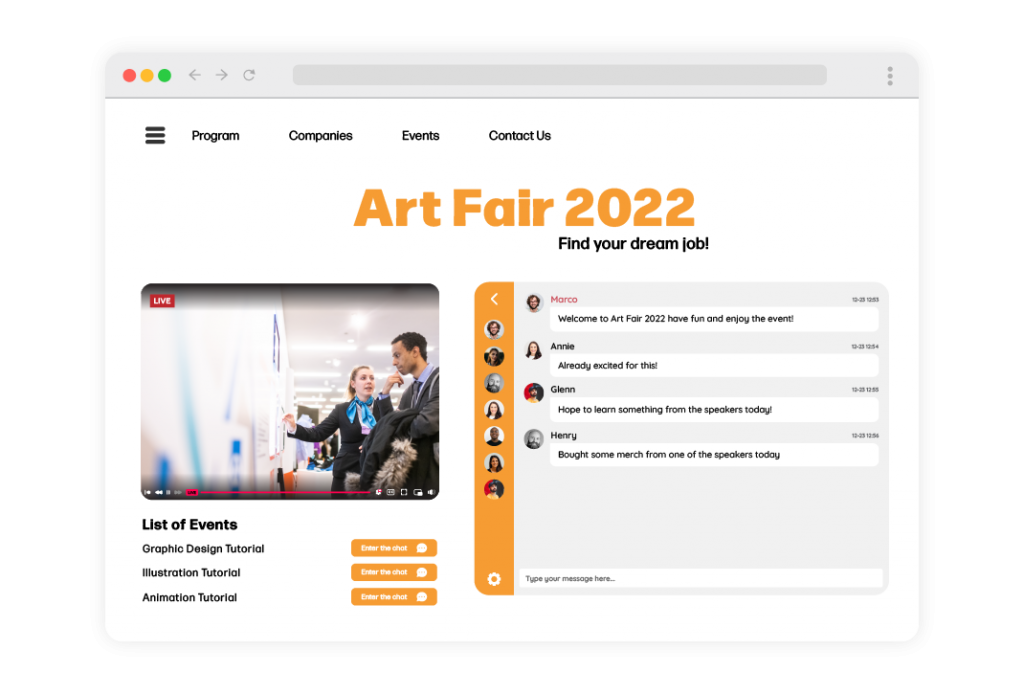 A virtual trade show is an online event where businesses can showcase their products and services to potential customers. Online trade shows are an excellent way to generate high-quality leads effectively. This is another tool for educating your audience and converting them to new clients no matter where they live in the world. Trade shows can be a great opportunity to showcase your product or service.
Interview and recruit with online job fairs
A virtual career fair is an online event where job seekers can connect with employers and recruiters to learn about job opportunities. Looking to hire new employees? Why not try a virtual job fair? This will allow you to reach a global audience, whereas an in-person job fair usually limits you to a local talent pool.
Virtual career fairs are an effective way to reach a diverse audience. You can hold video interviews, have a chat feature to talk to potential employees, host webinars about your company, and have documents available for candidates to download.
See how RumbleTalk helped companies to increase potential hires.
Connect with anyone around the world through webinars
A seminar conducted over the internet. Webinars are shorter presentations that are still a great way to cover a topic. If you're unfamiliar with what a webinar is, it's usually a presenter talking while showing a slideshow that attendees watch. Nowadays, many webinars offer a live chat feature like RumbleTalk so attendees can discuss the topic or ask questions in real time.
Train your new hires virtually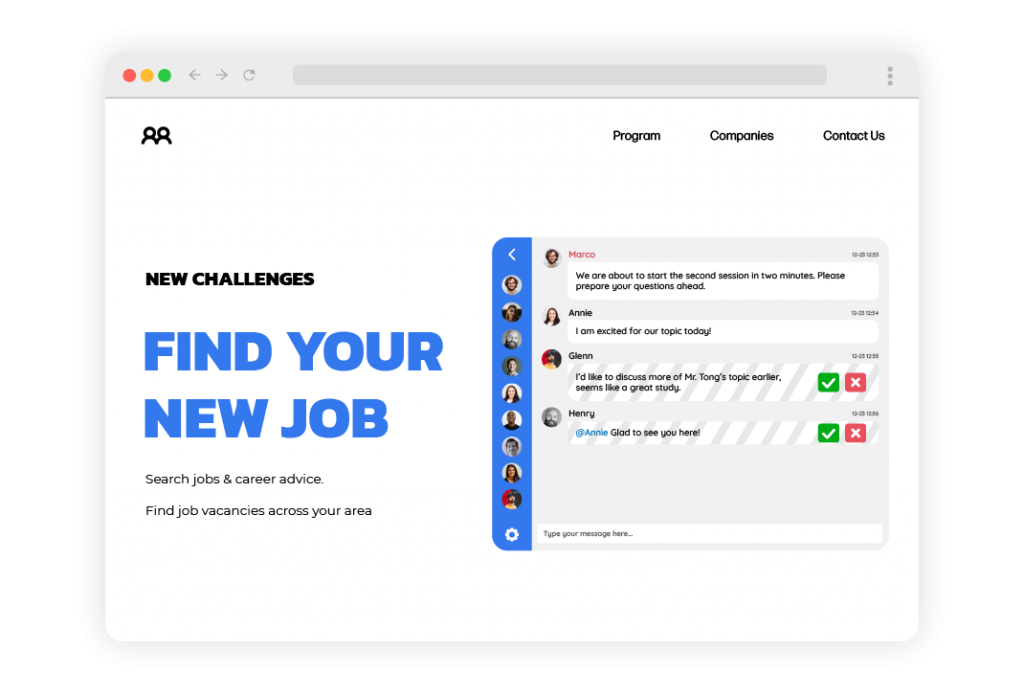 Onboarding and initial new hire training can be a hassle for companies of all sizes, especially if the company has multiple locations. When a new employee is hired, they can log in to a specific site to get all the information they need, including documents, training materials, and anything else they need to know about the company culture.
One advantage is that you can compile all your content in one place, and it will always be accessible. If something changes with your onboarding process, it will be easy to make modifications. Companies will benefit from increased productivity and a reduction in training costs. It also ensures consistency across all of your locations.
Our thoughts on new event ideas
Virtual events are not a new concept, but businesses have had to explore new options for their events. With a little creativity, any in-person event can be turned into a virtual event. There are many benefits to making events virtual, including cost savings.
We are entering a new era of online training, seminars, concerts, and conferences. If you've been thinking about ways to host an event, but decided to postpone those plans because of COVID, now is a good time to rethink those plans and see if you can convert it to a virtual event.
We hope these event ideas can help you in coming up with a strategy on how to hook your audience. If you want to connect a chat room to these events, you can send us a message at support@rumbletalk.com. We can demonstrate how chat rooms can be advantageous for these events.