Podcasts have been around for the last decade, but they only began to take off in the previous five years. With the explosion of smartphones and other digital devices, audiences can listen to podcasts at work, while running, on the subway, and even when they're out camping or hiking. With a community group chat, listeners can now share their insights. This allows two-way interaction in a show.

As podcast listeners have gone up, so has the demand for podcasts that are more than just someone talking into their microphone and sharing what they have to say. Audiences want interactive podcasts where they can be involved in discussions with people who share their interests and passions.

Check how GaS Digital continued to spur demand on their podcast shows by utilizing a community group chat within their channels.
The Client: Get to know GaS Digital Network
GaS Digital Network is a New York-based podcasting network. Their website houses 22+ podcast shows from a wide variety of topics ranging from comedy, sports, music, politics, and more. The company also produces 20 GaS Digital exclusive shows.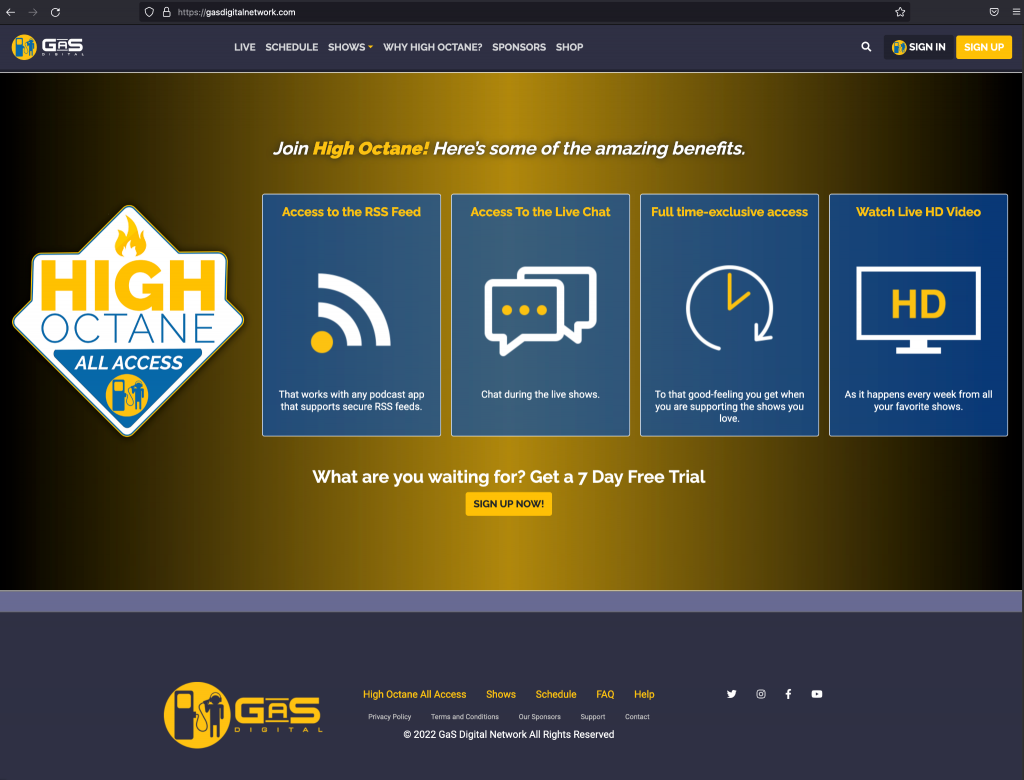 GaS Digital started in 2016, when Luis J Gomez and Ralph Sutton, The G and the S of GaS Digital, decided to create a space for people to discuss their favorite topics online.

In 2020, when the pandemic hit, we were all forced to live our lives in front of our screens. In turn, the podcast industry instantly had a louder voice. GaS Digital benefited from this surge. Roughly 22% of U.S. adults said they're listening to podcasts more due to social distancing and stay-at-home habits, according to a Morning Consult survey conducted March 23-26, 2021. In a way, the podcast shows offer respite from the omnipresent mobile devices, giving everyone time off to reflect on personal development and well-being.

After 4 years in the business, the network has grown to 10s of thousands of subscribers now and around 1.4 million listeners per week.
The Problem: Low subscription and engagement during podcast shows

While this shift in consumer behavior benefitted GaS Digital, it comes with the challenge to retain and maintain the increase in listenership as we all prepare to go back to our lives.

By early 2022, the company's shows were slowly seeing a decline in the number of listeners and new subscribers. This is a nudge that allowed them to innovate and create something wonderful with an unexpected collaboration.
The Solution: Adding a community group chat room on every live show

In the same year, the founders decided to take things one step further by partnering with RumbleTalk group chat. Together, they embedded a community group chat beside every live podcast show.

This easily became a place where the listeners could, not only listen but be welcomed by a group chat room while watching their favorite podcast. It's an exciting add-on to the already interesting topics discussed in the shows.

With RumbleTalk, GaS Digital's audiences can now participate in a community where they could have direct contact with other audiences – and the numbers will speak for themselves!
The Results: 10% increase in listenership and subscriptions nearly doubled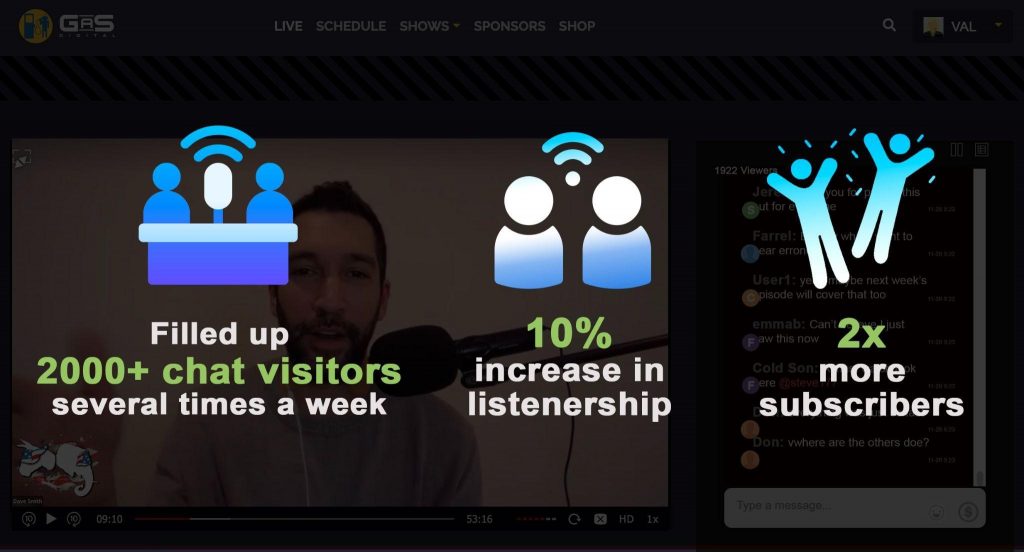 RumbleTalk was a way to have an open dialog with other viewers, fostering a sense of engagement, interaction, and a stronger GaS Digital community. This is one of the reasons why they're able to fill up over 2000 seats several times a week.

Their subscription also nearly doubled since teaming up with a chat plugin, giving them 10s of thousands of subscribers now and around 1.4 million listeners per month, as of October 2022.

By switching to a chat-driven podcast format, GaS Digital has been able to spike up its listenership and subscriptions without any additional marketing spend.
RumbleTalk community group chat for podcasts

The GaS Digital team has been teaming up with the RumbleTalk community group chat for podcasts to stay relevant when the media industry is struggling to keep up with the market's trends, competitors, and lifestyles.
To find out more about GaS Digital Network and their very interesting content, go to https://gasdigitalnetwork.com/high-octane-all-access/ and use coupon code TWB for $1.50 per month off the subscription cost.
If you're interested in a collaboration like this, send us a message at support@rumbletalk.com. We'd be glad to give you a free demo!