The increasingly popular hybrid wedding combines the best of a traditional ceremony with elements of your reception to make your day an unforgettable experience. It's the best of both worlds, with all of the fun and none of the headache!
Although it seems simple, Elev8 Event Group knows that there are many aspects to consider when planning a hybrid wedding. This included choosing the right location, vendors, and platforms.
To really make this hybrid wedding special, they chose a communication software that will allow them to seamlessly integrate all of the different elements into one cohesive platform. See how it worked out in this case study.
What is a hybrid wedding?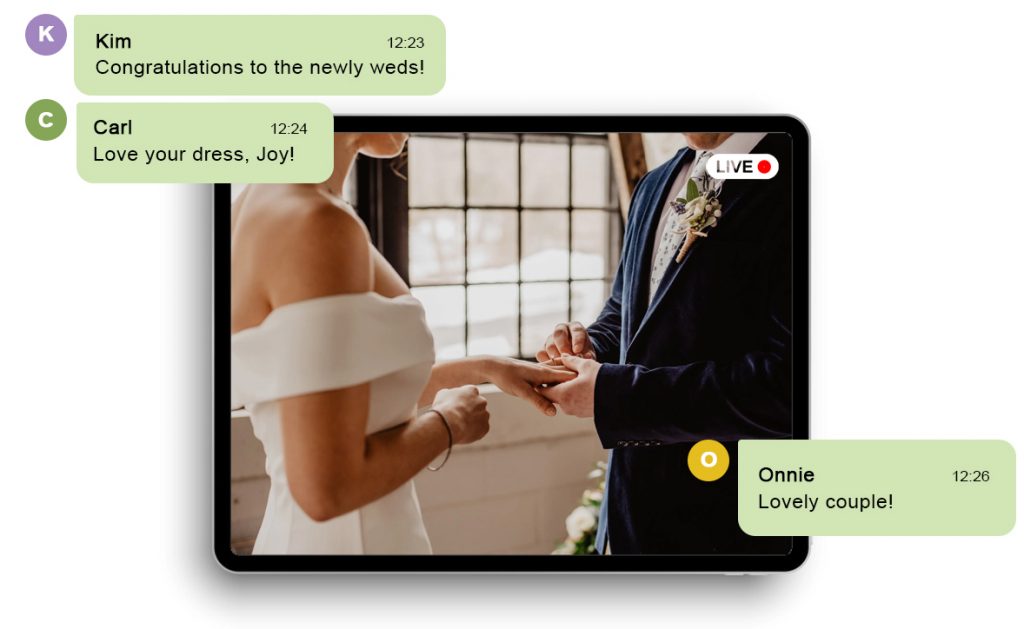 A hybrid wedding is a face-to-face wedding ceremony and reception that's also partially streamed online. With a technology like RumbleTalk, hybrid weddings allow online guests to join in on all wedding festivities from virtually anywhere.
The Problem
As an event organizer, Elev8 Event Group has been asked many times to look for quick and effecient solutions to every event-related problem. One of which is finding a tool to solve the barriers clients have during online events. In this case, a geographical and communication barrier.
Why should guests be forced to use a separate chat application to communicate with each other? They knew there had to be a better way. Thankfully, it didn't take long for them to find the perfect solution.
Their search led them to RumbleTalk—the easiest-to-use live chat software on the market.
The Objective
Elev8 Event group wanted a new way to bring virtual wedding guests into their events. They have around 200 online guests looking forward to celebrating the special day with the couple and catching up with other guests – both in the comfort of their homes.
The Solution
They embedded a RumbleTalk Member's Chat next to the wedding live stream. A Member's Chat is a group chat with exclusive access to specific people.
It's the best way to give their virtual guests a safe way to interact with each other in real-time while they're watching the live stream. Here are some of the ways how they've been able to maximize the platform.
An exclusive Wedding Page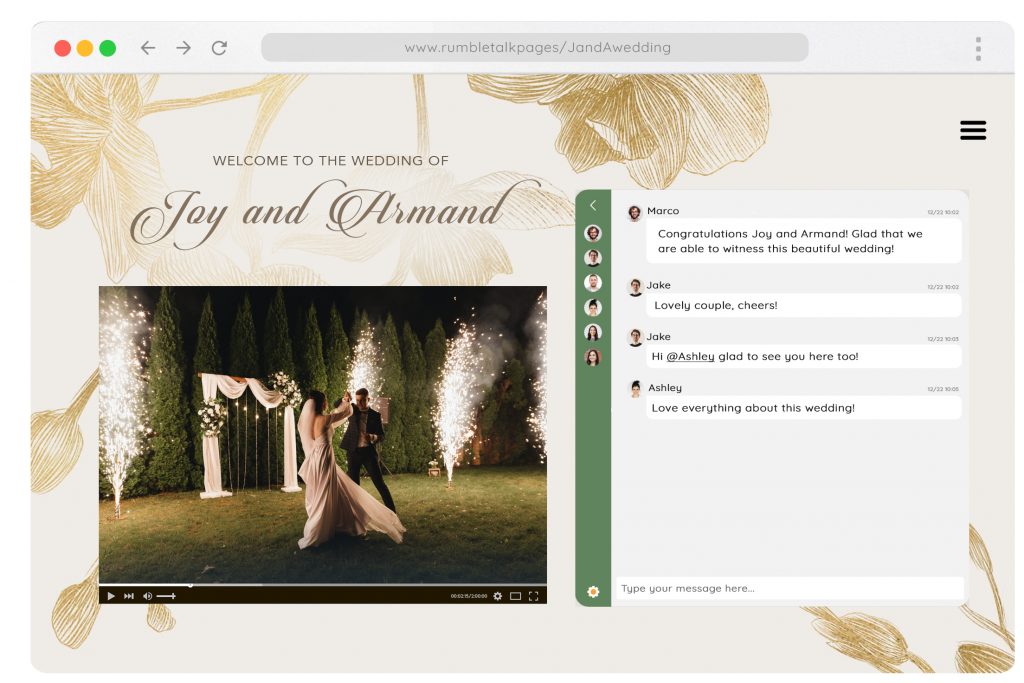 Create a wedding minisite for your guests! RumbleTalk Pages allow you to customize your own webpage complete with the guest log-in, event details, ceremony live stream, and group chat. You can even customize the design of the page to match your wedding theme.
Imagine having just one place with everything in it? Well, it's possible with RumbleTalk Pages.
Log-in feature with the userbase
Since this is an invite-only event, the log-in feature of the Member's Chat is perfect to limit the users to the couple's guests only. With a userbase integrated into the chat, the chat will remain private and secure for the couples' loved ones.
A warm welcome
After the guests log in, they are greeted with a warm welcome! With RumbleTalk, organizers can create a welcome message for the chat room. This is one of the unique experiences you can tailor to each wedding.
For example, with this announcement message, you can provide the program flow for your online guests, or add a message from the couple. This makes the chat room more inviting and inclusive for people who won't be able to attend the event personally.
Polls and Moderated Q&A
These tools allow your audience to have fun and be a part of the party! As a chat moderator, you can send out polls, and host moderated question and answer sessions with online guests.
Moreover, the Moderated Q&A chat lets you screen the questions before it goes live, perfect for a Q&A session with the couple during the program.
The Result: A hybrid wedding like no other
It allowed me to communicate with viewers and help them troubleshoot access to the stream if necessary. Viewers could also leave comments for the bride and groom. It was very easy to use and customize. I would definitely use it again for future events as all I need is a simple chat room.
Everyone, from the couple, in-person guests, and online guests had their share of fun! It was made possible by using RumbleTalk to bridge the gap between families and friends.
If you are planning a hybrid event soon, talk to us at support@rumbletalk.com and we'll help you set up!