Interaction and engagement are critical components of your live events. As a result, you must engage your audience in the discussions and topics for which they came to the chat room. A website contains numerous elements. These elements, however, are ineffective if your audience wishes to learn more about the product, company, individual, or any other topic. This is the reason why you need an event-centric chat room such as RumbleTalk chat. They can use the chat rooms to connect with other members and discuss topics that are important to them.
Audiences thrive on participation
Interacting with people who share your interests can be enjoyable. As a result, if there is no one to talk to, the audience does not participate as much.
In most live events, admins are appointed to oversee the chat. These administrators will be in charge of community events and other activities. When there are no admins, audience participation will stagnate and eventually disintegrate.
As a result, here are tips on how to handle live events with RumbleTalk chat.
Q&A sessions via RumbleTalk chat rooms are an excellent way to engage your audience
When engaging with an audience, questions will always arise. Why not switch to a Moderated Chat instead of using the group chat as a Q&A platform?
Because there are already admins in the chat room, they can act as moderators. They'll scan the chat room and ask questions. Then, members will respond to the questions so that the administrators can get their feedback on a specific topic/discussion.
Follow these simple steps to set up a Moderated Chat.
Click Settings > General & Logins in your admin panel.
Select Moderated Chat from the Chat Type drop-down menu.
When you login as an admin in the chat room after selecting your chat type, you will notice that messages have check and cross boxes.
Admins can begin sending questions after the Moderated Chat has been set up. Members of the community will submit their responses, and administrators will review them without revealing their identities (unless the admins approve them). This allows members to remain anonymous if they do not want others to see their answers, which could cause a rift if there are different answers.
Allow the audience to vote anonymously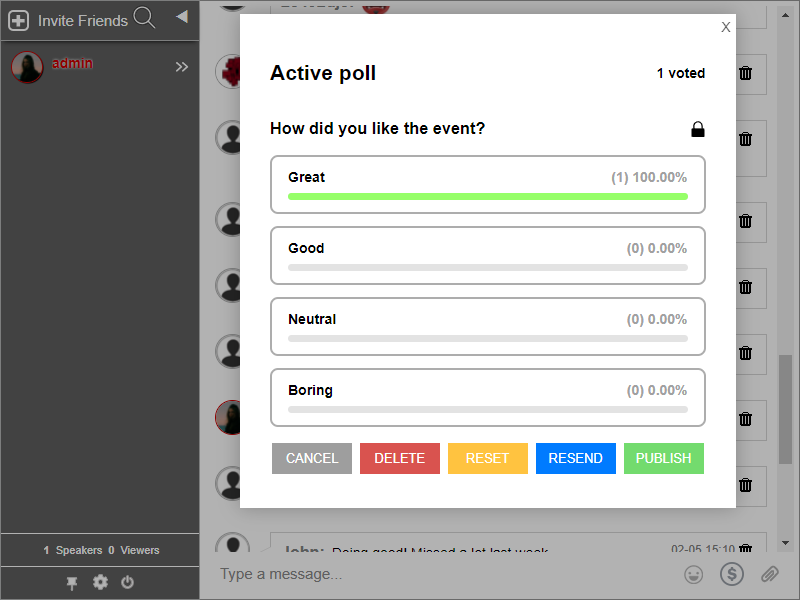 To maintain anonymity, admins can create polls in the chat room. When a member of the audience votes, other members and admins have no way of knowing who voted for that answer. As a result, all responses will be completely anonymous.
Polls are visible in the chat settings. To make one, select Create new poll. Fill in the blanks with a question and four answers. Click Send if you want to send it to the chat room. After everyone has cast their votes, click Publish so that everyone can see the results.
Solicit feedback and suggestions
Sometimes, the audience wants to share their thoughts. As an admin, you can host a session in which the audience can share their thoughts and ideas.
You can use the group chat to inform your audience that you will be hosting an open mic type of event. There are no restrictions on who can send messages.
As the head of the chat, you can use this information to plan future live events.
Keeping live events engaging with the help of RumbleTalk chat
Because live event audiences only exist in the virtual space, you must exert more effort to connect with them. It may be difficult at first, but once you've mastered it, engaging your audience will be a piece of cake.
When you use RumbleTalk chat on your website, you can create a memorable chatting experience for your community.
Contact us through support@rumbletalk.com and get a free demo.