We understand the importance of keeping essential messages at the top of your chat list for easy access. You can do that using the Pin Messages feature! Whatever your message is – an introduction, chat rules, or a link to an ongoing livestream – it can now be pinned to the top of your chat room.
With this addition to RumbleTalk chat platform's wide range of features, the chat experience will be significantly enhanced.
As a chat admin, you can enjoy this feature by following these simple steps
Here's how you can pin messages on top of your chat.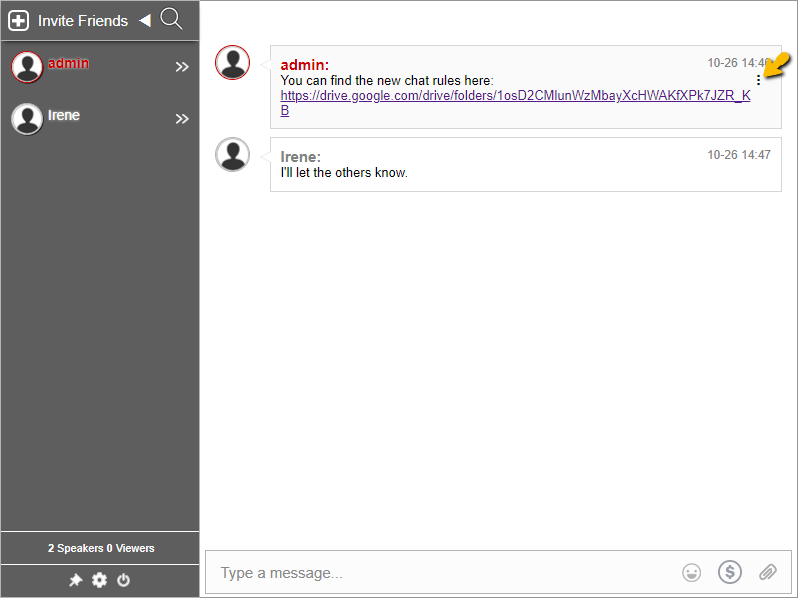 Login to your chat room as an admin.
Type a message.
After sending a message, click the button (vertical ellipsis) beside the message you sent.
Click Pin message.
The chosen message will now be pinned on top.
Tip: Only chat administrators can use this function. Therefore, if you want to pin a message, make sure that the chat room has assigned admins.
NOTE: This feature is currently available for beta users only. Contact us if you want to have an access to this feature.
Is there a limit to the messages that you can pin?
As of now, only one message from a chat user can be pinned. When another message is pinned, this will override the previous pinned message.
Therefore, it's important to plan which message will be pinned so that users will be able to see the message instantly.
What type of messages can you pin?
From important announcements to informational links, you can pin any message as long as it's sent in the chat room. Even if only chat admins have the ability to pin a message, non-admin users' messages can also be pinned.
When a message is pinned, it will show the user who sent it along with his/her message.
Use this feature to your advantage when talking in communities, discussing team strategies, or sharing relevant links about a topic.
To know more about RumbleTalk's latest features, you can visit our blog and knowledge base. If you want to create a free account, then sign up on the website. You can also send us a message at support@rumbletalk.com to schedule a free demo.