The RumbleTalk group chat has a plethora of options and features. We are evolving as the platform grows, and we are always striving to make the platform more user-friendly. Our group chat platform features offer a high level of functionality that is matched by their ease of use. Here are the top features that administrators can use to control the conversation.
Getting rid of chat messages
What do administrators do in a group chat? It's moderating the conversation.
Would you appreciate it if someone harassed your members or created scenes like this? Obviously not. This is all your hard work, and you would never tolerate such behavior in your chat rooms. With situations like this in mind, we've made message deletion a quick and easy process.
Simply click the trash can icon next to the messages to delete them. Group and private chat rooms have this icon.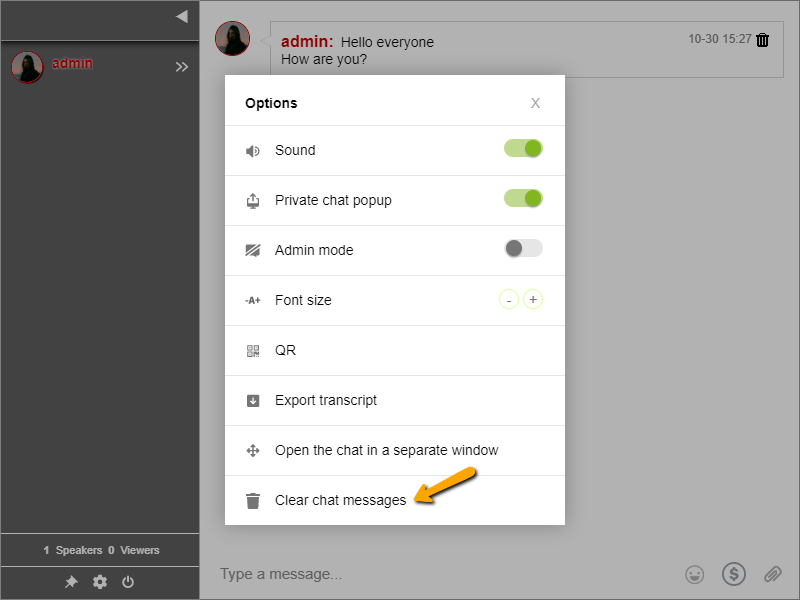 Select the gear icon at the bottom of the sidebar to clear the entire community chat message cache history (for all users). This will display your available chat options. You'll see the Clear chat messages button from here. Delete all chat messages with a click. Keep in mind that you will only see this option if you are logged in as an administrator.
View the IP address of a user
Another aspect of your role as an administrator will be to delete other people's messages in the community chat room. When a user engages in serious behavior that has the potential to disrupt your chat, you must take extra precautions. These actions can include harassing other members, requesting excessive personal information, and more. This additional safeguard is found in the ability to view a user's IP address.
An IP address identifies and distinguishes a computer from all other computers on the internet. Knowing the IP address of the predator or troll who is attempting to infiltrate your chat is the first step toward taking preventative action against such offenders.
Members of the chat community came to the chat room with one goal in mind: to chat with others and communicate peacefully.
If a user simply wants to cause a riot or a problem in the chat room, you can easily ban that user.
How do administrators ban a user in a chat room?
To begin, in the sidebar, click on the profile of the user you want to ban/disconnect. This will launch a private chat panel with that user, complete with messaging and moderation features.
If the user continues to engage in such misbehavior in the chat, you could issue a warning. You could also disconnect the user. This temporarily removes him/her from the chat. Both of these are effective strategies.
If they ignore these warnings and continue to violate the rules, you have the option of blocking their IP address. This removes the user from the chat and permanently bans him or her from the chat room. Any action taken from the same IP address will be prohibited.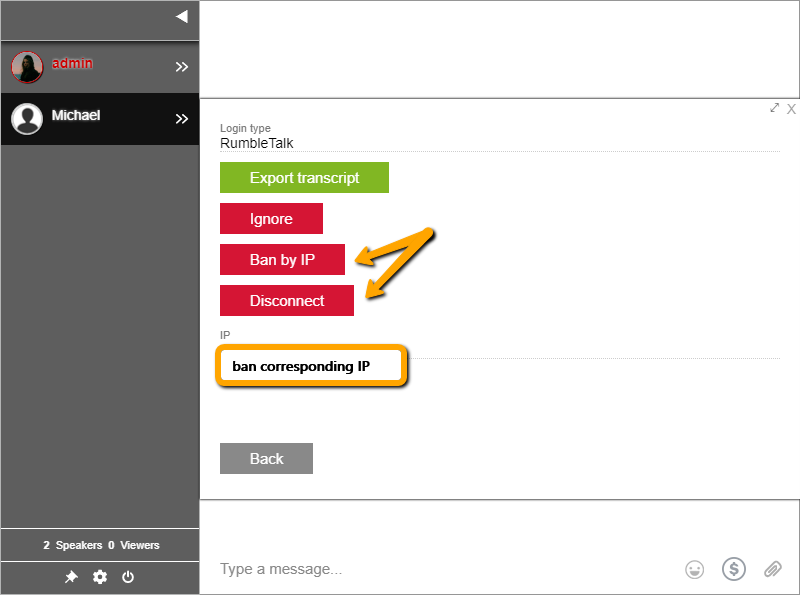 With over 10,000 bans in large community chats, banning a user based on their IP address is one of the most notable chat features across all RumbleTalk chat rooms. It is a powerful tool for combating internet abuse and cyberbullying. It also keeps your chat room free of spam.
You can unban an IP address if you want to. Manually add or delete previously banned IPs by going to your chat settings and scrolling down to banned IPs.

Moderation of group chats
Administrators can moderate a group chat. How? When a chat owner selects Moderated Chat as the chat type, only an administrator has the ability to accept or delete messages.
Messages from non-admin users will not appear in the group chat unless they are approved by an admin. As a result, spammers and trolls are less likely to send messages.

This chat type is ideal for online events, speaker-to-audience events, large conferences, and other similar occasions. Administrators moderate the chat rooms.
Administrators are the head of the community
We are proud of these community chat features, but even more so of our commitment to improving the chat room platform. If you follow us on Facebook and Twitter, then you'll always be up to date on our latest features and releases.
You can also connect with us via support@rumbletalk.com to get a free demo.