When running a virtual event, a business meeting, or a community gathering, it is important that we capture the unfiltered thoughts of our audience in real-time through Q&A and Polls sessions. This will encourage audience participation, create an interactive environment, and help you gain valuable insight for your next move.

No wonder why the Moderated Q&A and Polls feature are two of the most used live chat features in the virtual world, because they significantly make every session more dynamic. And, they make the audience feel more involved even without physical interaction. Looking at it from the organizer's perspective, these powerful tools are a huge help in aiding decision-making and ensuring that everybody's voice is heard when planning for the future direction.
RumbleTalk equips you with the right tools to perform the Moderated Q&A and Polls functions efficiently and seamlessly. Also, these features are designed with simplicity and ease of use in mind. Quickly jump into your Q&A and Poll sessions at a live meeting in just a few clicks.
Inclusive, two-way communication using the Moderated Q&A Chat
Create an open environment where everyone in the chat room has a chance to have their question heard. You can do this by enabling the Moderated Q&A Chat, which will definitely make your presentations even more engaging and inclusive.
This function may be particularly useful in a virtual business conference, workshops, trade shows, class, podcast, or any type of event where there is two-way communication between the organizer and the participants.
Set up your Moderated Q&A Chat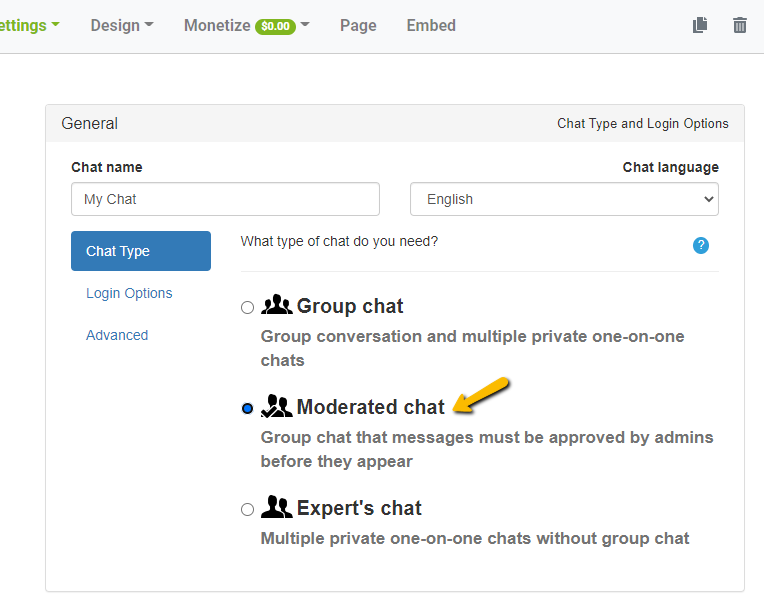 Go to the Admin Panel, and choose Moderated Chat as your chat type
Appoint an administrator who will serve as the moderator of your chat room. He or she will have full control over the functions of the Moderated Chat, which includes approving and rejecting a message before it goes live. To do this, go to your Admin Panel, then click Users, and add a new user.
Choose admin for rooms if you want your moderator to have access to a specific chat room only. Or, choose admin that has global access to authorize them to function as a moderator across all the chat rooms.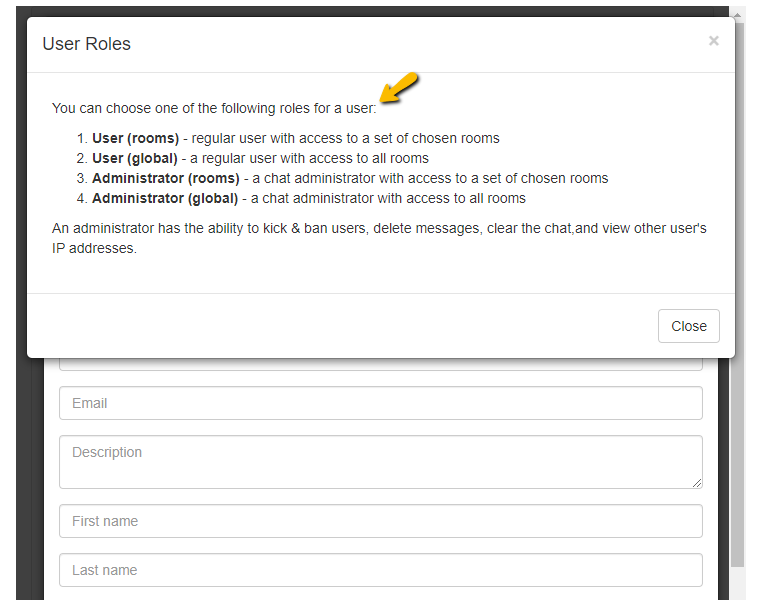 3. After appointing your admins, you can now ask your questions to your audience. Your moderators can filter the questions, and choose which one to approve before it goes live. Only approved questions will be seen by your audience.
A fun, engaging way to get real-time feedback through Polls
Polls provide a streamlined audience interaction in real-time. Allowing your participants to get involved on a certain topic keeps them engaged throughout the event. Aside from that, you can also use Polls to make better business decisions. Do this with a quick post-event survey, just before the end of your event.
Keep in mind that it's best to use the poll feature every 15 minutes or so to consistently keep your participants engaged.

Setting up Polls
There are two ways to enable the Polls feature.
Through your RumbleTalk admin panel
Logging in as an admin on the group chat itself
First, we will show enabling the Polls feature using your RumbleTalk admin panel.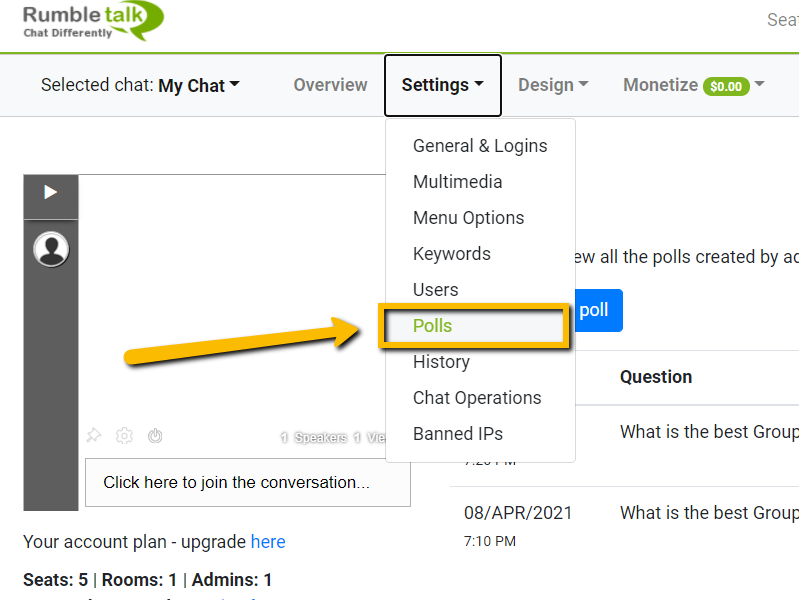 Go to your RumbleTalk admin panel and click Settings, then click Polls.
The poll options will show up. Fill in the question and answer boxes, then click Save.
View the results in the Polls section by clicking the View Answers button.
Next, this is how you enable it on the group chat.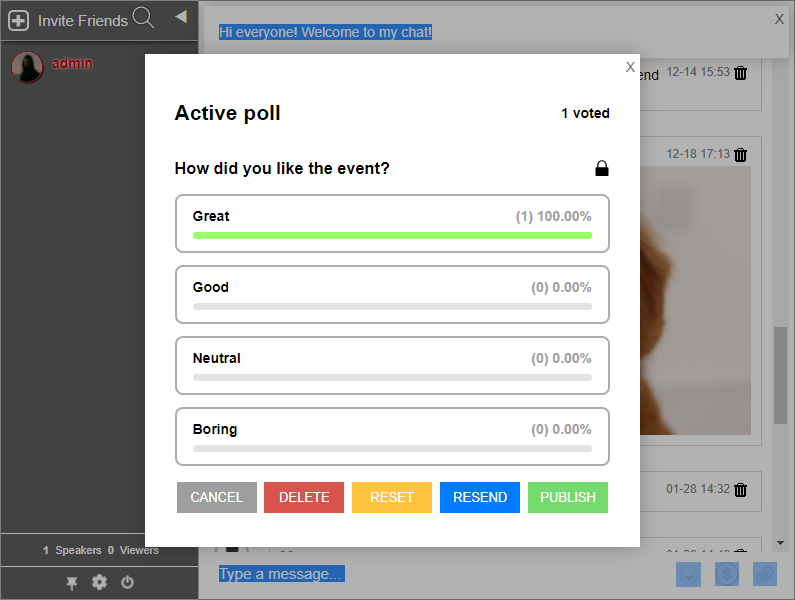 Log in as an admin on your group chat. Then, click the gear icon on the lower left part of the chat and click Polls. Select Create New Poll.
After clicking Create New Poll, a prompt will appear. Input your question and four predefined answers.
After sending the poll you created, the poll will appear on the screen in the form of a pop-up.
Dynamic sessions with the Moderated Q&A and Polls features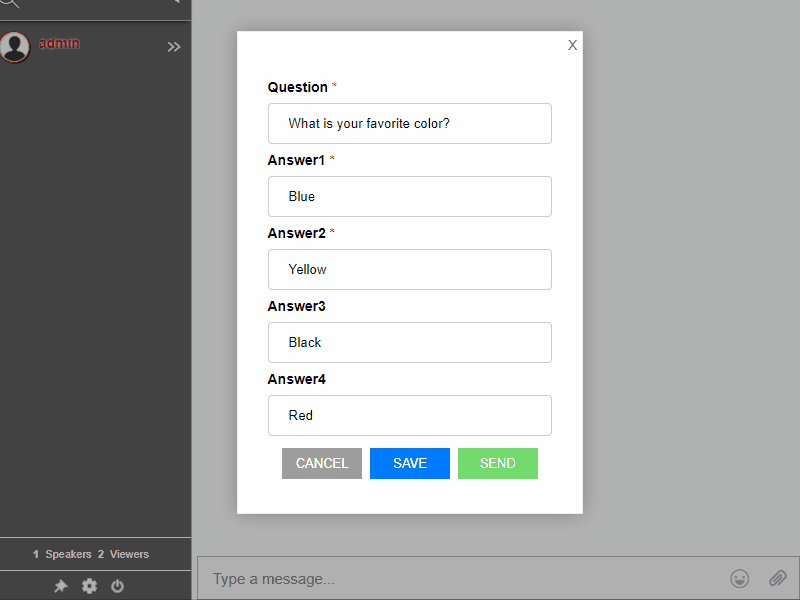 RumbleTalk has been fostering interaction between speakers and audiences. From collecting quantitative feedback to getting to know your attendees, Q&A sessions and Poll questions are a great way to keep your attendees involved in an online setting. By allowing your viewers to ask questions, participate in the polls, and see real-time results, they will feel more valued, therefore increasing the customer experience.
Get started with a free plan or customize your plan based on the number of attendees, the number of rooms, and the number of administrators you need.