The Client: Get to know CES Tech Event 2023
CES 2023, or the International Consumer Electronics Show 2023, is the leading event in the technology industry, showcasing the latest and greatest advancements in consumer technology.
This is where the world's leading brands in manufacturing, developers, and suppliers of consumer technology hardware, technology delivery systems, and more, showcase their latest products, network with potential partners, and introduce new innovations.
This year, CES hosted around 3,200 exhibitors – including many of the big hitters such as Google, Amazon, Microsoft, Qualcomm, LG, Samsung, Sony, Panasonic, and JBL – and took place in Las Vegas from January 5th to 8th, 2023.
The event was also held digitally, with live-stream press conferences, keynotes, and tech talks. This offered the worldwide audience an opportunity to see major brands and emerging startups, as well as hear from influential leaders and industry advocates.
CES TECH 2023 HAS:
3,200+ exhibitors
173 countries, regions, and territories represented
304 Fortune Global 500 companies have registered
41 different technologies covered
4700+ media registered
The Challenge: A chat room that can accommodate hundreds of thousands of online users flawlessly
Along with the big comeback after the pandemic, the organizers of the CES Tech 2023 event have decided to integrate a live chat feature alongside the online live stream in order to reach a wider audience globally.
The chat room needs to facilitate online communication and engagement between attendees, exhibitors, and speakers – that's around 180,000 online attendees actively participating in the live chat simultaneously.
From a developer's perspective, the ability to accommodate a large number of chat users is contingent on the infrastructure and technology employed to host the chat room.
Factors such as server capacity, bandwidth, and network infrastructure are crucial in determining whether or not the chat room can handle a high number of users without experiencing lag. Additionally, the volume and frequency of messages being sent also play a role in the chat room's performance.
The Solution: Using RumbleTalk Chat to accommodate thousands of live chatters while seamlessly blending into the event live stream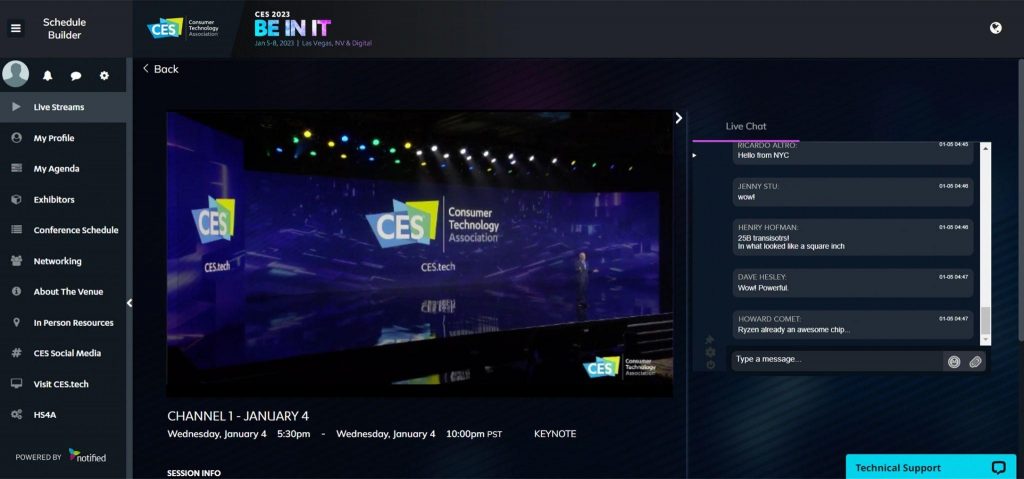 The event organizers chose to use RumbleTalk Chat for its comprehensive set of features, including the ability to create multiple chat rooms, send multimedia files, and hold one-on-one private chats and video calls.
Here's a rundown of how RumbleTalk Chat was utilized during the event:
4 Group Chats for 4 Channels
The CES 2023 has four digital channels, all featuring the use of the RumbleTalk Social Chat room embedded into the Intrado event platform. This allowed online viewers to engage in group discussions while watching the show live.
The event organizers also used the chat function to send live polls, keeping the virtual audience engaged and interactive throughout the event. Additionally, they provided multimedia files such as brochures and demo videos for the audience to access.
Thousands of Private Chats for Exhibitors
CES used 3,200+ RumbleTalk Private Chats, one for each of their exhibitors. These Private Chats provided a space for one-on-one conversations between exhibitors and potential clients or business partners.
The private chat rooms also allowed exhibitors to handle inquiries and confidential proposals and make the interaction more personal through the use of video or audio calls.
Live Polls for the virtual audience
One of the standout moments of the event was the keynote speech by a prominent tech industry leader. The speaker used the live polls feature in the chat to gather real-time feedback from the audience and answer questions in a Q&A session.
This interactive aspect of the speech helped to engage the audience and foster a sense of community among attendees.
Customized design with a powerful chat capacity
The chat rooms used CSS customization to seamlessly blend the design with the layout of the event. Making it sit perfectly beside the live stream without being a huge distraction to the viewers.
Along with the look, we also took care of functionality and performance. RumbleTalk chats are designed to handle large volumes of messages and video calls simultaneously – in this case, hundreds of thousands of chat users, allowing for smooth and efficient operation of both the group and private chats.
Facilitating thousands of chat users as RumbleTalk takes on the global stage at CES Tech 2023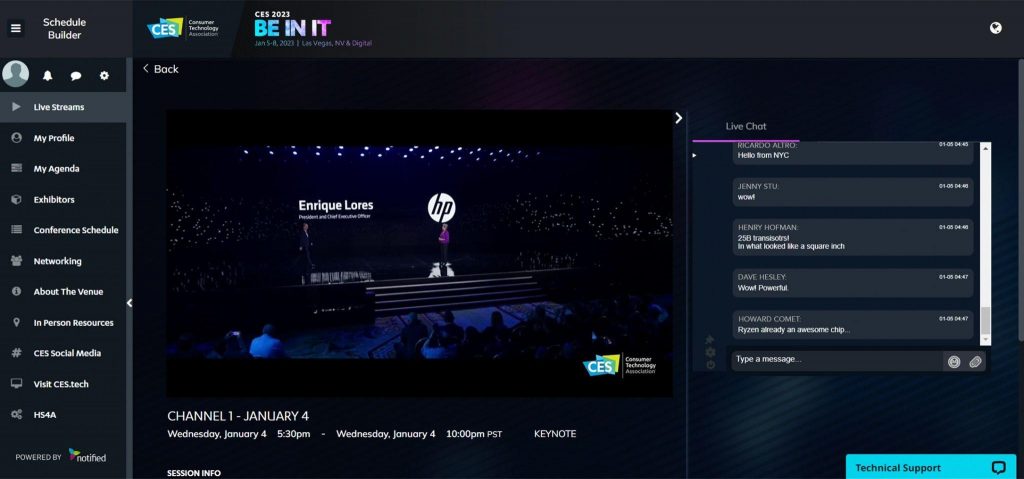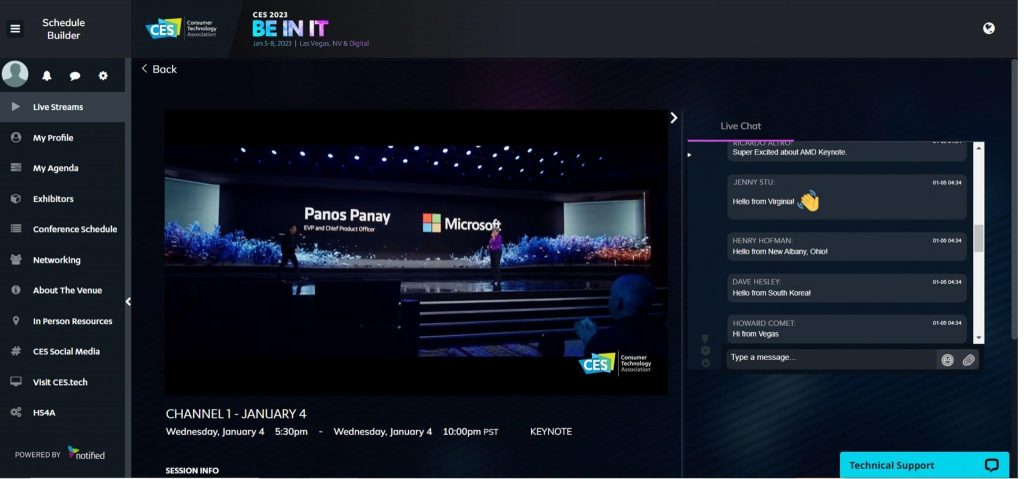 The show attracted a substantial online audience with hundreds of thousands of online visitors.
With the use of the RumbleTalk Chat platform during the event, organizers reported a marked increase in engagement and interaction among attendees and received positive feedback from exhibitors and speakers.
To find out more about CES Tech 2023 news and updates, go to https://www.ces.tech/exhibitors.aspx.
The platform proved to be an effective and efficient means of communication and helped to create a sense of community among the diverse group of attendees. This paved way for us to face more challenges and continuously innovate with new features and updates to serve our clients.
Have an event soon? Message us!
We are privileged to be a valuable tool for any event looking to improve communication and engagement among attendees. RumbleTalk's comprehensive set of features and ease of use make it a versatile and powerful chat service for any event organizer.
If you're interested in a collaboration like this, send us a message at support@rumbletalk.com and we'd be glad to give you a free demo.