RumbleTalk is a chat platform that allows you to design your chat rooms with various customization features. One of these features is the use of chat skins to change to overall look and feel of your chat rooms.
In this article, we're going to walk you through the new chat skins, which are more modernized and colorful. These skins make the perfect canvas for you to explore more design options for your chat.
NOTE: This feature is currently available for beta users only. Contact us if you want to get access.
Newest skins
In total, there are 4 chat skins that you can use. They are the following.
Stylish purple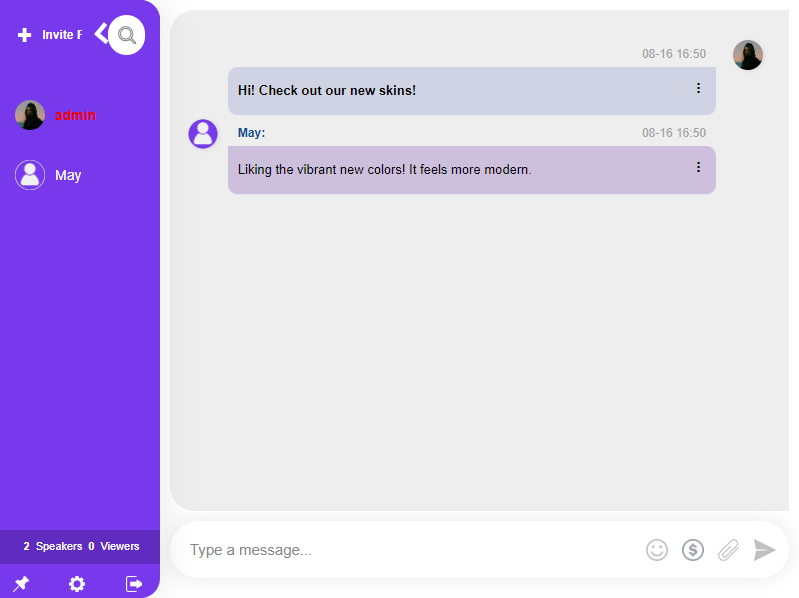 The first one on our list is the Stylish Purple chat skin. This chat skin focuses on the vibrancy of the color purple for a more fun look. If you're looking for a chat skin that can fit your Gen Z audience, then you might want to try this out.
Gray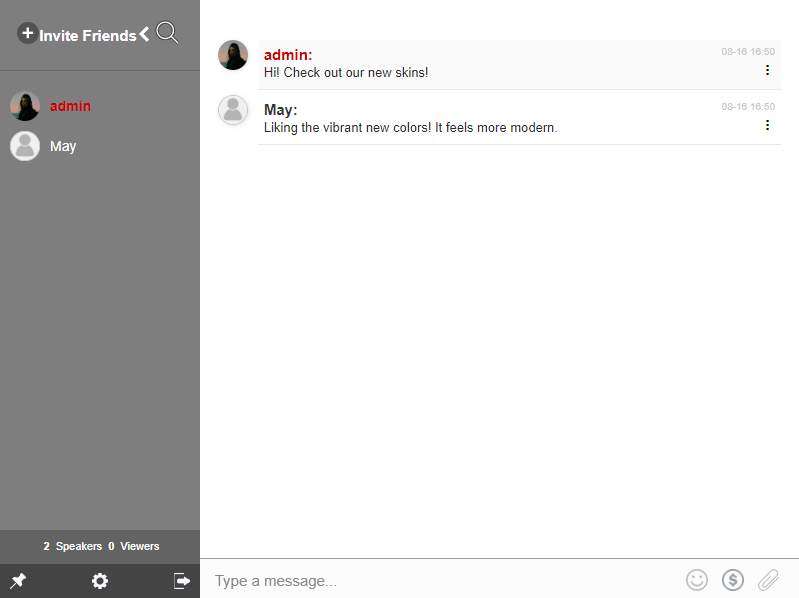 This muted gray is leaning toward more professional chat rooms. As it gives a polished vibe, this chat skin is perfect for client meetings.
Blue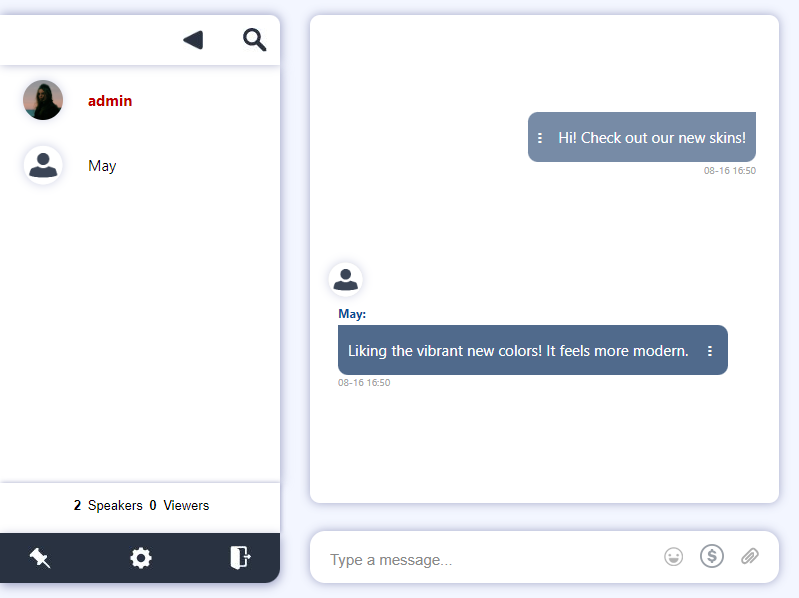 This cool blue gives the impression of a modern chat room. This is perfect for online events such as conferences, discussions, and job fairs. Since it's a more modern take on the chat room (look at the user list section), it can entice your audience to make more meaningful conversations.
Aquamarine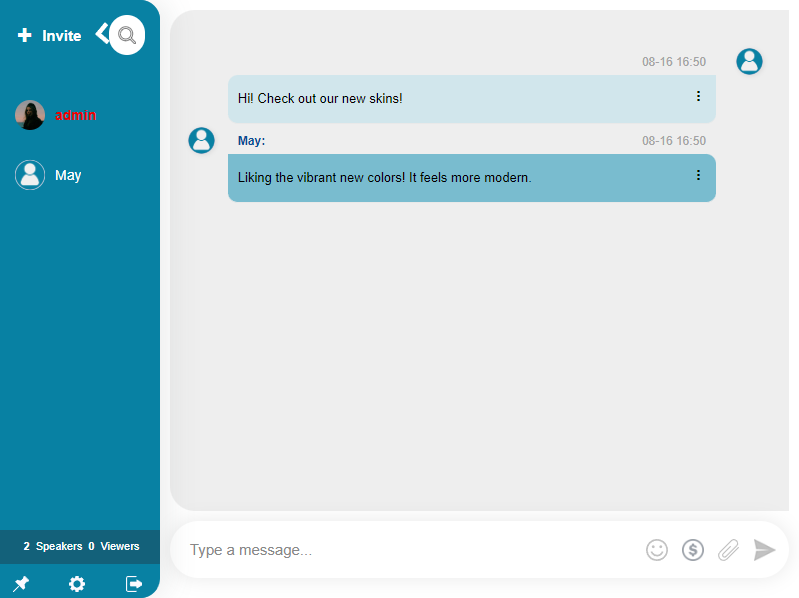 Just like the Stylish Purple chat skin, this chat skin is more on the vibrant side. Chat skins like this one can be used for social chat rooms and communities. Millennials will love the feel of this chat skin as it's not too dull and not too bright.
How to change chat skins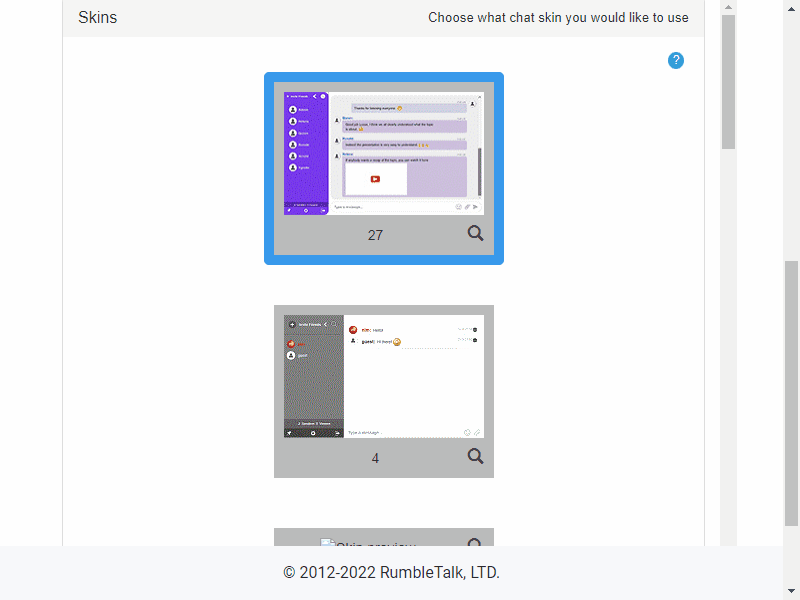 To change chat skins, you need to do the following:
Login to your admin panel.
Select Skins.
Scroll and see the various chat skins. Click on one to change your chat skin.
There will be a prompt that will appear on your screen. Click Yes, change chat skin to proceed.
What if I want to enhance my chat skins?
You can use the Quick Design tab to level up the look of your chat skins. The Quick Design tab lets you make small changes to the chat room such as:
Default Icons,
Theme Edges,
Opacity and Background Colors,
Button Text,
Message Bubble Type,
Message Color,
Users List,
Message Bubble,
and more!
You can combine these changes when you're using a chat skin. Therefore, it will be easier to incorporate more of your website's uniqueness.
Use different chat skins to improve your user experience
Chat skins are a great way to give a statement. It can complete the whole experience as a chat user, especially if the design blends seamlessly to your website. They can be really small changes to a chat room, but they leave a huge impact. Your audience will enjoy a modern take on chat rooms rather than just it being the same every single time. You can try different chat skins for different purposes.
Just like what we've shared above, use these skins to connect with your audience. Or, use it to level up your overall site's look. It's up to you.
Want a free demo of RumbleTalk's customization features? Hit us up at support@rumbletalk.com and we'd be delighted to schedule a call.