It's no secret that e-commerce websites have been taking a page out of social media's book by adding community features to increase conversions. So, this is exactly what we did for an online event in the first quarter of 2021.
We acknowledge that one of the most impactful ways to increase sales conversions on your website is to add a live chat room. It's something that allows customers to communicate directly with your company, or each other, in real-time, via their browser or mobile device. This can have a major impact on conversions. Since more than half of online customers (58%) abandon their carts without any further action.
With RumbleTalk, eliminate friction and help your customers close the deal with confidence. Do this by providing a chat room where they can instantly gather more information about your product or service, through real clients.
Read through the blog to see how we provided a website with staggering results as they used Rumbletalk chat alongside their virtual event.
The Problem: Low sales conversions on an e-commerce website
60% of their visitors were only browsing, not talking, not buying. Customers and potential customers don't feel like they can freely exchange opinions on topics they are interested in. Why? Because they didn't have a platform to do so. Website visitors had no idea where to go if they needed to engage in a chat with a brand or with fellow customers. As a result, there have been high bounce rates, low conversions, and no relationship built between the brand and the client.
The Solution: A live chat platform for your website's live event

After weeks of research and demos here and there. The company signed up with RumbleTalk, a group chat platform that allows you and your clients to be able to stay in touch with each other beyond just social media.
RumbleTalk is a smartly designed, modern, and stylish plugin that integrates a fully functional chat room to any website, engaging thousands of live chatters. It works as a one-stop solution for all your audience engagement needs.
In this case, the company integrated Rumbletalk chat into their website during a live event. With that, all visitors gained access to a community group chat where they can discuss anything with their fellow customers.
The virtual event made sure to open the chat to the public and hold Q&A portions for a more engaging session.
Features and Functions of Rumbletalk Group Chat
Rumbletalk chat comes with an array of well-crafted audience engagement tools you can use along the way.
In the event program, from a Social Chat, the company switched to a Moderated Chat. Here, they assigned an administrator to manage the chat room. During the program, the admin held Q&A sessions to answer inquiries from clients. Perfect to convince those leads to purchase right then and there.
Here are other tools to help you moderate the chat as the administrator:

The Results: 4% increase in sales conversions. With a 6% overall lift in revenue.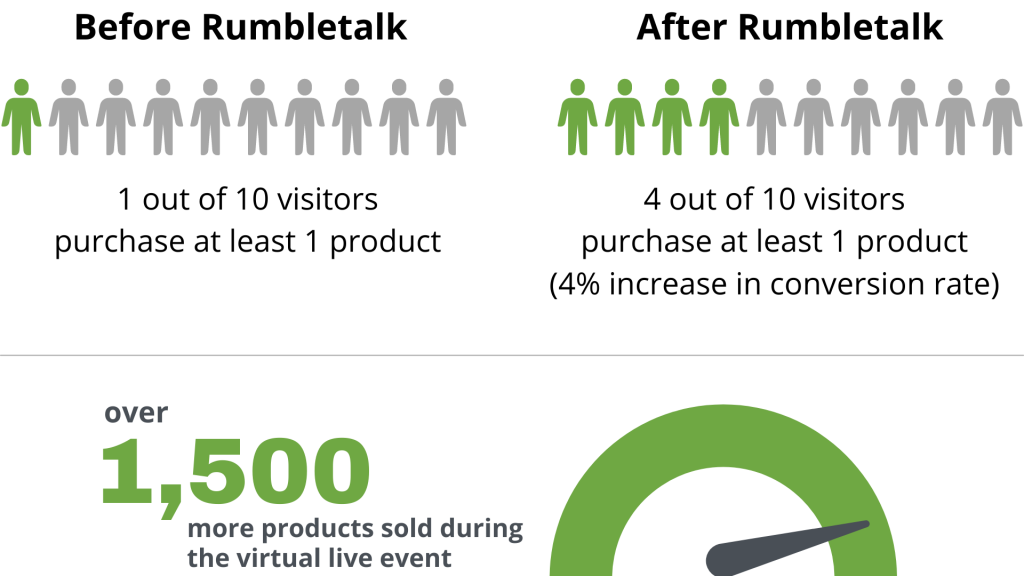 Over a 3-month period with RumbleTalk, the business recorded a 4% increase in conversion from people visiting the website. That's over 1,500 more products sold than before having a Rumbletalk chat accompany their live event.

In terms of sales, we saw an overall 6% lift in revenue in website sales. More so, after 3 consecutive events (once a month), there was a 27% increase in conversion rate!
Furthermore, conversations don't just generate sales, but also build loyal, returning clients. This is something we are very much proud of. Aside from the numbers and targets, it is also about building a thriving community in a safe, virtual space.
Improve revenue and customer loyalty in one single solution
In conclusion, to be successful, you must gain an insight into your customers' minds. To do so, you need real conversations in real-time. And, RumbleTalk made it easy for businesses to do so by simply allowing people to communicate with each other on your website, or during live events. Furthermore, conversing with others about your product and having received positive responses from other users influences their buying behavior.
It doesn't matter if you sell gadgets or consultation services. The way you position your products and services is only going to work if people want it. So, make sure you provide them with an opportunity for real conversations. A virtual space where they can get answers to their questions. And avoid leaving them in search of those answers elsewhere on Google. After all, cleverly designed landing pages are as important as having valuable conversations.
Ready to make your own RumbleTalk story? Talk to us at support@rumbletalk.com and let's get started asap!