Constantly bombarded with messages and queries, conversations in an online event are getting harder to keep up with. Organizing a Q&A chat session with your online event participants could be the answer.
Because there may be hundreds or thousands of people attending such events, some may miss out on the opportunity to submit their questions. All they can do is watch the event intently in the hopes of gaining something from it.
By allowing everyone a chance to have their question chosen, this difficulty can be overcome. Admins can choose from the participants' questions, not only what the speaker sees flashing on the live chat, as long as you use a regulated chat for Q&As.
We will discuss the following themes in this article:
Changing the mode of the monitored chat to Q&A
Scenarios for Q&A chats
Let's get started with the fundamentals.
1. Configuring the Moderated Chat to function as a Q&A forum
The Moderated Chat is one of the chat types on the RumbleTalk chat platform. Admins can use this feature to pre-approve messages before they are sent to the audience. So, admins are moderators in charge of the event chat.
Go to General & Logins > Chat type to begin using the Moderated Chat.
Now that you've decided on it as your chat type, you'll need to appoint administrators. On your admin panel, go to the Users tab and click Add a new user.
Appoint global administrators or administrators with only room access. The number of chat rooms will determine how many admins you need.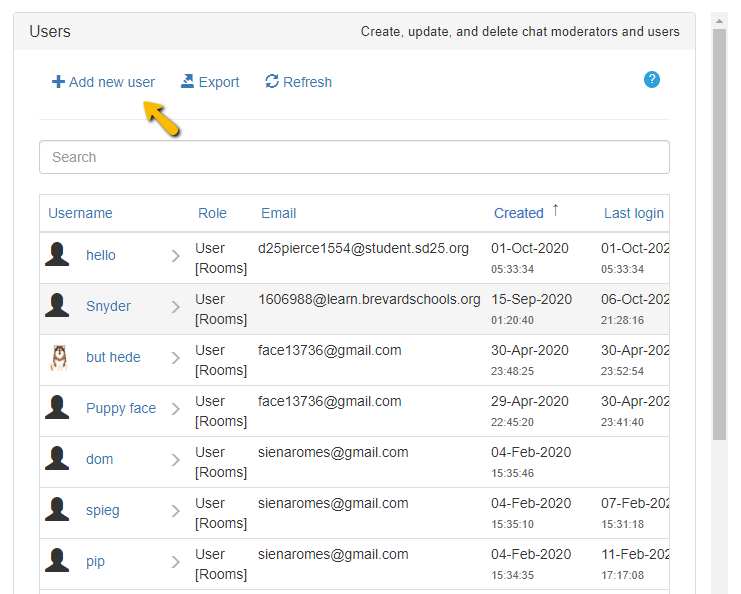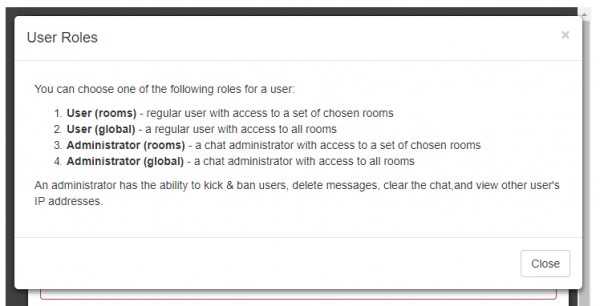 Now that you've completed that step, you can begin using the Moderated Chat.
When the speaker asks questions to the audience, the chat acts as a Q&A mode, with admins deciding which ones will be answered.
Only questions that have been approved will appear in the chat room. Additionally, only administrators have the ability to approve or delete messages.
This way, everyone has a chance to have their question chosen rather than just the last one the speaker sees on the screen.
2. Q&A mode: various scenarios
You can use the Q&A mode in a variety of scenarios. Here are some of the more common ones.
Online gatherings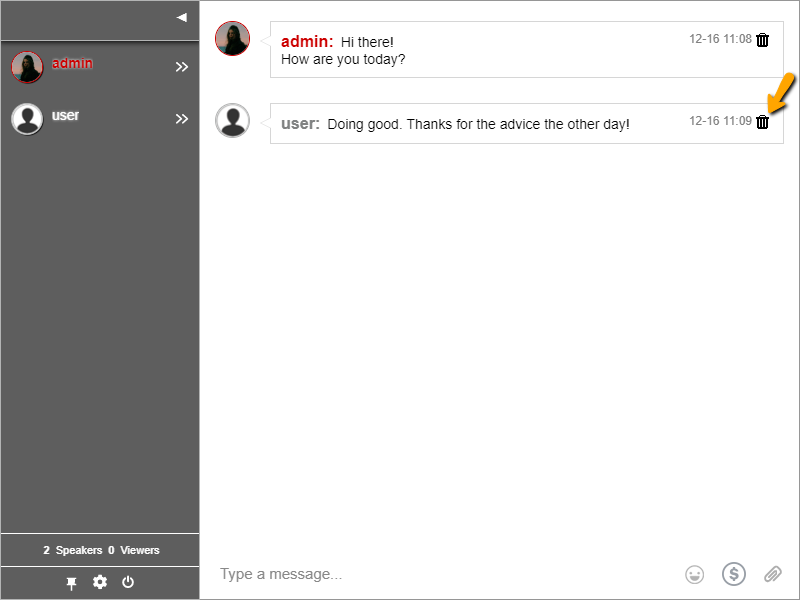 This is the most common scenario. Because online events are usually accompanied by live streams, it's best to have a chat alongside them.
During the online event, the speakers will be able to ask the audience questions. The admins are then present to monitor and approve questions. If you want to learn more, check out this blog post about how to control the discussion with a Q&A chat.
Webcasts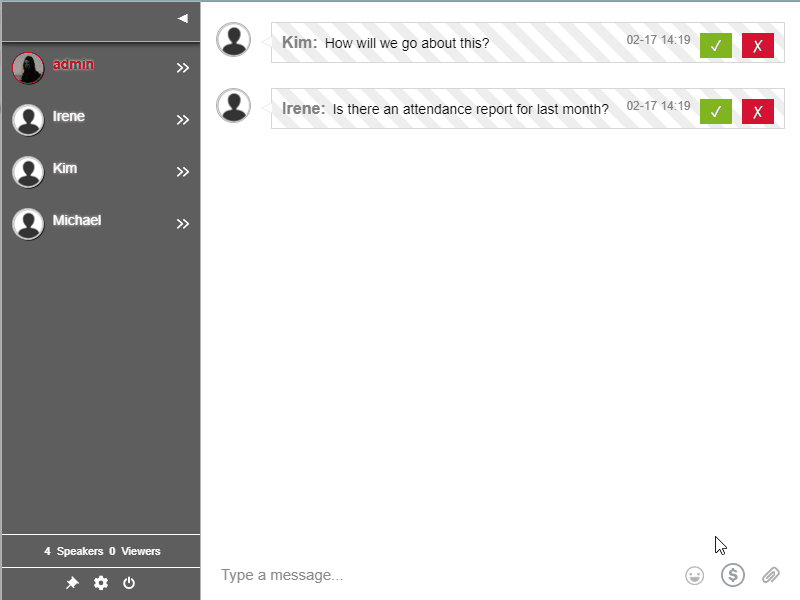 Do you know what a webcast is? If you answered yes, you understand how important it is for your audience to have a voice.
By providing them with what they want, they're interested in chatting more about your topic, product, or whatever area you're covering on your webcast.
Find more about it here: Interactive webcasting chat for live webcasts and events
Company meetings
Because of what is going on in the world, the majority of employees are working from home. This necessitates remote team meetings. When you introduce the Q&A mode to your team, you can hold sessions in which employees can submit questions for an executive/HR representative to answer. This is merely one example.
You can read this guide on managing remote teams in a virtual environment.
3. Q&A sessions in an online event supervised by admins
It's easy to get lost in a large online event, especially in conversations. Q&As aren't always straightforward to manage, but with the appropriate technology, they can be. If you know how to utilize the platform and have your admins with you, Q&As may be simple and enjoyable.
Virtually holding events is no longer as terrifying. Even complete strangers can host one. All you have to do now is prepare for the other items you'll need for your Q&A session now that you're confident with your chat platform.
If you want to learn more about RumbleTalk's platform, contact us.