As a chat platform, RumbleTalk has different moderation tools that you can use. In every update, we try to include new features, tools and fix bugs.
The group chat allows admins to moderate the chat with these various tools. Here are the moderation tools that admins can use to keep the chat safe and secure.
Different chat moderation tools
1. Ban a user's IP address
As an administrator, you have a responsibility to watch over the chat. When someone is not following chat rules, you have to take countermeasures. This countermeasure lies in the IP address of the misbehaving user.
An IP address is an address that recognizes a computer and differentiates it from all the other computers on the world wide web. When you have an IP address of a troll or predator, you can use this as leverage.
Members of a group chat join because they feel safe in that community. Why destroy that? If a troll or spammer wants to disrupt that peace, then you can immediately ban them from the chat.
How do you ban a user?
First, click on the user profile of the user that you want to ban. This will open up the private chat and you will see the different options and the user's information.
Second, select a course of action. If this is his first wrongdoing, then you can send a warning message. If that doesn't work, attempt to disconnect him. This kicks him out of the chat temporarily. It's up to you how you will face this hurdle.
However, if they continue to bug the chat and ignore your warnings, then it's time to ban their IP address. This removes the user from the chat and he/she is permanently banned from the chat room. Any form of action from the same IP address will be disallowed.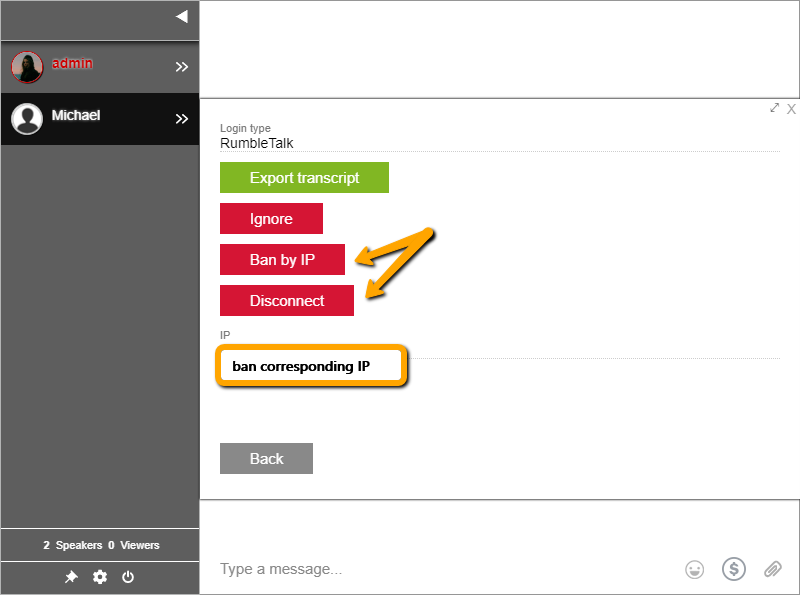 Since the platform launched, we've had more than 10,000 bans (and counting). As such, banning a user's IP address is one of our noteworthy moderation tools. It keeps your chat room safe from trolls, spam, or predators.
NOTE: If you want to unban an IP address, then you the chat owner can delete it on the admin panel. Firstly, go to Settings > Banned IPs. Secondly, delete the IP address from the list. By doing this, you are enabling that specific IP address to access the group chat again.
2. Deleting chat messages
An administrator is tasked to moderate the chat. This means that every group chat should have an administrator.
If there are trolls or harmful messages in the group chat, as an admin, would you stand by? Of course not. Therefore, deleting messages is an important moderation tool you can use.
To delete messages, just click the trash bin icon in each message box. Admins can do this in the group and moderated chats.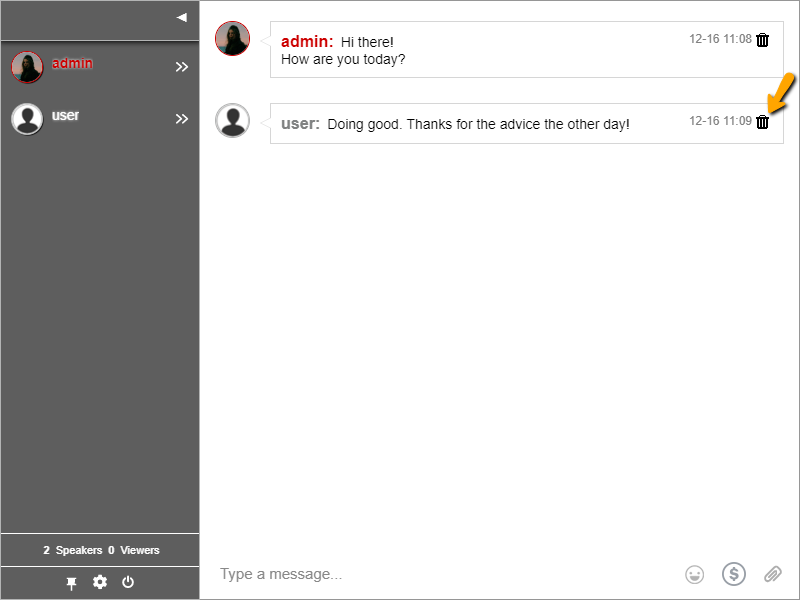 If you want to delete all messages in a group chat, then click the gear icon on your users' list. It will open up the chat options. Lastly, select the "Clear chat messages" button. With just a click, chat messages are deleted in an instant. This option is only available for admins.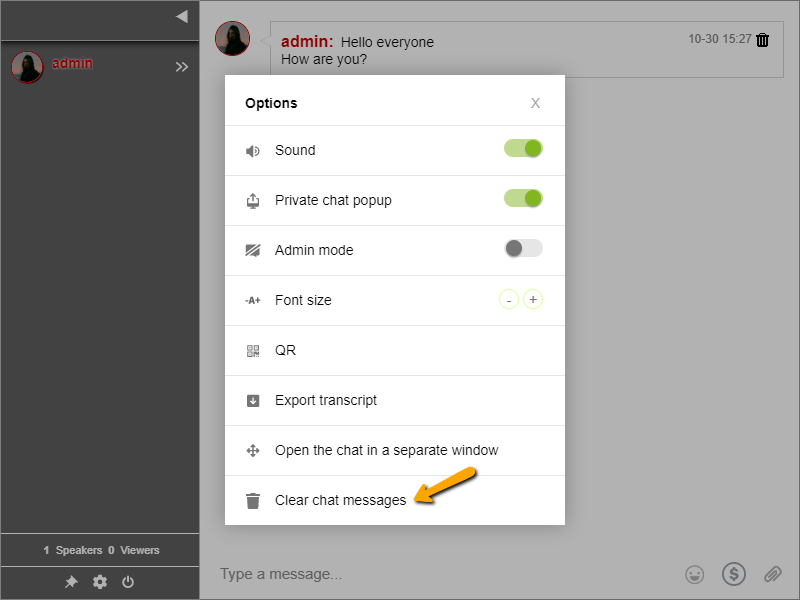 3. Export the transcript of a group chat
Are you using the group chat on a website? If yes, then exporting your chat transcript will be a great moderation tool. Exporting your chat transcript can be very useful for different resources.
How do you export a chat transcript?
There are two ways you can export a chat transcript.
The first way is to go to the History option of your chat settings. From there, you can export the transcript in three ways as follows: as HMTL, as CSV, and as Word (beta). However, only chat owners can do this.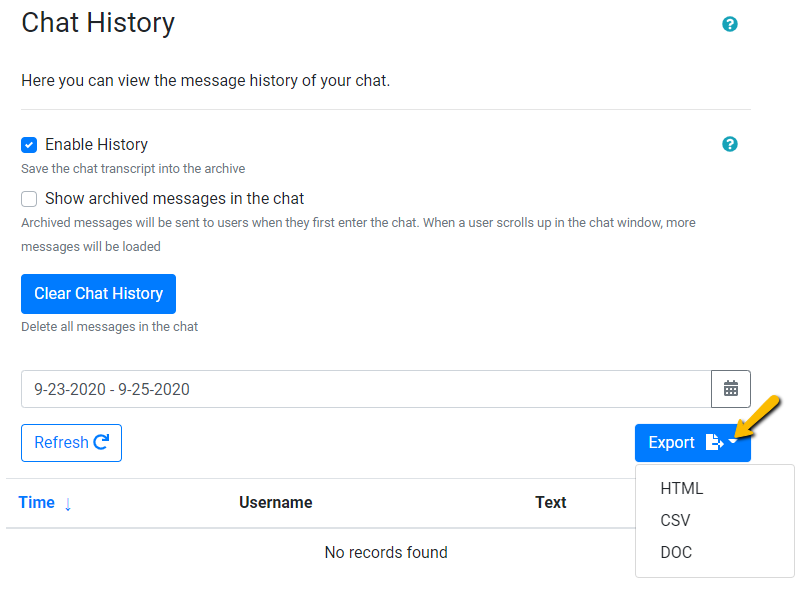 The second way is to export it in the group chat. You can do this directly in the chat. To do this, open your chat settings. Then, select Export transcript.
Why is the chat transcript useful for you as a website owner? With a bit of editing, you can use your users' testimonials to vouch for your site. No need to create your own write-ups; your users will do it for you. This will surely pique the interest of your site visitors.
Other uses of the transcript as one of your moderation tools
When you allow all users to export the chat transcript, they can read all the messages when they were offline. It will be easier to catch up with present topics and they can contribute to past discussions. Furthermore, your users will never feel left out.
Additionally, this makes it easier to find specific words, phrases, and sentences that are connected to your site and chat. You can use this information for SEO and use it as leverage to rank higher in Google, leading to more followers. Because the more followers you have, the more potential members you attract.
Check out our guide here on how to export your chat transcript with more advanced criteria.
Chat moderation tools that help you with your community
These moderation tools are what make RumbleTalk a great chat platform. It does not only function as just a chat platform, but you can also rely on it for chat moderation.
Be updated on our latest features and releases when you follow us on our Facebook and Twitter pages.