How would you like to communicate with other RumbleTalk users in real-time? That's exactly where the RumbleTalk chat feature comes in. It does not need the use of any specialized equipment or software. Once you've created your account, everything else will be as simple as pie!
1. Register for a RumbleTalk account
Creating an account with RumbleTalk is simple and free. Even if you're on a free plan, there are a number of engagement tools available that will save you time and money. You can customize the number of seats, rooms, admins, and keywords on paid plans based on your business goals. So, regardless of which plan you choose, creating an account is as simple as a few clicks.
Simply go to the RumbleTalk website and sign up. Then, you will be redirected to the RumbleTalk chat log-in page. To proceed, enter your preferred email address and password. You can also use your Facebook account to sign up.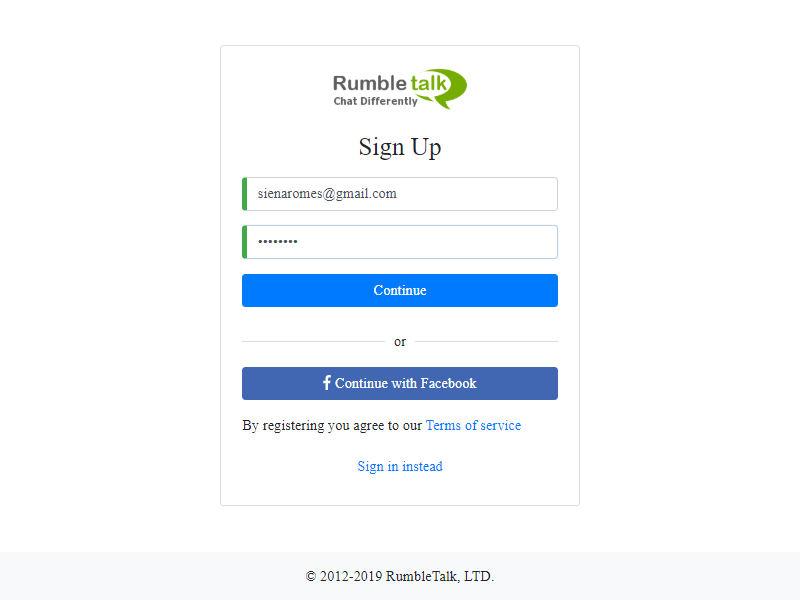 2. Select your preferred type of chat and play with the chat feature
Following that, you can select one of the RumbleTalk chat types. All of which are equipped with powerful engagement tools that have been carefully selected for you and your clients' benefit.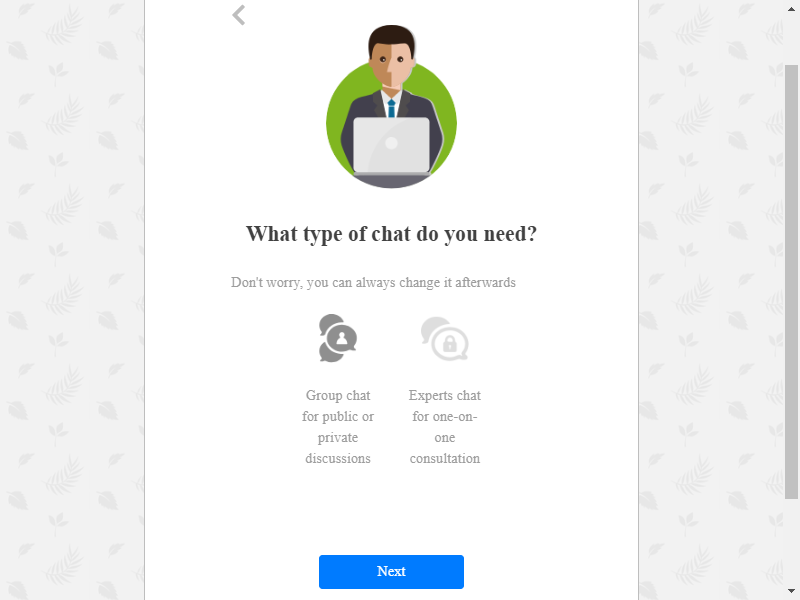 Social Chat — A public group chat that is designed for communities and open discussions.
Expert's Chat — This acts as a virtual consultation space. It is an ideal setting for experts (such as healthcare practitioners, lawyers, fitness gurus, advisors, etc) to meet with a client in private.
Member's Chat — Only members who are already logged in to your website will be able to join the conversation. This should be used in closed private group chat discussions. You can also include a log-in page to limit the chat to your members only.
Moderated Chat — Assign a moderator to manage the group chat and perform functions such as screening inbound messages before they go live, banning or disconnecting specific users, limiting users, exporting transcripts, and more.
Private Chat — A type of chat in which users can communicate with other users on one-on-one conversations. Use this for private discussions and networking without the distractions of a group chat.
Because your purpose for the chat may vary depending on the event, you are free to change the chat type at any time based on what you currently require.
3. Personalize your chat room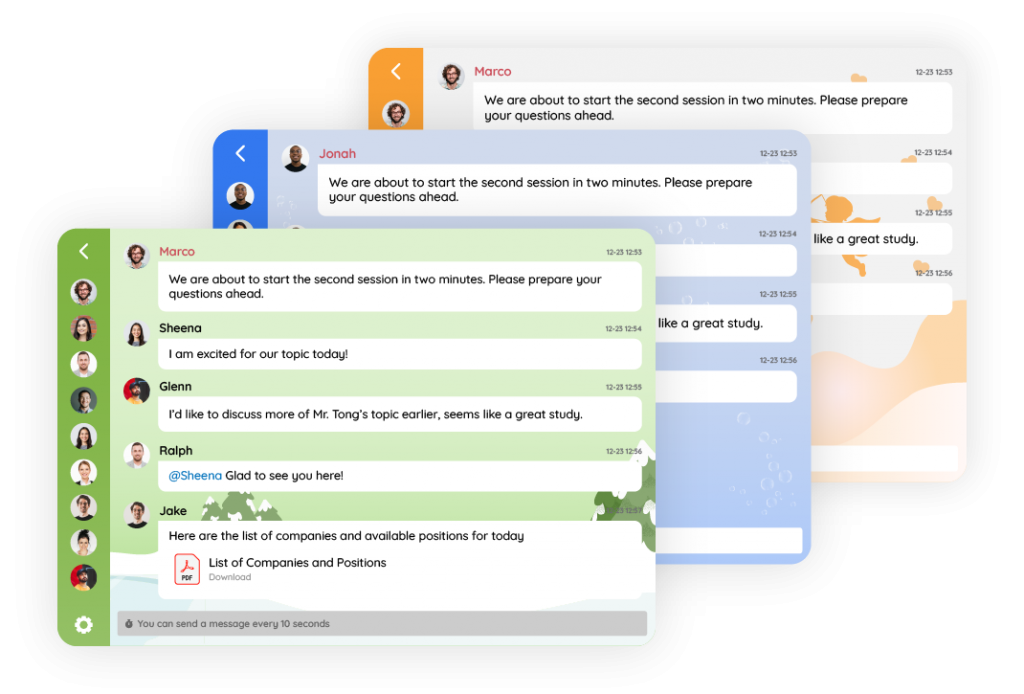 It's simple to start with one of our pre-made designs to make your chat room more personalized. There are also numerous customization options available such as CSS. You can customize the colors of your group chat room and add your own logo or icon. Why not post a welcome message for your audience if you really want your event to stand out?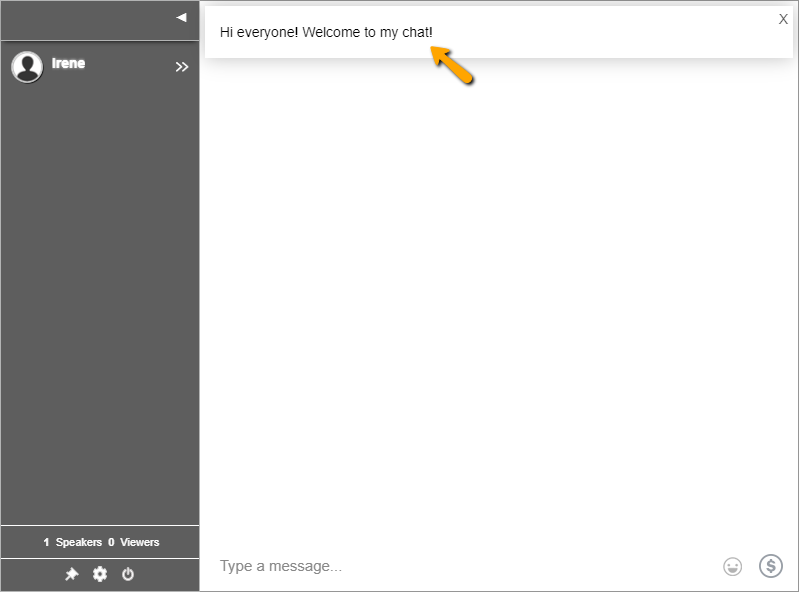 This immediately engages them and encourages them to stay for a longer period of time. It's important that everyone understands how they can participate and assist other users. If they enter a chat room with no one there, then that's going to be a big letdown.
In the Advanced Design tab of your admin panel, we provide a quick editor for simple point-and-click customization of the web group chat. Take your time here to explore the various designs and personalization options.
4. Invite others to your chat
RumbleTalk makes it easy to find people to chat with. Invite business partners, patients, job fair candidates, and clients using only their smartphones. By including a QR code on your digital invitations, they can instantly access your chat. With just a scan, you can redirect anyone to your chat log-in page. With this chat feature, you can say adios to long lines!
Simply click on the gear icon. Then, select QR to generate your chat's unique QR code.
RumbleTalk chat feature for websites
The RumbleTalk chat feature allows you to communicate with people around the world. Along with the RumbleTalk plugin, you can add instant communication, team collaboration, and excellent customer support to your website or event. It not only gives your customers more ways to interact with your company, but it can also provide them with personalized communication when it is most needed. Aside from that, you'll be able to talk face-to-face through the video and audio calls feature.
If you need assistance getting started, then don't hesitate to contact us at support@rumbletalk.com. We will walk you through any issues you may encounter. Our support team will be delighted to provide you with a free demo call.