Virtual icebreakers can save your online events from awkward silence. It can also help to get people talking and make for a much more pleasant setting for all involved.
So, if you're looking to have fun, look no further than this list of the ultimate ice breakers for group chats! These are guaranteed to cheer up your group chat and give you something to talk about all day long. Try one of these virtual ice breakers below to make sure your next event chat isn't awkward and uncomfortable. And if it is, try again until it isn't!
What are virtual icebreakers?

Virtual icebreakers are small interactive activities that are designed to break the awkward silence in a group. This resource may seem trivial but it has many benefits!
This interactive tool helps lighten the mood, creates new discussion topics, and encourages participation across all levels of your virtual event. Online or Hybrid event? No problem!
No need to worry about how you'll keep everyone engaged during a live stream. Virtual icebreakers will do it for you!
Quick virtual icebreakers questions
We've all been there—you're came in early in the group chat and there's a dead silence while waiting for the virtual event to start. It can be incredibly uncomfortable. To keep things fun and engaging, send out these engaging questions for everyone to answer.
What's the best piece of advice you've ever been given?
What is your favorite item you've bought this year?
What are you looking forward to learning about this event?
Say it with a meme or emoji
Memes and emojis are a popular way to convey a point. They're visual, fun, and get to the point quickly. In other words, they're perfect for capturing someone's attention when you're in an event group chat setting.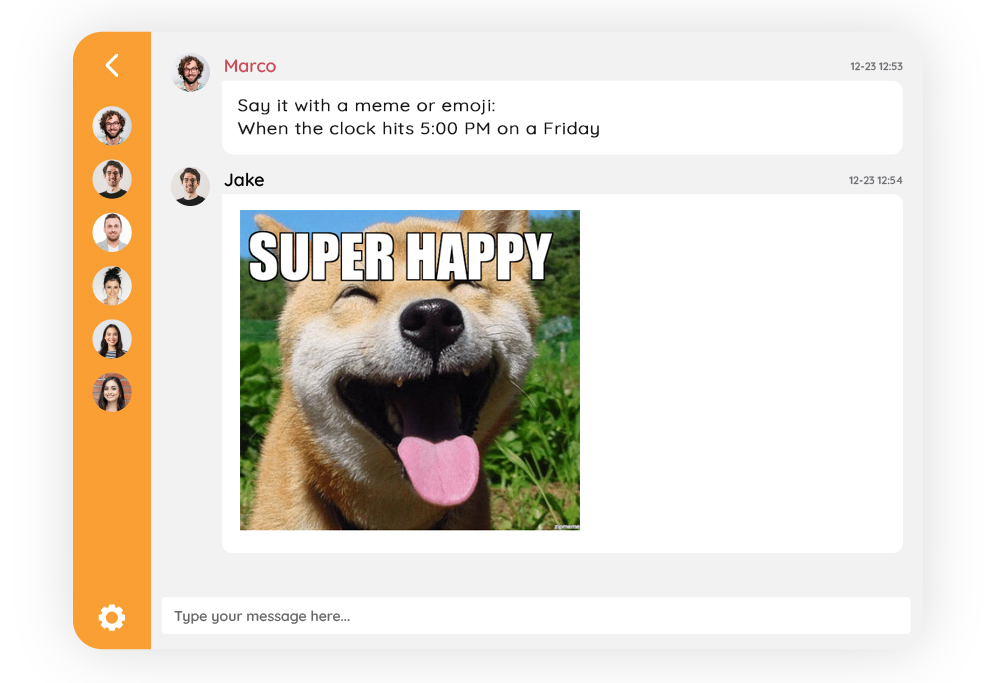 Paint a scenario and ask your audience to say their feelings with a meme or emoji. Some examples that you can try are:
When the clock hits 5:00 PM on a Friday
That first bite of your favorite dish
When you've finally closed the deal you've been working on for a month
Would you rather…?

The popular question game "Would you rather…?" is an entertaining way to get people involved and stir discussions. Simply ask your participants a thought-provoking 'this or that' poll question with two options to choose from. Then, drive a discussion around how people voted and why.
To send out a poll, go to your Admin Panel, click Settings, then choose Polls. From there, you can start asking these "Would you rather…?" questions:
Would you rather…be super rich or super good looking?
Would you rather… be always overdressed or underdressed?
Would you rather…time travel back to the past or to the future?
Speed networking
A private chat room is a great way to get to know your colleagues before the event. When someone joins the room, speed-chat with them by asking questions about their interests, experience, etc. It's also important that everyone uses their name so that when people meet each other in real life they are able to recognize one another easily!
To create a private chat, just click on the username of the person you want to speak with. Anyone can do it, as many private chats as they need! Aside from chat messages, you can also enjoy audio and video calls while inside your personal chat rooms.
Take a photo of…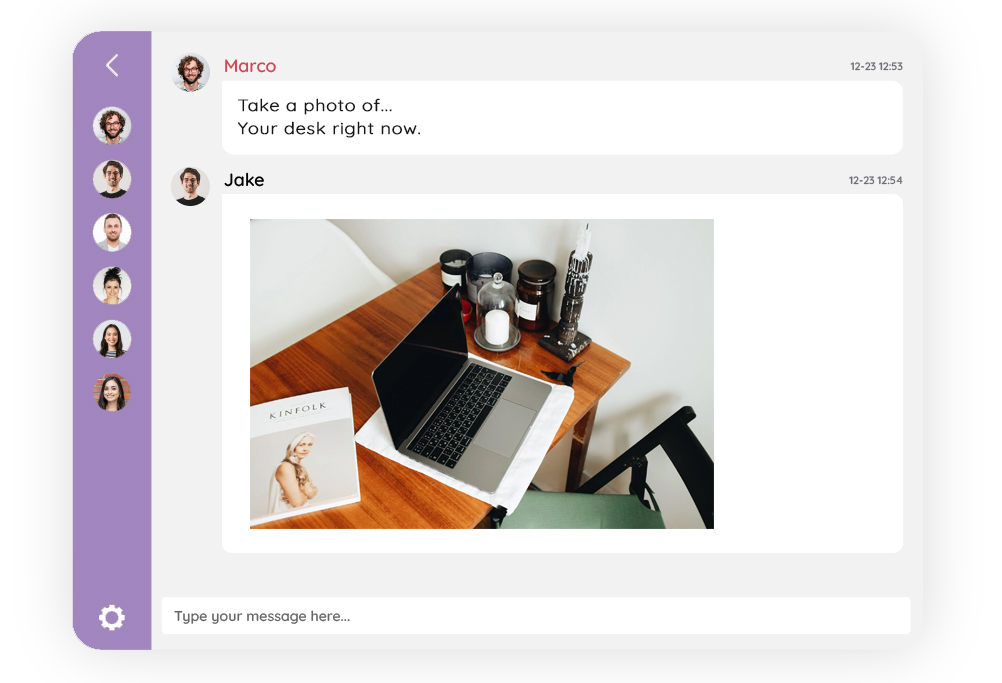 Use this game to prime your audience for creativity. Ask them to snap a photo and share it with the group. They can take a photo of their desk, their pet, or the view outside their window. Have them post a photo and share some sort of story about it.
Virtual icebreakers for thriving communities

We live in a world where we're surrounded by screens. Businesses are using social media, marketers are interacting with their customers, and friends are communicating via Facebook.
If you are looking for a way to get your community chatting, then try the list of virtual icebreakers above using your RumbleTalk chat! It can help you create more meaningful conversations around virtual events and group chats.
Simply set up your free chat and you're good to go. If you need help, just email us at support@rumbletalk.com and we'd be glad to assist you.