Organizing a big event? If yes, how many seats do you need and how much it will cost? Some event organizers do not know how to calculate or gauge concurrent users. You would need to inquire if you wanted a large number of seats for your event.
Big events have different criteria to consider than holding small events. As such, we have made a pricing plan to know how many seats you need for events like these.
What are the different event chat pricing models?
At RumbleTalk, we offer 3 pricing models, going from small to large events. Here are the pricing models and examples where you can use them.
Free – Great for trial and personal use. Give the chat platform a try. Then, if you like what you see, upgrade your plan.
Professional – Great for small events and community gatherings. The professional plan offers a minimum of 50 seats and a maximum of 800 seats. If you have a large number of chatters, e.g., live streams, web events, radio streams, etc., then this is the perfect plan.
Enterprise – Great for big company events and large communities. The enterprise plan is a customized plan for customers that need more than 800 seats. If you opt for this plan, then you get all the features of the free and professional plans. Also, you get special features that are not included in the two plans above.
NOTE: Seats means the number of simultaneous users in all of your chats (you can create one or many rooms).
Note, anyone viewing your chat at the same time counts as one seat.
Features included in premium plans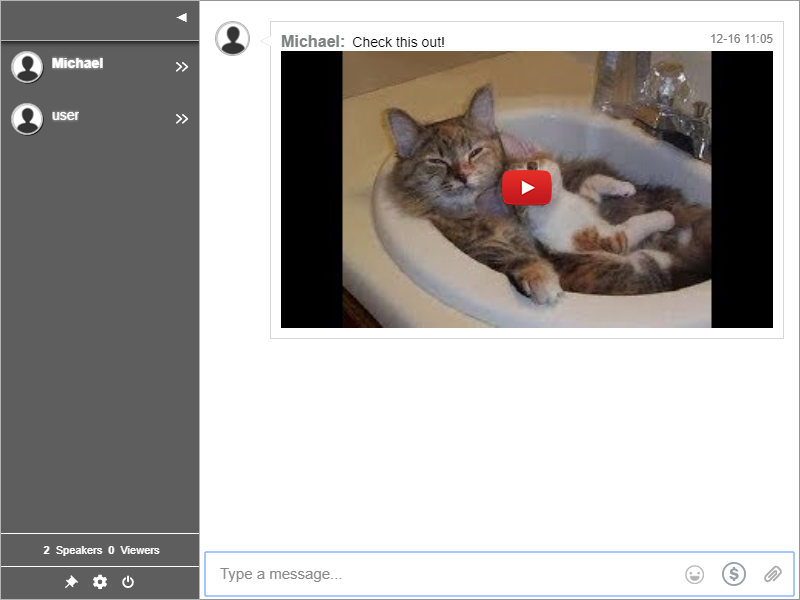 Not all plans have the same features. However, there are features that every plan has. Here's a list of the features that every RumbleTalk user can enjoy.
Different chat types – Enjoy chatting with your users through private chats or social chats available in the admin panel.
REST API and Login SDK – Integrate your chat with your userbase and let your users log-in automatically.
Hosted group chat – The chat is available for both mobile and web browsers as it's purely web-based. No download needed.
Customize your settings – Freely design your chat the way you want it and change the settings anytime you like.
Monetize your chat – Get paid through in-chat payment capabilities such as collecting donations/tips, sending payment requests, and paywall.
Share documents and images – Send any Word, Excel, or PPT file directly in the chat. You can also share images, selfies, and embed YouTube/Vimeo videos.
Login options and single-sign-on feature – Use Facebook, Twitter, and Guest log-in options or connect your userbase through login SDK.
No messages limit – Any user can send unlimited messages in the chat room.
How to measure how many seats you need for an event chat?
One thing that you need to understand in gauging the number of seats that you need is that the number of participant seats refers to the number of simultaneous chatters that can be in the chat at a given time.
Based on experience, only 10-20% of registered users normally jump into the chat at the given moment. Let us say you have 1000 registered users who have signed up for your event. Normally, only 100 to 200 people come in together at the same time.
If you need an idea of how many seats you need for an event, you may contact our support team to assist you and help you understand better. Otherwise, you can check out the plan through the Upgrade page.
In there, you will see how much it will cost you and how many rooms, admins, and participants can enter your chat after upgrading. If you already know how many simultaneous users will join your event, then you can go ahead and buy the plan you need.
If not, then you can have a chat with us and we will give you the pricing and an idea of how many seats you need, especially if it's a large event.
Subscribing for a longer period of time means discounts
We also offer monthly and yearly subscriptions. Therefore, if you plan to have a long-term event or use it as a website chat, then you can opt for a longer subscription. There are also discounts for longer contracts.
If you have any issues with your chat, contact us or see the knowledge base. You might find an answer there.
Follow us on our Facebook and Twitter pages to get updated with the latest news and updates. So, what are you waiting for? Sign up now and start with a free account to try the different features.