As we know, IT companies are putting more effort in building communities where customers can express their thoughts, wishes and release some steam if needed.
What is a customer community?
It is not only about customer, everyone that is potential customer, employee, IT pros may gather together and form a community, all in one controlled place.
In addition, IT companies have many users that exchange ideas regularly. These ongoing community talks and live online community events aid in creating solutions and shift roadmaps.
IT companies usually hold an annual event where they can talk to their community. This live event normally happens on their website. Then, they communicate with their community via a live group chat.
How do IT companies manage their customer community with the help of a group chat?
As the live event is happening on their online community/website, they start with an open keynote session and live group chat where the audience could join the conversation and ask questions.
Following the live event session, the audience was given a choice to access the rest of the day's information via a though or how-to-track leadership, IT industry track.
The tracks ran simultaneously, each having their own live stream and group chat. As each session comes to a close, the company will provide a pop-up notification. Then, each user can go to their next session and track.
With the notification, the company will take the current chat offline, move the respective user to the next session, and open the next live chat.
Having their own space where they can communicate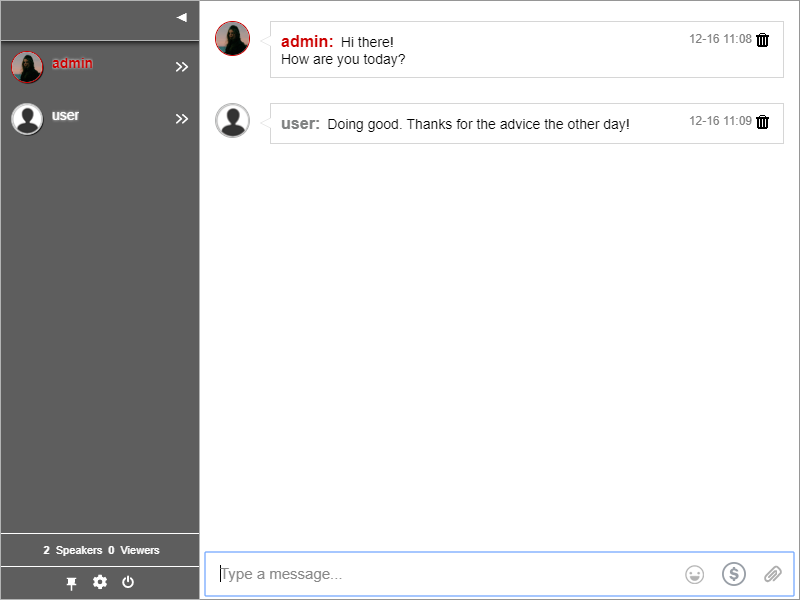 With an annual free live event, companies need a space where they can address customer concerns. From a particular IT company, they said they hold large Q&A sessions. This happens twice a year. During these events, various topics are discussed. For example, how to's and future plans are touched upon.
These annual events provide IT pros worldwide with intermediate to advanced content. These events are not only for pros. Visitors of the live events may also join in.
It allows beginners, members, and experts to interact with each other. The topics are about troubleshooting, performance management, reporting, and monitoring.
Sometimes, a topic gets discussed on the live event and the customer community may have already found the solution. These kinds of topics are important for these live events.
In addition, there are also employees and technical staff on the event. They may also be able to help the customer community solve a technical problem.
Creating a customer community
By holding annual live events, IT companies build rapport. They teach their users and answer their questions about their products. This is what creates a customer community.
As part of the customer community, how can a group chat improve your live chat experience?
By using RumbleTalk, members of the chat will be able to chat publicly and privately. Members can hold private conversations. They can also hold live audio and video calls. Other features of the chat are the following:
Send smilies
Send images, PDFs, charts, and more
Link YouTube and Vimeo videos
Send donations and private payment requests (if the chat owner allows it)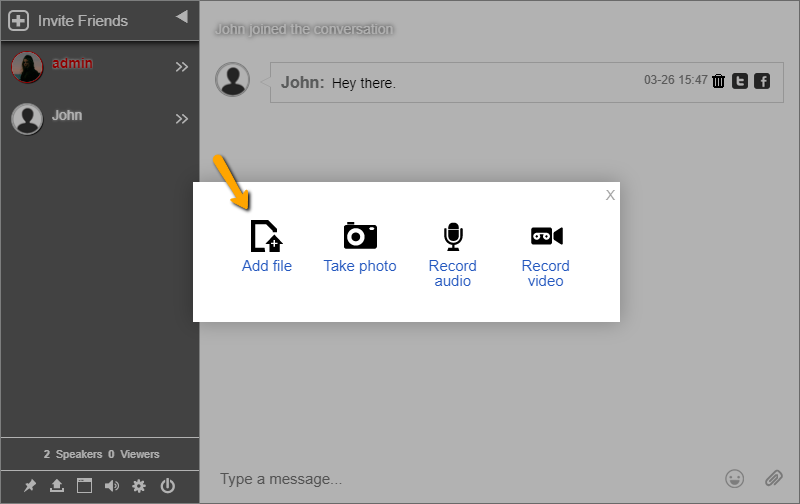 As part of the IT company, what can you do as the chat owner?
Before your live event starts, you can customize your group chat. RumbleTalk has an assortment of themes, custom design features, and custom notification sounds. Chat owners can also export the chat transcript. The chat histories will stay archived for 3 months only.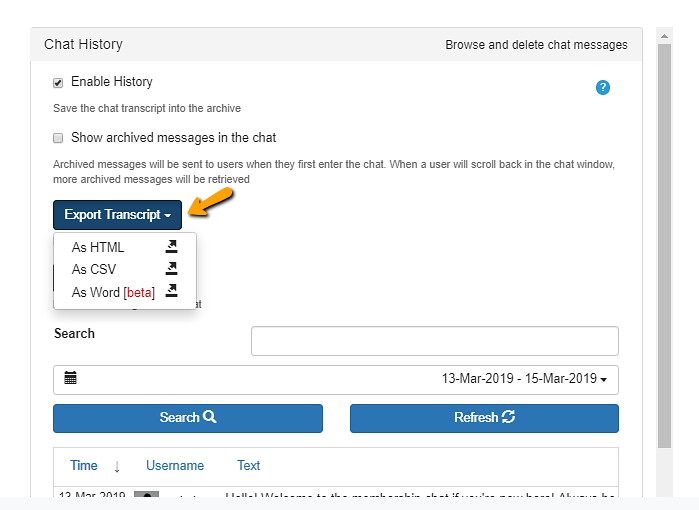 Chat moderation is easy with RumbleTalk. With the moderated chat (a chat type), admins need to approve messages before they get sent out. Therefore, Q&A sessions won't be flooded with unnecessary messages.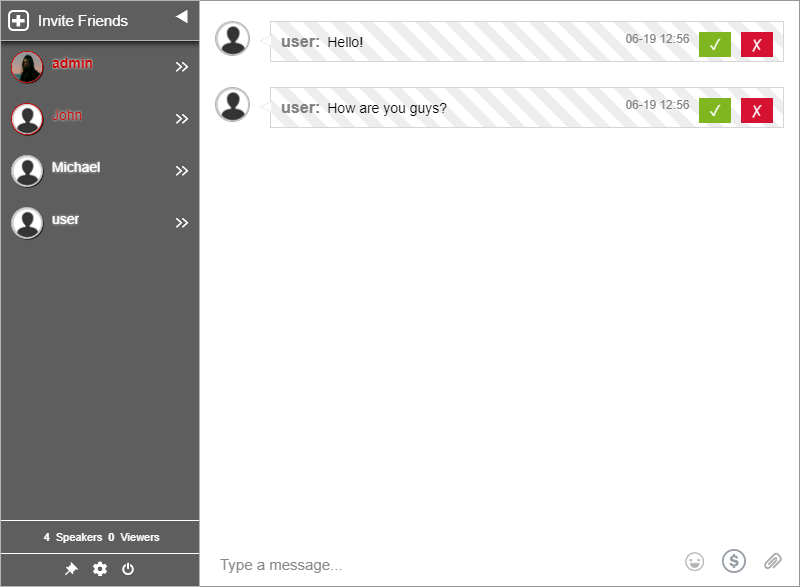 If the group chat is open publicly, admins have the ability to kick users out of the chat. This means that they can disconnect, ban, or ignore users that are not contributing to the chat.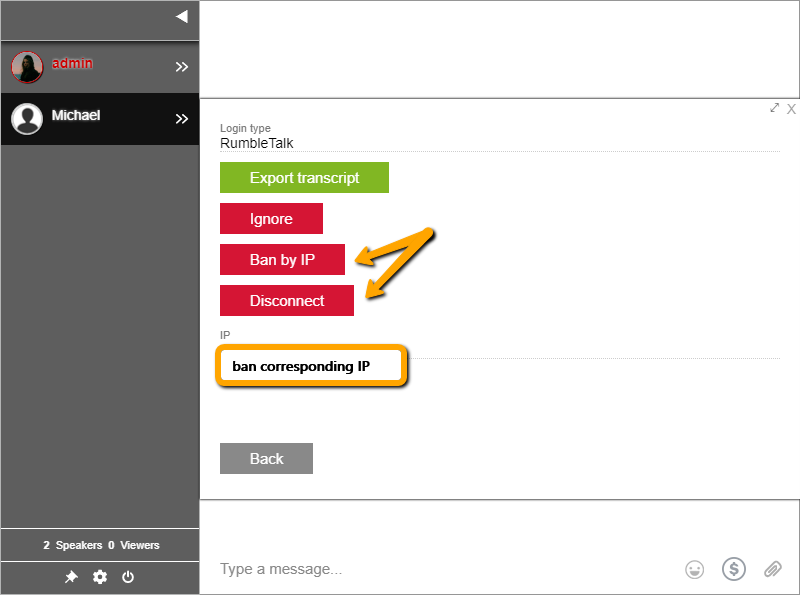 Another neat feature is that chat owners can add in-text keywords. So, if a keyword is used, this keyword appears highlighted. In-text keywords link to a specific page/website. Therefore, companies can use keywords to redirect users to their FAQ page.
Here are some other features that chat owners can use:
CSS customization
Admin mode (only administrators will be able to talk)
Enabling or disabling other chat settings (explore the admin panel)
How a group chat helps IT companies manage communities
A group chat helps the company to communicate with its customers. Being able to communicate in a live event means addressing questions on the spot. Yet, it also promotes a sense of community.
Having a group chat is also convenient and it allows IT companies to cut down their expenses. Holding an event is pricey. But, if you do it online, you can save more and is more productive.
In addition to that, group chats enhance the user experience during a live event. If you want to create a strong community, a group chat is your best bet.
Group chats make your live event approachable. It shows your customers that you care. So, companies should invest on their employees and customers. It's what keeps their business alive.
To learn more about how RumbleTalk can benefit your company or organization, visit the Features page.
Already a user of RumbleTalk? Then, stay updated with the latest updates and news on our social media (Facebook, Twitter).