This year, we had the pleasure of working with Agora Financial for their live event next to a live stream for a Q&A session.
Agora Financial's Senior Digital Experience and Optimization Manager, Sherry Errera, shared with us their experience with the platform. Thank you, Sherry, for your kind words. We appreciate it a lot!
What is Agora Financial?
Agora Financial is a US-based company working in the finance education sector. Agora Financial provides independent economic commentary and editorial and analysis through print/online publications, videos, and other mediums.
Why did you choose RumbleTalk?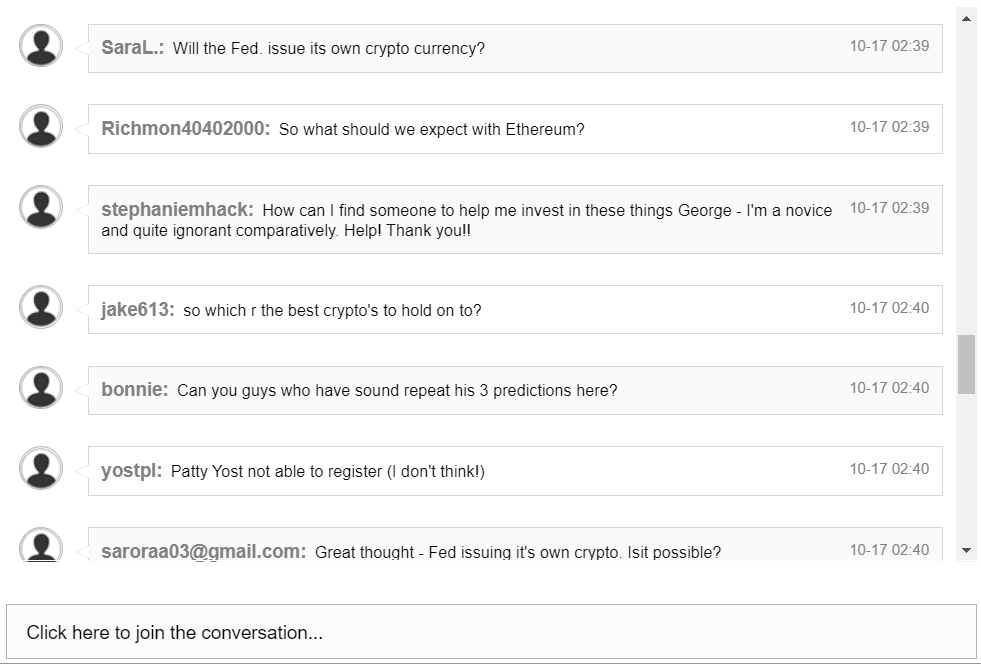 We were looking for a good solid replacement for our Q&A offering.

Prior to this one, our events didn't offer a chat option. Instead, we used the Q&A feature from another platform.
How does our platform help Agora Financial achieve its objectives?
For us, I am fairly confident that, after this event goes off without a hitch, we will continue to use this format. Our Q&A event starts with these steps:
Internal E-letter List Invitation/build-up to an advertised event with one of our Financial Experts/Gurus (in this case, Gilder's 2020 Millionaire Predictions LIVE)
Attendee capture upon arrival (RumbleTalk user registration)
Streaming video produced in-house w/host and service by LiveStream Enterprise (now Vimeo)
Q&A w/Live Moderated Chat for users and hosts
Export registered user list using RumbleTalk export option
Export chat transcript for legal using RumbleTalk export option
How was the event handled?
I so much appreciate your follow up during and after our event! I made sure to let everyone know you had kept watch during the event and they were really happy about that – especially our project manager, Emily, who was responsible to coordinate every last detail of the event and to make sure all was as close to perfect as could be.
How would you describe your overall experience with the platform?
Feedback from the team was incredibly positive! Any fears they had–main worries were about lag time, feature failure, or inability to juggle the Q&A
– were quickly squashed once the event started. There was zero lag and the moderators were easily able to manage the Q&A after a quick training session that afternoon of the event.
Emily said "Thank you, RumbleTalk!" and, that said, she will 100%, no doubt refer you to our sister companies and the other Agora Financial imprints if they have a need like ours. We have offices, publications, and companies around the world, so that's a lot of potential!
Is there anything you would like to add or improve?
For the future, we will definitely be back in our next event. This particular event was the first of its kind where we had an interactive audience (they were VERY engaged!) and Q&A with a live host and moderators.
Normally, our video "events" are all pre-recorded and we let people submit questions for follow up. The RumbleTalk moderated chat let us give another option to our customer.
Will you consider using RumbleTalk in the future?
Yes, definitely! We will surely be asked to help our sister companies and other subsidiaries of the larger Agora Company for referral or assistance so that they can model our event format.
Thanks for ALL of your help!