Live events are part of the digital era. Normally in a live online event, you will see a live broadcast next to a live moderated chat. With large online events there is a need to have tight control over your audience messages. We are happy to share with you the new beta version of moderated chat for live events and groups.
A moderated chat is an online chat for events with a speaker and group of audience, or a chat where there is a discussion happening. Comments or messages by members won't be public unless an administrator approves it.
When a member of the chat room types a message, it will be immediately sent to the admin. The admin will now check every message and select appropriate messages or questions for the group chat.
Then, these messages will appear normally in the chat room if they are approved by the admin. If not, they will be automatically deleted.
Different users of the moderated chat
How does moderated chat work?
Admin – The admin screens messages/questions. He/she also appoint a new admin to moderate the chat room. The admin can also be the expert or chat owner.
Chatters – ask questions and read responses. In addition, they can send greetings/messages as long as it is approved by the admin.
On your admin panel, you will see the chat type setting. In there, you will see two choices for a moderated chat. One is the normal one, while the other one is paid moderated chat. Choose any of the two.
Once a moderated chat type is chosen, you'll see that messages from other chatters will now need to be approved by the admin. Messages will have check and cross boxes on the right-hand side.
The message approved by the admin will appear normally in the chat. Then, users will be able to respond to that specific message.
If not, the message will be automatically deleted.
If his/her message was approved or not, the member who sent the message will not be notified. He/she will just see in the chat if his/her message is there or not.
Workflow
A user, who is not an admin, sends a message in the chat room. This is how it would look like: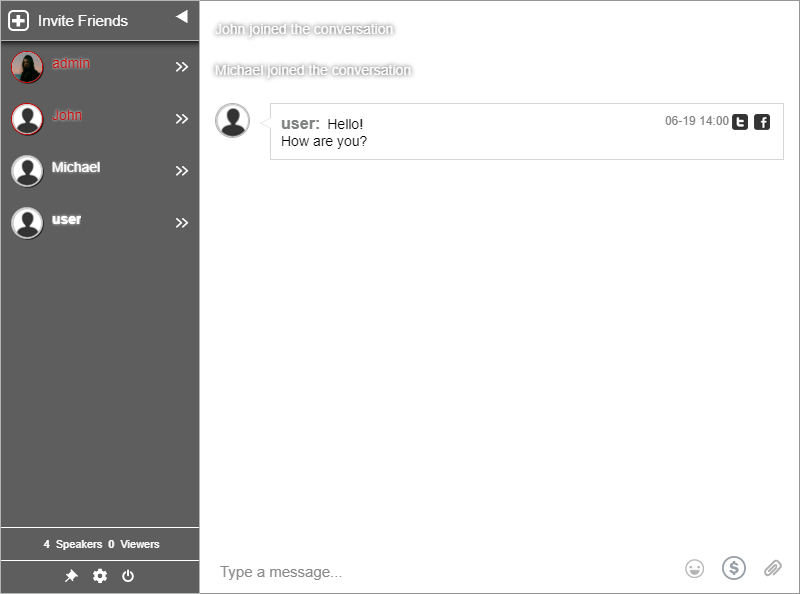 All admins will see this message in their chat window. It's up to them to approve or delete it. If it's approved, then the message will be seen by all users. This is how it would look like: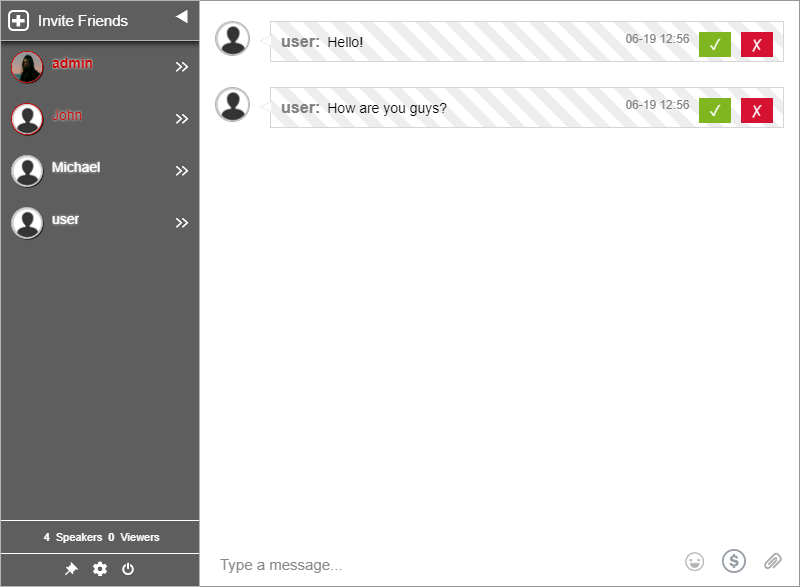 Highlights
You can change the moderated chat immediately to a normal group chat.
You can switch from moderated chat to paid moderated chat anytime.
Admins can screen messages and disconnect spammers and harassers in the chat.
If needed, it can also be used along with a block and filter words feature.
It's an organized chat. While the normal group chat allows users to chat instantaneously, the moderated chat disables normal chatting. Messages will not go live unless the admin approves it. This lets the chat be safe and organized.
What other features can you use for chat moderation?
1. Disconnect
As the admin, you can disconnect users who don't follow the rules. This can serve as a warning for users who spam messages. This is the next step after seeing the messages on the moderated chat. As the moderated chat lets the admin approve messages, you can then disconnect users who send inappropriate ones.
2. Ban
If the warning by disconnecting is not enough, you can also ban users by their IP addresses. This can also serve as the action for the worst-case scenario. These scenarios are applicable to harassers, predators, or members asking for private information (credit card number, address, etc).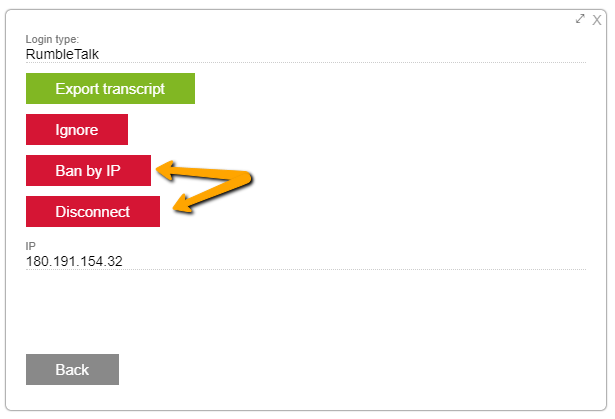 3. Limit users
You can also limit users using your chat. There are many ways to do this.
First, you can register members to your chat room. Only specific members can enter the chat room. However, this is not useful for large events as you are limiting it only to users you know.
Second, you can also limit users by the chat rooms they can access. For example, one user can access only "Chat Room 1." This also goes for the other admins. As a result, you can appoint users to a specific chat room only.
Lastly, you can use user authentication. This means that the log-in interface will not pop-up. Only private users can access the chat room.
Conclusion
To conclude this, we see that chat for events needs moderators and rules. Events are always crowded and rowdy. You can avoid that. Handling an event is tough, but with the correct solution, you can push through it.
The moderated chat is a solution for negative messages on your event. This can affect your company, product, or service. By having a moderated chat at your expense, you can build a better chat room. You can build a community that's safe and a place that makes your chatters feel secure.
With the moderated chat and the additional features discussed above, you can provide for your members. In addition, you can ensure that no harmful messages will be sent out. The chat will be heavily moderated. If messages like these persist, you can always ban or disconnect the user. This depends on how his/her message can negatively impact the chat.
If you're interested in building a community chat, then you can check out these following blogs: Important Community Chat Features for Administrators, Creating a Predator Safe Chat Room for Your Community and Step-by-Step Tutorial for Adding a Chat Membership to Your Site.
Keeping up with our new feature and latest updates? If yes, check out our social media pages (Facebook and Twitter)! You can connect with us there! Come chat or say hello! You can also check out our blog so you can read about our past features. You might want to register to our chat service if you find the perfect solution for you!