After several support emails with the same subject? asking us to explain the difference between chat software vs group chat vs live chat vs chat room. We decided to elaborate it a bit.
According to Merriam-Webster Dictionary, chat is defined as  "to talk with someone in a casual way" and also "to talk over the Internet by sending messages back and forth in a chat room."
Let's try to understand the different options in the chat arena?
It is a matter of terminology but much more. For example, if you need a public chatroom that allows you to log in using your social media credentials, then a private room will not be suitable for your needs.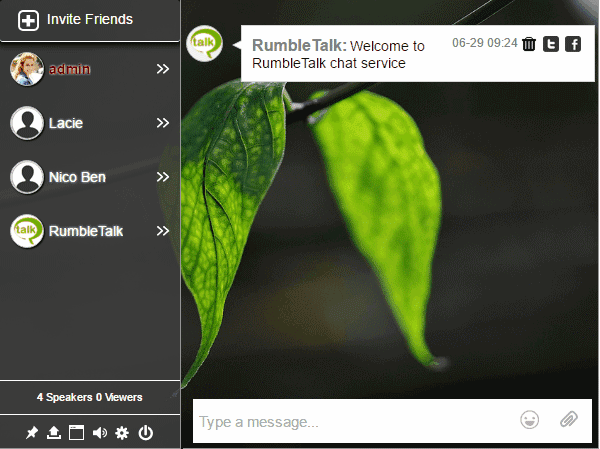 Let's talk about chat compare, The difference between the next 3 options
A – Group Chat
B – Live Chat
C – Chat Room
Note, each of those can be shown in two forms, chat software, or chat service.
The main difference is that a chat software will be installed on your server using your CPU, memory and other resources from your servers. A chat service is a chat that will show on your website but will consume the vendor of the chat resources (e.g, will not affect your server performance).
So, let's start
The Evolution of Chat in Computer System
Our needs to communicate with other human being had initiated a chat system to be built along with the first computer operating system, UNIX in 1970's. Talk program was built into UNIX system to allow people communicate each other using their user name as ID. Talk program only allows one-on-one chat.
The very first multi-user and chat room is a program called Talkomatic. The program was invented for the first time in 1973 by Doug Brown and David Wolley in University of Illinois as supporting tools for the University's learning system.
Chatting has been so common in our daily Internet life. We are now using many different chat program and connecting with people around the world, as a chat program chat has been advancing very much since the very first talk program in UNIX system.
1. Chat, Instant Messaging and SMS
We have been so useful with chatting program. As a communication system has evolved and so has the chat program evolved. Chat by definition, according to PC Magazine is a real-time communication via keyboard between two or more users on a local network (LAN) or over the Internet.
Webopedia, the online tech dictionary also define chat as the same definition as PC Magazine: a real-time communication between two users via computer. Once a chat has been initiated, either user can enter text by typing on the keyboard and the entered text will appear on the other user's monitor.
Most chat system nowadays allows users logging in to the system to enter a chat room and chatting with other people who have already been in the room. This allows a many-to-many chat room, as everyone in the chat room can send their message to other people.
There is a different term regarding chat, but actually, it means the same. The term Instant Messaging for most often is separated from chat, but instant messaging is actually a chat in itself.  The difference between chat and instant messaging is that instant messaging is built to focus on the one-on-one chat.
In a mobile application, we have now so many instant messaging application. In the cellular technology, the very first instant messaging app is SMS. This technology then evolves into more advanced technology in mobile instant messaging. As the smartphone revolutionize the computing industry in the 2010's, SMS has been replaced by the variety of instant messaging app.
As smartphone technology now converges with Internet and web technology, the chat must be able to deal with the convergence. The challenge for today's chat technology is to be able to run and synchronize on both PC and mobile device. Fortunately, today's technology enables us to build a web chat software that can be used in either mobile device such as smartphones and tablets, as well as PCs (HTML5 + Javascript).
2. The 3 types of chats
In the chat arena, we know there are three types of chat:
Private Group Chat
Live Chat
Chat Room
Private Group Chat. As the name depicted, the private chat room was meant to be a private conversation between a selected people. Usually, a small team needs this chat. Such as a group of stocks trader, a real estate sales associate, and small groups need this chat room.
One common needs for private group chat is the capability to share files. It is because the people in the private group chat usually are people with the same profession or the same interest. Therefore, the chat room is also functioned as a knowledge sharing tools. With the file sharing, capabilities, they can share any kind of files for information and knowledge sharing needs.
One additional advantage for teams is the fact that a user can enter when he has time and scroll up to see the group chat compare history, it is a huge time saver when managing groups.
Live Chat. This is the type used for customer service. A customer can be assisted by a company representative, who usually handle more than one visitor at a time. Companies with customer-oriented product and service, especially retail or FMCG company will surely need this chat. Live chat is useful as the supplement for telephone contact center.
Moreover, a company with an Internet-related product will need this live chat more than phone support. Since most customers are connected to the Internet, live chat is the most appropriate customer contact for such company.
Chat Room. This is the most common chat type and resembles a public space where people can talk to anonymous chatters. The public room can be placed on any website in any area of the site as long as the chat room is a public chat room.
When we enter the public chat room, we can see how many people have already been in the room and we can join the conversation with those people. In these chat room, usually, a conversation can be so hectic. However, we can also switch to private chat mode by inviting someone to a private room and chat privately. A good chat room will have this mode switching.
3. Chat Compare – Table of Comparison Between the Three
| | | | |
| --- | --- | --- | --- |
| Features | Private Group Chat | Live Chat | Chat Room |
| Public | No | Yes | Yes |
| Switch to other types | Yes | No | Yes |
| Moderated | Yes | No | Somewhat |
| File sharing | Yes | No | Somewhat |
| Image insertion | Yes | Somewhat | Yes |
| Video Call | Yes | No | Yes |
| Audio Call | Yes | Somewhat | Yes |
| Emoticon | Yes | Somewhat | Yes |
4. Why Is It  So Confusing?
The complexity of human communication makes our communication method is different from one another. This also applies to the Internet communication, that is the reason for so many different chats compare available. All of them have a specific purpose and cater specific chatting need.
We can select the most suitable chat for our conversation needs.