Live event entertainment has been around in human being daily for centuries. We, human being are enjoying live entertainment from the early days of civilization. Watching a horse race, gladiator fight and other forms of entertainment have been our way to enjoy live since a long time ago.
As civilization grow more advanced, live entertainment become more and more improved. With today's technology, live event chat can even be possible to create a highly interactive live event.
What is Live Event Chat?
Live event chat is a technology where remote audience and viewers can interact with the event held by the organizer and broadcasted over the television or multimedia channel. Television industry has been the relying on the live event for some time. This is the age of online availability, the era that everything can go online in a matter of second, where information can travel around the world within second.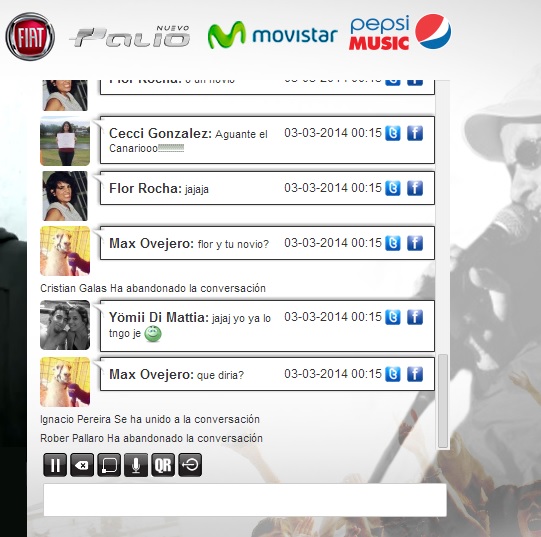 Regardless any type of event; music concert, webinar, talk show, radio streaming, all events can use live event chat room (a group chat) to create more attractive event. In 2014, CNBC predicted the future of music concert with social wearables and interactive live shows. On its July 21st article, the author, Everett Rosenfeld quote the event guru regarding the rise of FoMO trend for live event. FoMO, stands for fear of missing out, is a type of anxiety occur in today's digital age where people have fear of getting out of touch, or absent from social events or experiences that generally a hype among their community or social circle. Such event can be a TV show, some events, gathering or a restaurant, and now FoMO has spread to live event. FoMO induce some pervasive habit in today's social life, like constantly checking smartphone or gadgets, or anxiety when they did not receive email or message or chat for a couple of minutes.
How Live Event Chat Helps FoMO Anxiety
Social media, mobile devices and gadgets have pervasively invaded our private life in a way more than we ever foresee or imagine. FoMO is a phenomenon that affects the 18-34 years of age group or known as teen millennials. Young people in those age group are prone to peer-pressure that can lead to low self esteem. It is because young people will look upon other's approval for their self value, that makes them caught and struggle with FoMO.
People who struggle with FoMO will receive benefits with availability of live event chat. They will be able to participate in live event, as long as the event is equipped with live event chat room. RumbleTalk chat platform provide such ease and simplicity with the needs for live event chat.
We encourage event organizers to enable RumbleTalk platform in all live events they manage to enable interaction from people with the event. It does not matter what type of event, because as long as the events have chat room for people to interact and show their interest, the event will generate more audience and revenue. The availability of live event chat will benefit both the event organizer and the audiences, because event organizer can grasp the idea for the next event, based on audience participation and their idea during live event chat. While for people who struggle with FoMO, there is no reason for them to feel being left out, because they now can interact with event organizer, performers, host and everyone related to the event through live event chat.
Live Event Chat Enhances Interactivity
In the previous article, we know that RumbleTalk be able to help Radio station increasing their audience and interactivity. The same thing goes to live event as well. Every one of us understand how important for a live event to be interactive. Television broadcast and radio show have been opening phone line to enable direct interaction from audience and viewers with the show. Yet, starting a few years ago, some television talk show started to use Skype for video interaction with their home viewer. The conversation is displayed in the inset on the TV screen for home viewer to be able to watch it as well as studio audience. Now, the technology has advanced to be able to provide more level of interaction with live event chat.
It is because talk show, variety show or another interactive TV shows require more than just a great host and television personalities to lead the event. They need fresh approach and variation, so audience wait and expect something different and more enhancing than just watching a host and invited guest talk on the TV screen.
What is The Best Technology for a live Event Chat?
RumbleTalk provide the technology for talk show to have a live event chat for home viewers to contribute, more than just a phone line or video conference. This will certainly boost number of viewers. Moreover, when the live event chat room is displayed in the inset, the home viewers will increase significantly. By nature, human are narcissist. Therefore, enabling the live event chat in the television broadcast and put the conversation on screen, will encourage viewers to participate. It is because they are definitely eager see their name comes in the TV screen.
With advance HTML5 technology, RumbleTalk chat platform is the best solution for all needs of live event chat. People who participate in chat room will be able to attach their picture or video from YouTube or Vimeo easily. Not only that, we have video chat technology that will enable host to invite home viewer to perform a teleconference with ease. Our video chat requires only a browser, thus minimizing the installation of application in the computer. People who is invited to video chat will be able to chat from their smart phone or tablet with ease. They do not need to stand by in front of their computer just to be able to engage in video chat.
That is how easy for live event organizer, TV station and radio station to engage more audience in their live event with RumbleTalk live event chat.
Tune in to our Facebook, Twitter and Google+ to get update of RumbleTalk technology.