Do you remember the days before live streaming was a trend?
When we wanted to organize a live event, we started building a groundwork to promote an event. We printed brochures, placed print advertising, and even television ads when the cost is feasible.
However, today, with social media and the internet, we can use them to promote our event. We are also able to monitor them anywhere we are. This is where a group chat comes in.
Live events are now reachable through social media. There are a lot of social media pages wherein you can hold a live event of your own. But, for a live event to be successful, you need to moderate it. With the use of online tools and solutions, you can manage to do that easily.
Some available social event management today offers the convenience of creating, promoting, and managing any kind of event. Whether it be a conference, exhibition, festival, gathering or social events, there's always a solution on social media. However, we will see how Rumble Talk fills in the gaps where those social event managements are missing.
Group Chat for a Successful Event

There are many challenges when you're working as an event organizer. These include managing successful events that need clear communication, excellent organization skills, and detail-oriented preparation for the operation. What is necessary for attracting and engaging participants to attend the events?
First, you always need clear communication. Second, organization skills are needed to ensure teamwork and cooperation. This lets the event organizer prepare things smoothly and flawlessly. Third, detail-oriented preparation is required from start to finish because event management is a hectic job to do.
All event organizers know that managing events is a daunting task. They are familiar with such hustle and bustle, and all that to understand how to manage a successful event. But with all those, is it the same with creating an event using social media?
It's time that we take a closer look at social media as our tool for successful event management. How can social media really help us to create a more successful event and gather a wider audience? This is a question we need to answer.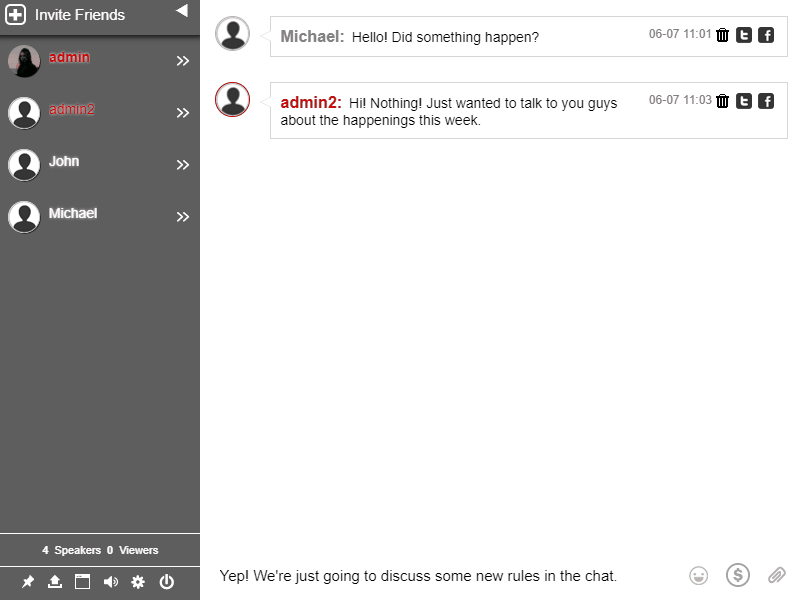 Use of Social Media
Even though social media has been doing its best to ease event management, it still needs improvement in some aspects. What do you think it needs? Social media only works in the pre-event period of the event. Social media event management can only promote the event, manage the registration, and monitor the participants. That's basically it. When the event is happening, social media is practically idle.
Through the internet, we can use video or audio streaming to broadcast the event. However, streaming has its limits. we can use platforms like Twitter to give an account of the event, but the audience is unable to respond in real time. Therefore, a group chat is needed to ensure a successful event. That's when we come in. We fill in the blank spots left by either live-streaming technology like Twitch and live-tweets by Twitter.
With our top-of-the-line technology for web chat platform, RumbleTalk provides the best chat for all kinds of live events you manage and organize. We provide event organizers the cutting-edge technology to bring their events to a wider audience.
Why do we need a group chat?
Although social media has become a huge factor in our lives, event management still needs to explore more of the internet to manage a successful event. A chat for live event is what every event organizer needs because we've seen shortcomings of live streaming websites and social media in managing live events over the internet. The only feasible solution is to add a group chat. This, together with video streaming and social media, is the killing combination for live events.
Talk shows, seminars, conferences, discussion, what do all of these have in common? All these events have speakers and a Q&A session, where a chat is surely needed. When the event is broadcasted live through video streaming or social media, attending the event is made possible.
Audience reach is through the roof because of the internet because anyone around the world can tune in. In turn, real-time feedback is made possible through a chat room. Moreover, chat for live events provides the convenience for remote viewers to submit a question in the Q&A session. For instance, a moderator can submit questions directly to the speaker, and the speaker can answer the question via chat room or answer the question directly via live stream.
This will let the event's organizer serve both audiences, namely, those who attend the event in place and those who attend the event remotely. For the audience in the event's venue, they can have the pleasure of viewing the event live at the location. For the remote audience, the combination of live streaming and group chat will give them a convenient way to interact with the event.
Running Your Group Chat
As discussed, a group chat is a must. We give you two options to run a live event with a chat.
Group chat – This is the normal chat that we see and use every day. To start a group chat, each member must log-in. After that, they can start chatting as usual!
Just choose group chat on your admin panel. Then, members just need to log-in and they can type any message they want!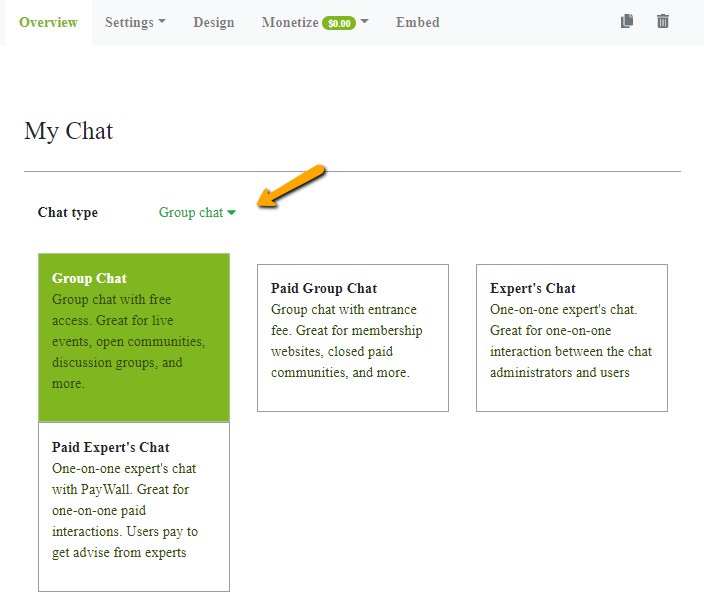 Here's an example of how a group chat would look like. Neat, no?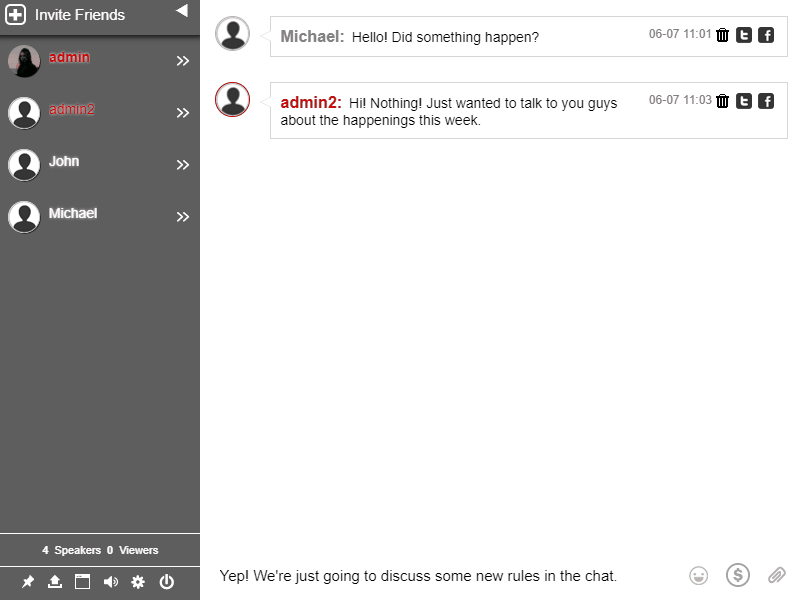 Moderated chat – The moderated chat lets you keep the chat safe. How? The admin needs to approve messages before it can be sent out.
To activate the moderated chat, just choose moderated chat as your chat type. This is great when you want to delete inappropriate messages before they get sent out.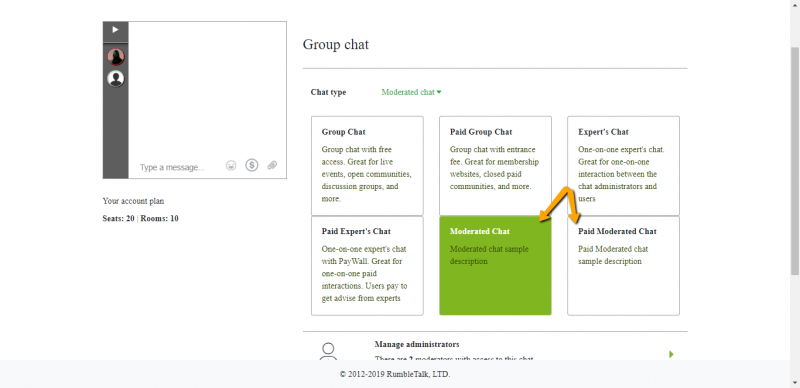 Here's an example of how a moderator approves or deletes messages. You see that there are check and cross boxes on the right-hand side of the message box. It's simple. You just need to click them to approve or delete the message. This minimizes mishaps or negative messages in the chat. You can also avoid inviting harassers and spammers in the chat.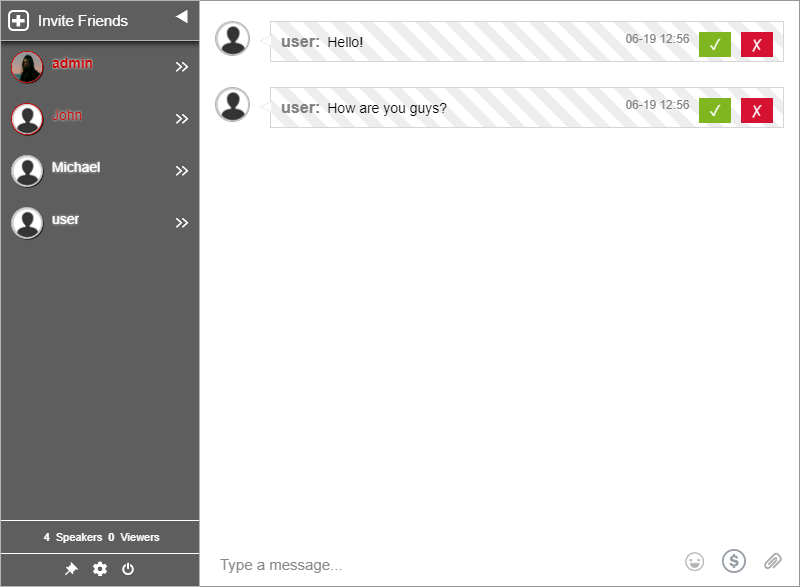 The group chat is in parallel with your event. The great thing with group chat is it's also available on smartphones! Your audience just needs to open their mobile browser and copy the link. A group chat gives an audience reach that's undeniable.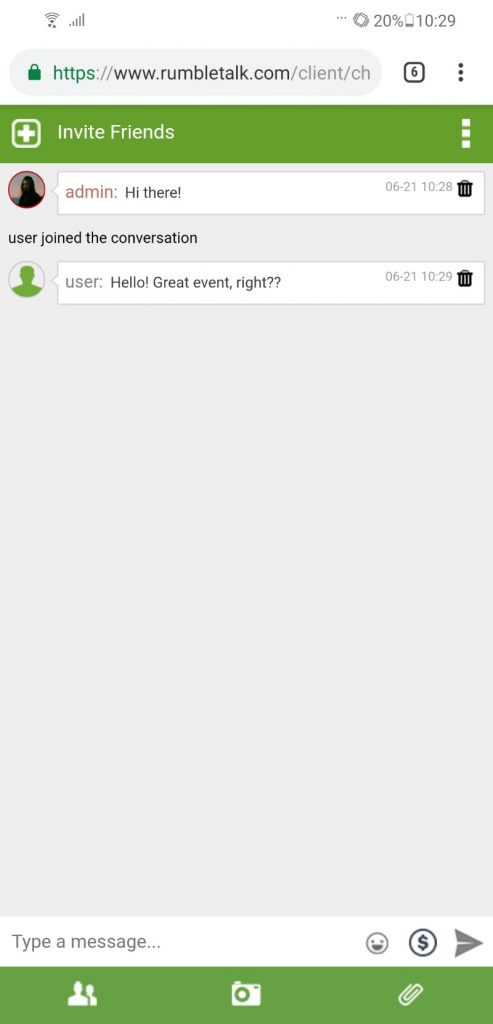 Benefit of RumbleTalk Chat Platform
The hustle and bustle of preparing a live event are surrounded by logistics and event preparation. It is the law of nature that, when you organize a bigger event, you need to prepare more. You need to take care of a bigger event venue, more food and refreshments, more parking space for attendance, more challenges in traffic and transportation, and many others. This is just the start.
When you inform the audience to attend and communicate your live event via RumbleTalk chat, those setbacks will not happen. You can handle even larger events and audience without having to worry on bigger logistics issue. You can use your current venue, your present food catering, and parking space. At the same time, you can reach a wider audience for your live event. That's the most important benefit that the RumbleTalk group chat gives. If you want to create your own chat for live events, then you can create one here: Create your own group chat.
Find out more on our Facebook and Twitter pages.