Get ready to be intrigued: chat rooms seem to be popping up everywhere these days. You may be curious about the reasons behind this phenomenon and why website and app owners find the chat room arena so appealing. The return of chat rooms is an interesting phenomenon.
Let's start with the evolution of chat rooms. Chat has become an integral part of our daily work routine. Surprising statistics indicate that, over the past three years, chat communications have accounted for nearly 50% of all digital communication mediums.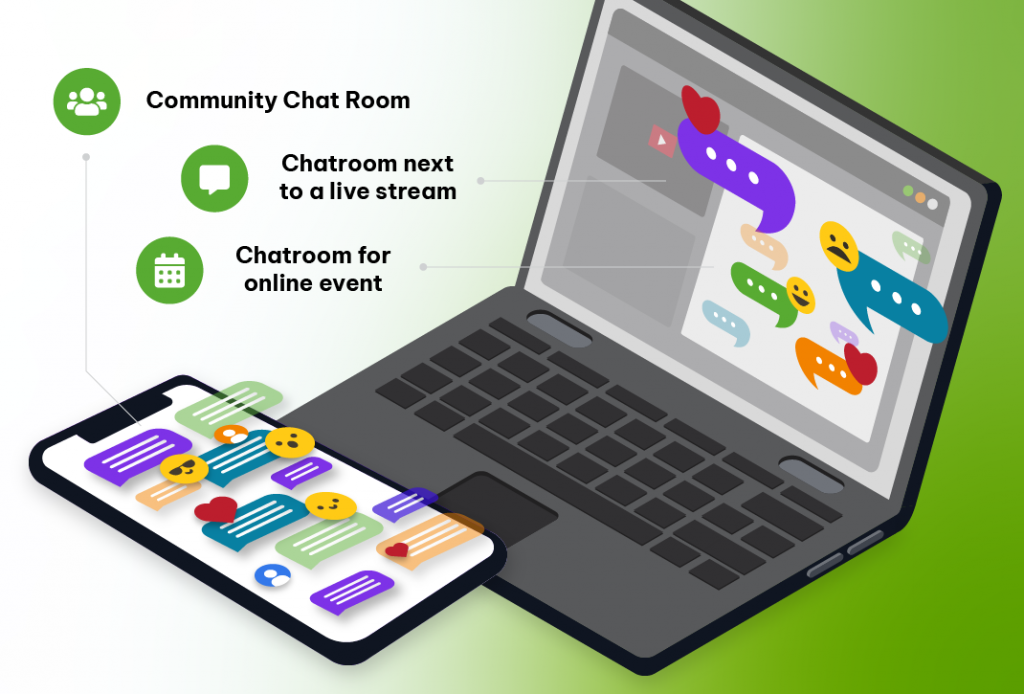 Key reasons for chat rooms' return
In the realm of the digital age, chat rooms initially dominated, but in 2011, a shift towards one-on-one chats, particularly through support chat, emerged. Subsequently, the mobile era facilitated seamless communication through individual chats. Concurrently, team chats and gaming chats began to flourish.
However, we are now witnessing the return of social rooms, commonly referred to as group chat or chat rooms, as both open and closed communities increasingly embrace them.
The main reason for the return of chat rooms post corona is the changes in the business community, here are the reasons in a nutshell: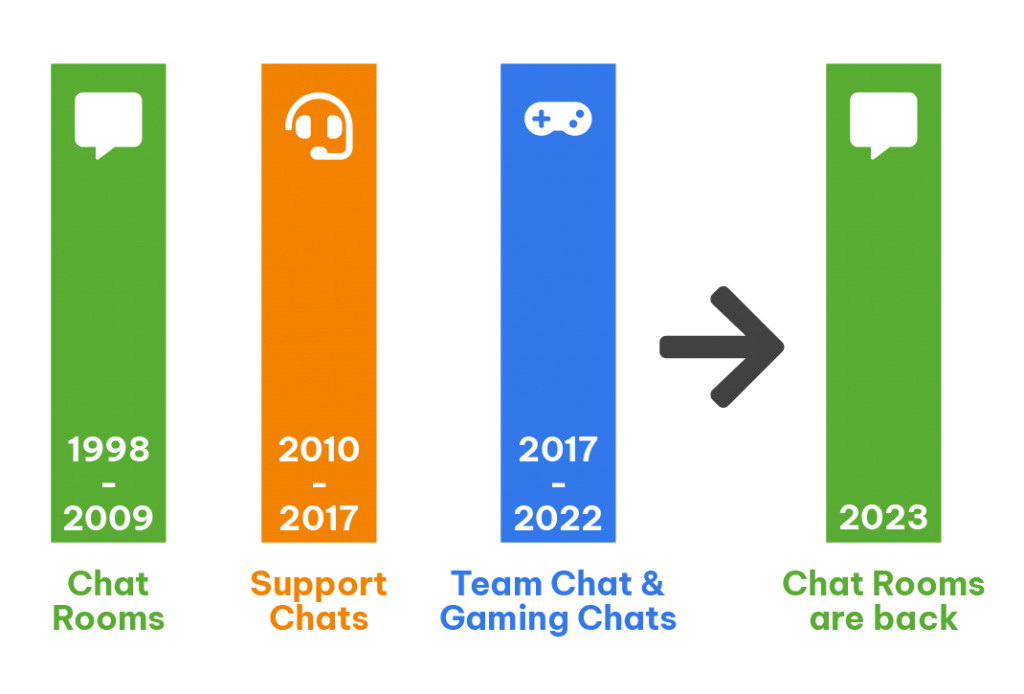 Community Building:
An increasing number of businesses have recognized the importance of leveraging communities to boost sales and foster customer loyalty. Consequently, creating customer communities has emerged as a significant trend. Businesses are utilizing these communities to gather feedback from their customers and facilitate peer-to-peer interactions among customers themselves.
Privacy and Anonymity:
Previously, chat rooms were predominantly associated with niche industries and attracted specific types of individuals. However, in the present day, as chat rooms are widely utilized for diverse purposes, the emphasis on privacy and encryption in communication has instilled a sense of reliability.
Multiple Rooms & API:
The advancement of chat room technology has simplified the process of integrating chat rooms into websites or applications through API calls, such as REST Angular. In today's era, the Software as a Service (SaaS) industry enables users to create numerous chat rooms using APIs and provides the flexibility to control various aspects of the rooms directly from their own server

The COVID-19:
The Corona pandemic has acclimated us to increased reliance on online communication, with chat platforms becoming an important way of communicating for various interactions, be it group discussions or team collaborations. The return of chat rooms got a huge boost by the Corona period and chat rooms became familiar to most individuals.
Topic-Specific Focus:
Many chat rooms are dedicated to specific interests or niches, allowing users to engage in discussions tailored to their passions, hobbies, or professional fields.

When customers are asked about the reasons behind the widespread use of chat interaction, an overwhelming majority of 79% express a strong preference for its immediate response.
This statistic underscores the growing demand for quick and efficient communication in today's fast-paced world. Chat interactions offer the convenience of real-time engagement for both customer support and chat rooms, allowing customers to obtain information, resolve issues, and receive in-person support, AI support, or community support without the delays associated with traditional communication channels.
The instant nature of chat provides a sense of immediacy and responsiveness, empowering customers with timely solutions and enhancing their overall experience. As a result, businesses are increasingly adopting chat platforms to meet customer expectations and gain a competitive edge in the market.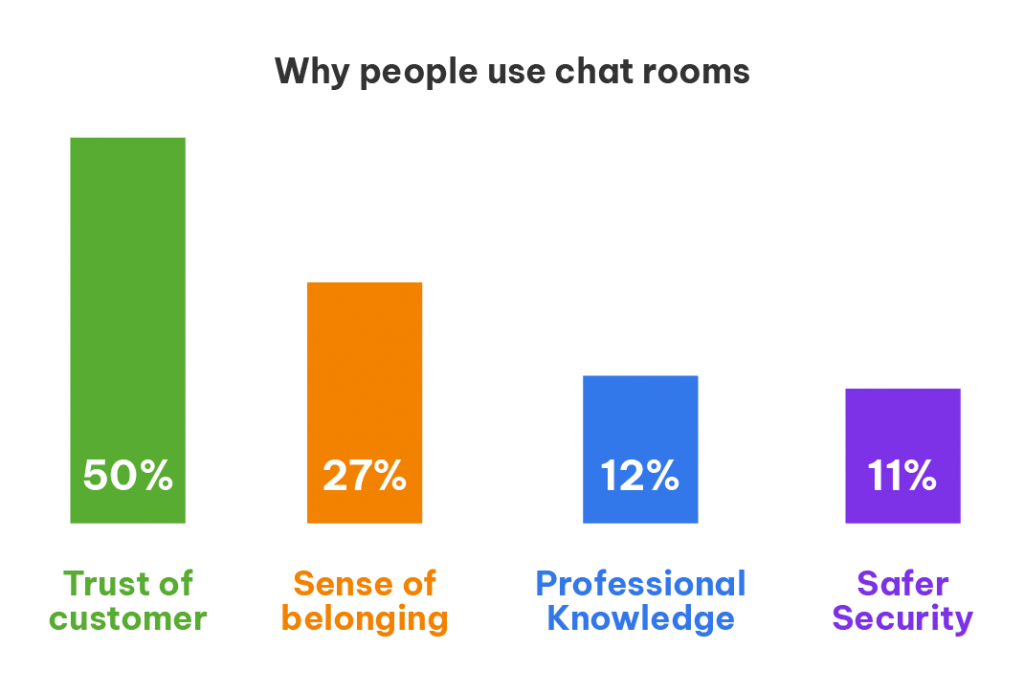 Open or members-only chat room?
When it comes to building a community and engaging audiences, businesses have the option of creating a members-only chatroom or utilizing an open chat platform. Each approach offers distinct advantages, and the choice depends on the specific goals and requirements of the business. Let's explore the key points to consider when making this decision.
Building a Community for Members Only: A members-only chatroom provides businesses with a higher degree of control over the interactions within the community.
By limiting access to registered members, businesses can ensure a more focused and exclusive environment. This exclusivity can foster a sense of belonging among members, creating a stronger bond and encouraging deeper engagement.
Additionally, a members-only chatroom allows users to communicate directly with each other, facilitating networking, collaboration, and the exchange of valuable insights.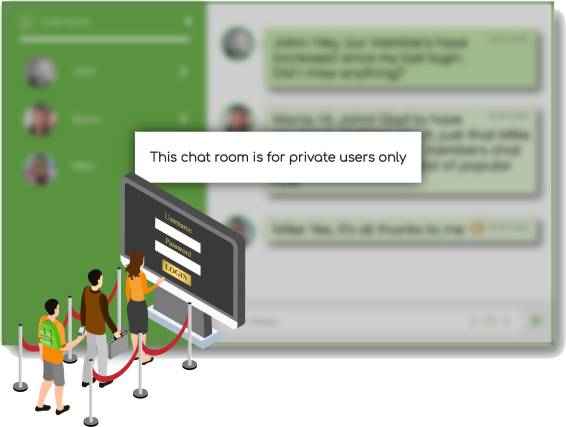 Utilizing an Open Community: On the other hand, an open chat platform offers businesses versatility in its usage.
It can be seamlessly integrated into various scenarios, such as online events, alongside broadcasting videos, or during open radio shows.
An open chatroom allows businesses to reach a broader audience, including both members and non-members, maximizing their potential reach and visibility. This accessibility can attract new users, encourage participation from a diverse range of individuals, and provide an opportunity for businesses to showcase their expertise to a wider audience.
Ultimately, the decision between a members-only chatroom and an open chat depends on the specific objectives of the business. If the primary goal is to build an exclusive community with controlled interactions, a members-only chatroom is ideal.
On the other hand, if the aim is to leverage the chatroom in various contexts and engage a broader audience, an open community approach may be more suitable.
Engagement in chat rooms.
One of the main reasons for the return of chat rooms is the fact that technological advancement made chat more robust and feature-rich.
Most chat room platforms offer a range of unique features that can significantly enhance engagement among participants. These features go beyond basic text-based communication, providing interactive elements that foster meaningful interactions. Let's explore some of the key features that make chat rooms a powerful tool for engagement.
Polls:
One compelling feature of chat rooms is the ability to conduct live polls. This feature allows businesses to gather real-time feedback from their community members, enabling them to make informed decisions based on collective opinions. Polls encourage active participation, spark discussions, and give participants a sense of involvement in shaping the direction of the conversation.
Pre-moderation in chat rooms:
Some chats have this option of queued chat where the admin approves messages before they're visible, ensuring a safe and respectful environment for participants.
If the message is approved, it is published in the chat room for all participants to see. However, if the admin deems the message inappropriate, it will be rejected and not shown to anyone in the chat room.
Video and Audio Messages:
Incorporating video and audio message capabilities into chat rooms can significantly enhance engagement. Users can express themselves more effectively by sharing visual or auditory content, adding a dynamic and interactive element to the conversation. This feature enables participants to convey emotions, provide visual demonstrations, or share multimedia content, resulting in a more immersive and engaging experience.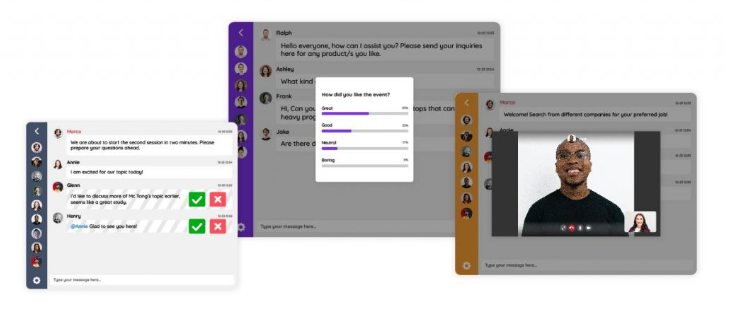 Private Chats:
Another valuable feature is the option for private one-on-one conversations within the chat room. Private chats enable users to have more personal and confidential discussions, fostering a deeper level of engagement. This feature is particularly useful for businesses looking to provide personalized support, address individual concerns, or facilitate networking opportunities among community members.
Private Video Calls:
Chat rooms can also facilitate private video calls, allowing users to connect face-to-face in a secure environment. Private video calls are ideal for conducting virtual meetings, providing personalized consultations, or hosting exclusive events within the community. This feature enhances engagement by promoting direct and interactive communication, fostering stronger relationships among participants.
By incorporating these unique features into chat rooms, businesses can create a vibrant and interactive space that promotes engagement. Whether through live polls, private chats, video and audio messages, or private video calls, these features offer diverse ways for participants to connect, collaborate, and actively participate in the conversation.

SaaS chat room platforms
There are many SaaS chat platforms. When you wish to consider the right solution for you, you will need to consider the next points
Stability – this is the most important thing when choosing a platform.
Website load – some services might slow down your website.
Pricing – is very important especially when many rooms are needed.
Features – Check that you have the features you need in the service.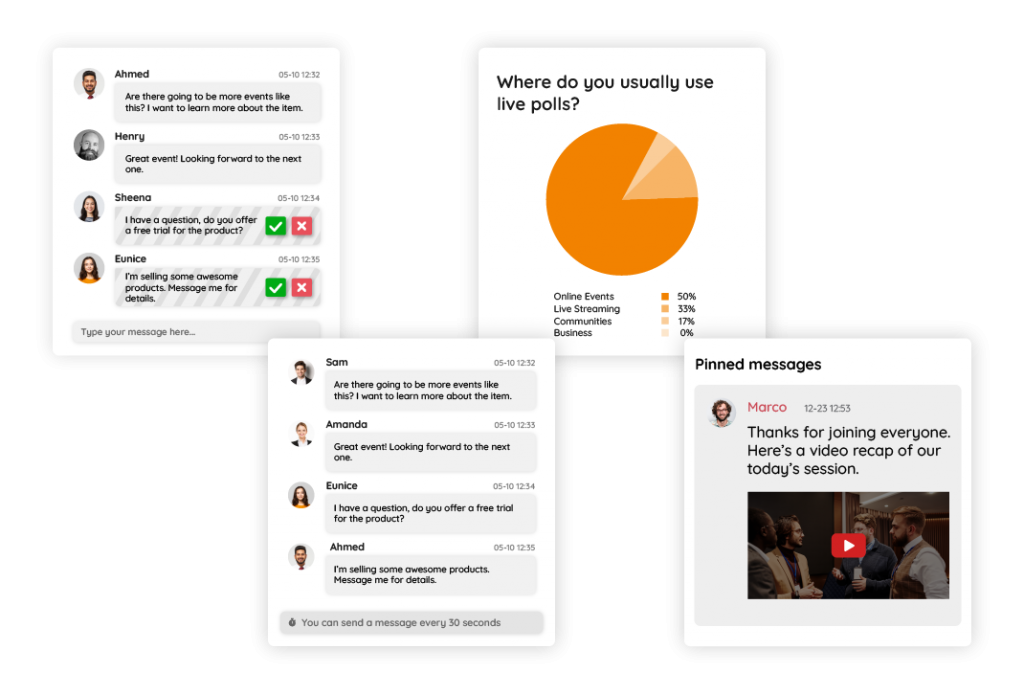 As part of the return of chat rooms overview, you may see below some of the selected SaaS services out there (there are more for sure):
RumbleTalk
RumbleTalk is ideal for any type of website or app. It is equipped with a powerful unique pre-approve messages feature in addition to polls and video calls.
It can be added to any website through an HTML copy-and-paste code or through chat APIs.
An interesting option is creating your own chat page without having a website using RumbleTalk's admin panel. The page can be used as a minisite or landing page for a business or offered services.
RumbleTalk's pricing has 4 tiers: Free, Professional, Business, and Enterprise. The Free plan includes a basic plan where you can try out the features before you proceed with the other 3 tiers.
If you're holding large-scale events such as international conferences or virtual events, you can talk to Rumbletalk sales to arrange an Enterprise plan.
Cometchat
CometChat offers an array of solutions for developers looking to quickly integrate app chat, video, voice messaging, and moderation tools across a variety of industries. With support for 10 SDKs and pre-built chat plug-ins, CometChat offers flexibility and ease of use.
Their pricing is divided into three tiers: Essentials, Pro, and Custom, with a significant difference in cost until your app starts to scale.
PubNub
Compared to other real-time app development platforms, PubNub offers a lower-level approach that doesn't include pre-built visual components for the frontend. This means that developers will have to invest time and resources to create their own chat experience.
On the pricing front, PubNub offers a Starter plan and for larger-scale projects, there is a custom-priced Enterprise plan that offers volume-based discounts.
Twilio
Twilio's Conversations API is a versatile tool that enables businesses to interact with their customers via voice, SMS, video, chat, and email. With the API, developers can integrate chat functionality into their apps, and extend the feature-richness of an in-app chat experience to an omnichannel communication and user engagement strategy.
Agora
Agora's chat platform provides developers with flexible customization, reliable network quality, and ease of implementation to create a high-quality chat experience for their users. With over eight SDKs available, developers can add customized messaging features to real-time video and voice apps.
Stream
Stream's Edge infrastructure and 99.999% SLA uptime power activity feeds and chat for both enterprise organizations and billions of end-users worldwide.
Stream provides custom UI kits, extensive documentation, and tutorials for its React, React Native, iOS, Android, Flutter, Compose, Unity, and Unreal SDKs. Its easy-to-integrate solution typically takes only a few days to a week to implement, while other chat APIs can take months.
Sendbird
Sendbird is a chat provider that offers APIs, SDKs, and UI kits to enable customers to quickly create a feature-rich messaging experience.
Sendbird's pricing is divided into four plans: Developer, Starter, Pro, and Enterprise. Each plan is priced based on the predicted number of monthly active users (MAU) and peak concurrent connections for your app.
Price compare
There are two pricing models SaaS chat room services use:

MAU – Monthly active users. In this case, any unique user that opens the chat or the page where the chat was embedded will be considered as 1 unique user.

Concurrent Users – maximum number of users in a chat room at a given moment. In this case, there is no importance in how many users there were in the entire month, but rather how many can be opening the chat in a given moment (concurrently).
Although all the solutions we listed are more cost-effective than developing an in-house chat system, RumbleTalk stands out as the most affordable, supportive, and feature-rich option. The table above compares other chat platforms' monthly prices per MAU with those of its competitors that have similar features.
It's worth noting that RumbleTalk's plans (starting from Professional) includes customer support, while CometChat, Agora, PubNub, and Twilio charge separately for this service.
As your MAUs and peak concurrent connections grow, RumbleTalk becomes increasingly cost-effective compared to its competitors if you're looking for a scalable, enterprise-ready chat solution.
If you're currently using another provider's API and want to migrate to RumbleTalk, they've got you covered. Learn more about it here.
Stay tuned for the evolution of chat rooms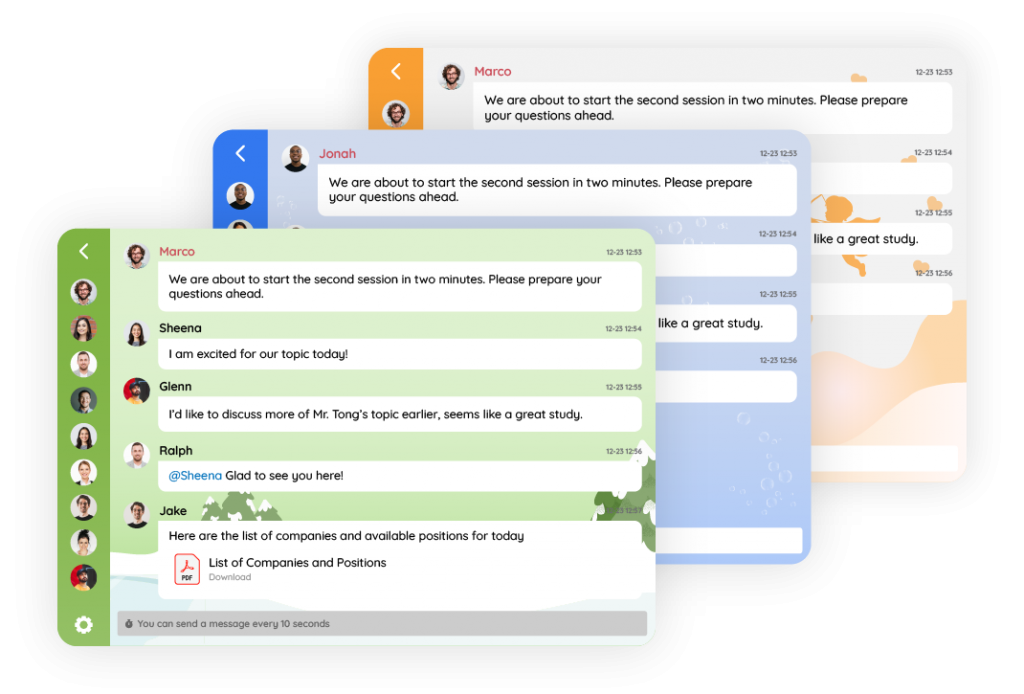 Chatting in real-time with someone else is fun and addictive. It lets you connect with people from all over the world at no cost. They're here to stay, but they might be evolving into something new than ever before as we've seen with video games or social networks like Facebook (which has its own chat app).
The comeback of chat rooms could be exciting for those who want to build a brand community or just hang out with friends!
This was The Return of Chat Rooms article that tries to explain the evolution and reason for chat rooms coming back. If you want to try it out, send us a demo request and we will be happy to show you how to use it.

Privacy Policy Contact us Content Policy ​​​​​​​About Us
Need more information, write us at support <at> rumbletalk.com
RumbleTalk LTD, har hatzofim 18 rh, 7662030, IL