Ever wondered how you can copy your chat design? Now, you can duplicate a chat room with a click of a button.
RumbleTalk new admin panel has a new button that can copy your current chat design and settings. This duplication option allow you to save time by setting sone chat to your liking and then creating a copy with a click.
What are the advantages of duplicating a chat?
TIME – If you use the duplicate button, you will shorten the time for creating a new chat. Duplicating a chat has never been easier.
The duplicate option is not only for duplicating chat design but also for other items, from chat settings to monetization features.
Furthermore, because RumbleTalk opts for ease of usage and functionality, you can spend less time searching the internet for designs and how you can make your chat room pleasing to the eyes. Instead, you can just duplicate it and rename it depending on its use.
How to duplicate a chat room?
If you're a frequent user of RumbleTalk, you may already know that we have our new admin panel. The new admin panel has brought in new features to go with it. One is to duplicate your chat.
Here is a step-by-step overview for duplicating your chat.
And voila, you have duplicated your chat design! Now, you can see your duplicated chat in the list of chat rooms you have in "Selected chat."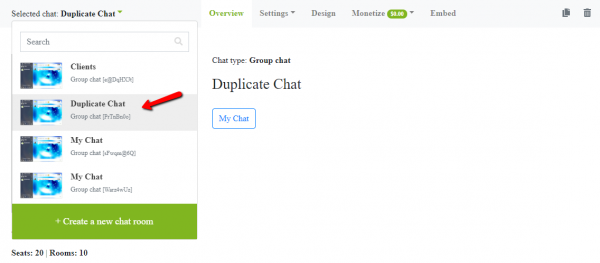 We listen to our customer's feedback and opinion. As a result, RumbleTalk makes chatting easier with new and improved features. Click this link to know more about RumbleTalk and its features.