sMany of the financial experts of today seek a way to share and profit from their knowledge. As a service provider of a group chat, we see a steady increase in the number of clients from the financial sector using the benefit of a group chat application on their websites.
In some scenarios, forex traders, day traders, stock traders, and social traders are using RumbleTalk to share insights and information among peers. In other cases, we are using the system with the help of financial experts to hold digital panel discussions.
The applications of group chat for financial experts are varied, but the reasons it is used are consistent. This post will discuss the features that make RumbleTalk a trusted choice for online discussions among financial experts and institutions.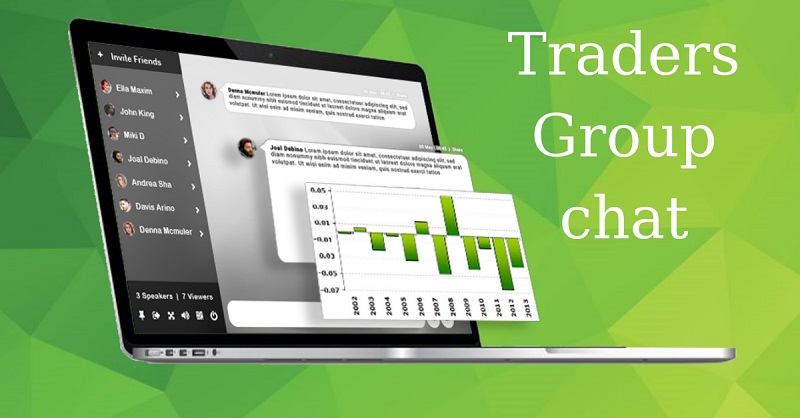 Security
The number one concern for using any digital tools is security. When the information you share is sensitive (as in the case with banking, trading and so forth) digital managers want to ensure that their information is not susceptible to hackers.
RumbleTalk has encrypted its group chat rooms with end-to-end SSL/TLS technology. It means, that Messages and files are being send through a RumbleTalk group chat are not exposed to malicious systems that "listen in" on data transfers.
Need a video call option?
Well, when you need one of the two, audio or video call (we use WebRTC for a live call), you can trust that our encryption protects your information from being transferred.
Necessary Tools for Financial Experts
While the core purpose of RumbleTalk is to connect communities through online chat, including tools to make the conversation more productive is key to being the best choice for financial experts.
RumbleTalk includes tools for easy file sharing, embedding videos and images, recording audio, and sending audio and video calls. These features allow financial organizations to include a deeper context to their online group chats without having to send their users to their email to look find a document.
The most important use of these tools is when traders upload technical analytic graphs from their computer or send voice messages to the group. By sharing these and other excel files, charts, instructional videos and more, financial experts are able to use RumbleTalk for collaboration, training, and more.
Flexibility
RumbleTalk truly excels at being the most flexible group chat option available. Financial experts have many options for using group chat.
Among the most popular installation types, is the option to embed the group chat directly into a website. You can see an example of this by visiting the RumbleTalk demo. One RumbleTalk group chat can be embedded in as many pages and websites as necessary.
Another option is to leave the group chat off a website and access it with a provided URL. Anyone with the URL has the opportunity to log in and join the chat.
Part of RumbleTalk's flexibility is its ability to choose who can participate. For some financial experts, online group chat is a tool to hold public discussions, while others use it for exchanging private information among each other. In either case, we configure the chat to limit or expand who can participate.
Ease of Use
Finally, our customers keep on choosing RumbleTalk. This is because of how simple it is to create, set-up, and use. To get your first group chat room, all that is required is an email address and password. This opens an account and automatically generates a live chat room that is ready to use.
Customize your chat to include your logo and match the color theme of your website. We built the option to set it up in the admin panel or by using CSS code.
For groups that need more than one group chat room, a new chat can be generated with one click.
Every group chat room comes with a line of HTML code. Grab this code and place it on any website html page. The group chat room is designed to be responsive. Responsive means that it will consume all the space given to him. This makes it easy for customers adding it to any page.
And of course, RumbleTalk isn't just easy to use for administrators; We worked hard to make the service (platform) a mobile-friendly. Including features and an intuitive design to be convenient for your users too.
All of this comes with the reliability of RumbleTalk's infrastructure and customer support.  It does not matter where you are or what issues your facing, we are here and able to solve problems to keep you chatting.