How to upgrade your existing plan with more seats, admins, rooms, and keywords?
If you upgraded already your account and you want to upgrade or downgrade your plan (add/reduct the number of seats, admins, rooms or keywords) you should.

Choose the plan you need and upgrade it with the full number of seats, admins, rooms, and keywords (do not update the delta only).
If you upgrade your plan during the month, we will refund your old plan pro-rate within 5 working days. This is the case for monthly plans; for yearly plans, the pro-rate refund is not automatic. You will need to contact us for that.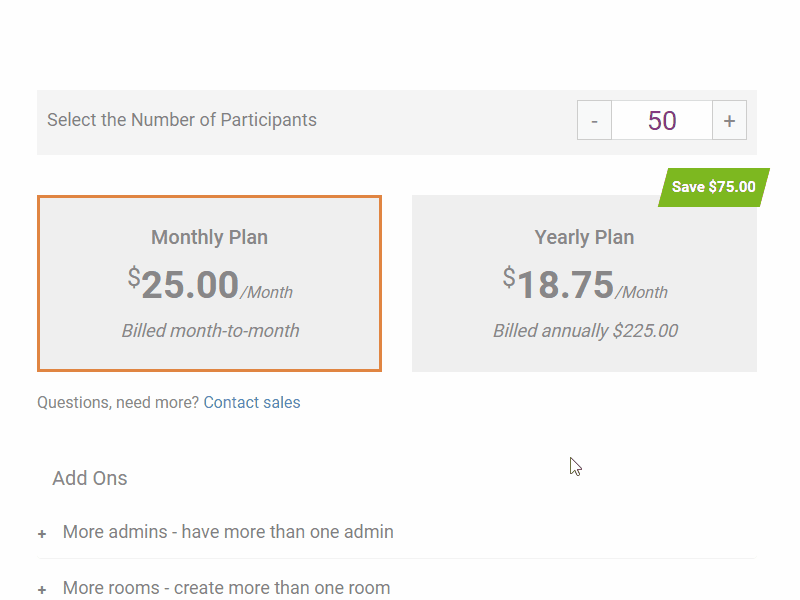 Example of an upgrade:
Let's assume you have a plan with
200 seats, and 2 rooms – purchased on the 1st of the month
Now you want to add 1 more room (e.g., 3 rooms)
200 seats, and 3 rooms – upgraded on the 15th of the month
You will need to buy the full plan (200 seats and 3 rooms).

Since the old plan was used for 15 days, we will refund half of the older payment after an upgrade was done.
Downgrading a plan during the month is not entitled to a refund.
NOTE: This is not a legal document, please refer to our T&C for more information.
Here's a short video you can use as a guide.