Bringing together groups of people is both powerful and challenging. It is your responsibility as a chat owner and moderator to understand the fundamentals of safe chatting. You are in control for providing a secure virtual environment for your users. It can be difficult to manage a chat room with multiple chatters, so here's a chat type that can keep online conversations secure.
A Private Chat allows your members to converse with other members one-on-one. This means that regardless of who is online or not, members and administrators can only communicate in private conversations.
Let's go over it further.
What are your options in a Private Chat?
Private Chat is one of the chat types in which users can only communicate with other users one-on-one.
What does this mean for administrators and non-administrators? The Private Chat option is only available for one-on-one conversations. There is no group chat. Everyone in the chat can talk to everyone else, but only in private. You can still use it for socializing and mingling.
Group Chat versus Private Chat
If you only need to contact one person from a Group Chat, you can quickly find his name by using the user search feature. Instead of clogging up the group chat, you can send him a private message right away.
Instead of using the Group Chat, you can socialize with others in the Private Chat.
It's similar to the Expert's Chat in design. However, in a Private Chat, you have the ability to start a conversation with anyone.
Follow these simple steps to enable it.
Navigate to Settings > General and Logins.
Select Chat type.
Choose Private Chat.
Anyone can start a private conversation as long as they are logged in.
Making use of it as a social chat
Do you intend to use the Private Chat as a social chat? Then, all you have to do is make your chat available to everyone and enable all log-in options.
When someone visits your website for the first time and sees the chat, they may scroll through it. If they like the vibe of your chat, they can join at any time. They can log in using the log-in options you set up for your chat.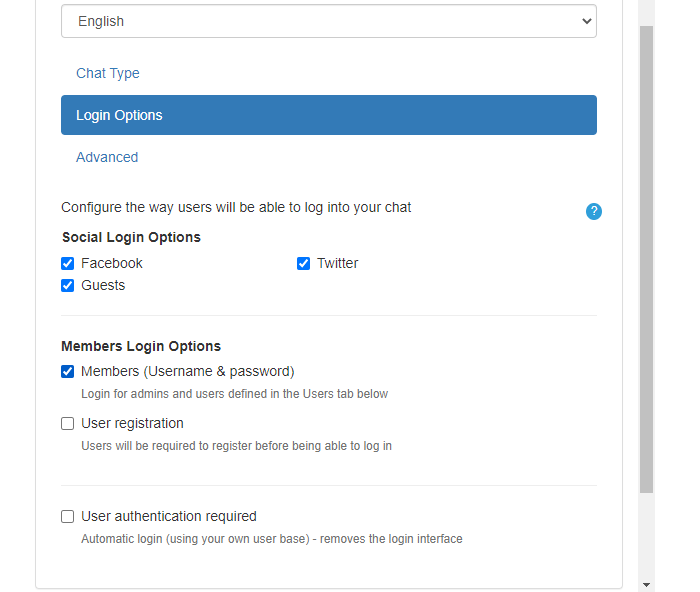 So, how do you go about doing that? Here's what you should do.
Navigate to Settings > General & Logins.
Choose Login Options.
Mark all of the boxes next to Social Login Options and Members Login Options.
When you enable these options, anyone can join your chat room.
Everyone should speak privately to keep online conversations secure
With this, you have the most secure and adaptable way to connect with your site and chat visitors.
If you're looking for a chat like this in the market, this is the one. It can be used not only for socializing, but also for private meetings, discussions, and anything else that requires security.
It is not only about protecting your users' privacy, but also about protecting your own. Because you are the chat's owner, you must avoid leaking sensitive information. Why? It's because you need to keep the chat's integrity. If you do not have control over what goes in and out of the chat room, your website and brand will suffer.
Advanced security features in platforms like RumbleTalk can help enforce chat rules while also keeping users safe. So, make the most of it and teach your users about safe chatting.
To use the Private Chat, you must first sign up on the RumbleTalk website. You can also send a message to support@rumbletalk.com if you want a free demo and see all the available features when you create a RumbleTalk account. We're looking forward to your message!